Library's year-long celebration of STEM kicks off with an evening of science and storytelling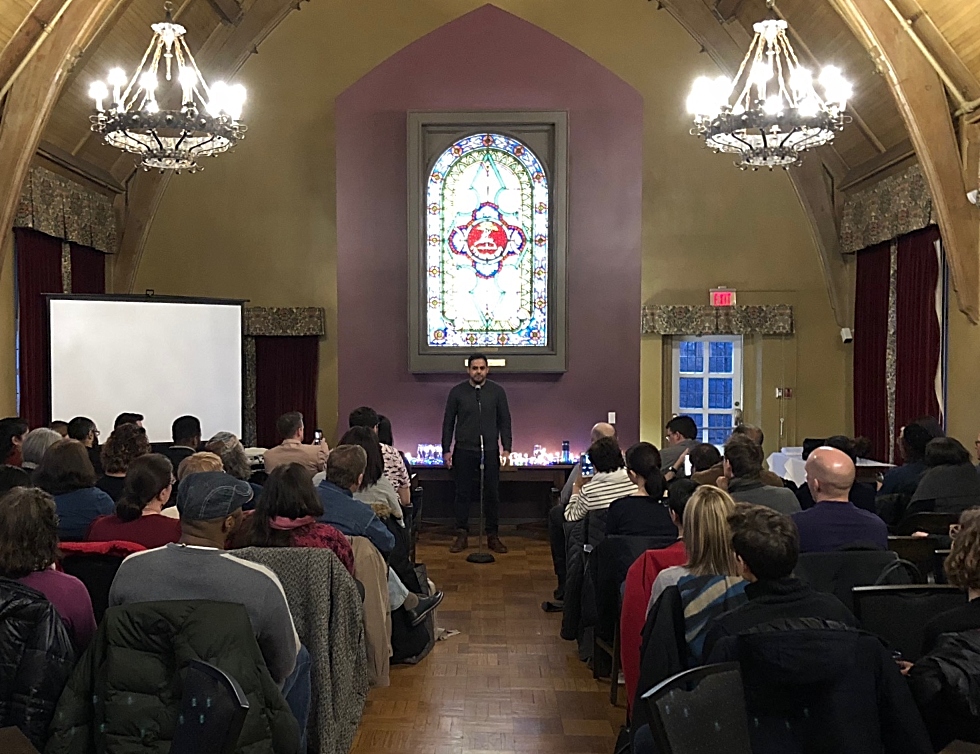 McMaster University Library recently partnered with Hamilton's Steel City Stories for a special event that brought together alumni, faculty, students and community members to share their stories about the ways in which science has intersected with their lives.
---
For as long as he can remember, McMaster alumnus and iSci graduate, Alexander Young has had two passions; art and science. For many years, he saw them as opposites, believing that science would always have to come first.
Then, while preparing to apply to veterinary school, he came up with a back-up plan – if all else failed, he would apply to a specialized master's program in medical illustration.
He eagerly began to share his "back-up" plan with friends and family when a close friend asked, why couldn't he combine arts and science as a career? Why couldn't his back-up plan be his first choice?
For Young, it was a turning point – one that that would ultimately take him to the University of Toronto where he is now pursuing a master's degree in biomedical communications, using art to communicate complex science.
Young's was just one of a number of stories told recently as part of Science & Storytelling, a special event hosted by McMaster University Library in partnership with Hamilton's Steel City Stories which brought together alumni, faculty, students and community members to share their personal experiences about the diverse ways in which science has intersected with their lives.
"Science can feel inaccessible for the public," says Abeer Siddiqui, learning support librarian and adjunct lecturer in the School of Interdisciplinary Science (SIS), who co-organized the event. "This storytelling event was about getting people who are involved in the scientific process to share their experiences in a way that makes it a very real, personable process, rather than something that happens entirely in classrooms or labs."
Throughout the event – the first in the Library's year-long celebration of Science, Technology, Engineering and Math (STEM) – storytellers shared their experiences, some recounting how they first discovered their love of science, others talking about the role science has played in the course of their lives and careers. One storyteller even talked about how his life-long love of environmental science led him to embark upon a campaign to save the oldest white pine forest in Ontario.
"I strongly believe that science is part of everyone's lives, whether they're physicists, bartenders, writers or even librarians," says Siddiqui. "The stories shared this evening speak to the ways in which science can impact our lives, and even transform the way we think about science and whom it belongs to."
Teaching the importance of science communication
Siddiqui, who teaches science communication as part of an academic partnership between the Library and the Faculty of Science, says communicating science through narrative and other forms, is a critical skill – one that science students need to hone in order to help make science more accessible to the public.
"A priority area, both in my instruction and within SIS itself, is to engage our students in the process of disseminating important information back to the public," says Siddiqui who co-taught a course focused on science and storytelling with Katie Moisse, an assistant professor in SIS, last fall.
Read: Students explore the power of science and storytelling
"It isn't something you tell a student to do and they pick it up immediately, you have to build those links across curriculum," she continues. "So, my primary role has been getting students to think critically about the information they're consuming and the information they're producing for public consumption."
Through this academic partnership, the Library is also embedded in McMaster's Integrated Sciences Program; Andrew Colgoni, Thode services librarian, provides instructional expertise to support science communication, and science and information literacy.
*Throughout 2019, the Library, together with partners in the Faculties of Science and Engineering as well as the Health Sciences Library, is hosting a special year of programming aimed at celebrating the ways in which the Library supports research, teaching and learning related to STEM.