Let's Talk Science celebrates a decade of engaging with youth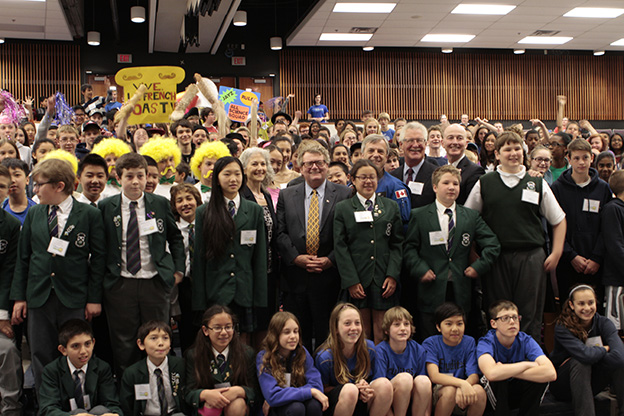 Area students pose with Minister Holder, MP David Sweet and astronaut Robert Thirsk before starting the Ultimate Science Challenge competition.
---
Science outreach program Let's Talk Science celebrated its 10th anniversary this week where it all began – on McMaster's campus.
The program hosted more than 200 students in Grades 6-8 for an interactive Science Challenge.
Minister of State for Science and Technology Ed Holder attended the event, and announced a $12.5M investment over five years in the program, which supports education in science, technology, engineering and math.
McMaster student volunteers, faculty and staff take part in the national Let's Talk Science program by designing, organizing and executing the events aimed to engage, inspire and educate youth.
For the 10th Anniversary, the McMaster LTS group created the Ultimate Science Challenge that featured a giant team-based science quiz-show, a mystery design competition and a chemistry magic show.
All activities reinforced hands-on science demonstrations and interactions.
Joining the students as the keynote speaker was Dr. Robert Thirsk, former Canadian Space Agency astronaut. Thirsk, a veteran of two space flights, has logged over 202 days in space.
He encouraged educators and the young people attending the LTS Science Challenge to be open-minded and experience the adventure of scientific innovation and discovery.
"The Mars astronauts that will lead Canada in 2025 are in elementary school today," he said. "Think about your science education right now – it's the foundation that will launch your dreams."