Just keep going: Defence Minister Anita Anand, AVP Sonia Anand talk leadership and resilience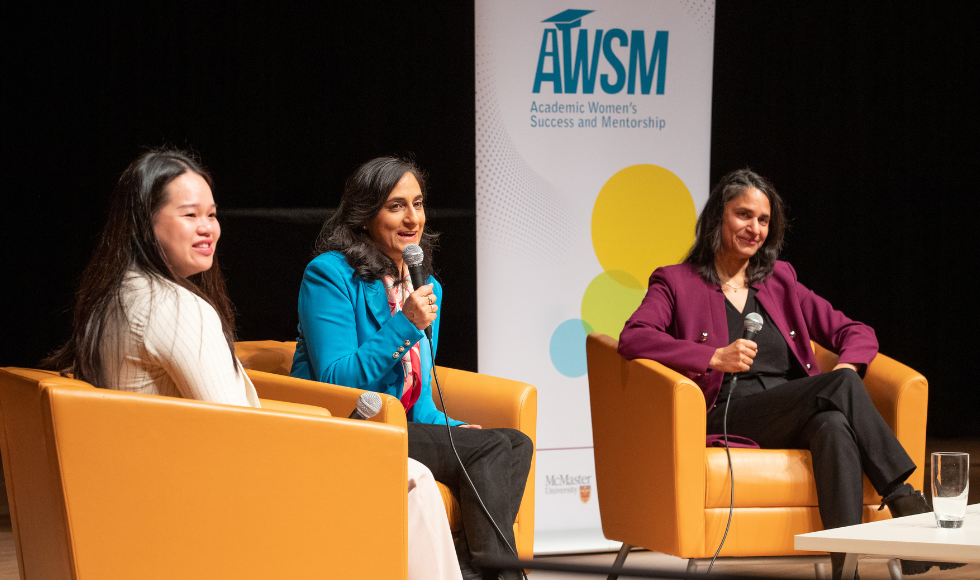 Radiation scientist Erica Dao, left, moderates a fireside chat with Defence Minister Anita Anand, centre, and researcher and AVP Equity and Inclusion Sonia Anand. (Photo by Georgia Kirkos, McMaster University)
---
Anita Anand's mother always had big dreams for her kids. "We'd be playing and she'd walk by and casually say, 'You could be a doctor when you grow up,' and keep on walking," the defence minister recounted this week, before launching into an anecdote about her mom taking her to shake the prime minister's hand when she was a kid.
From that day, she deadpanned, "Mom wanted us to run for office, too."
Anand was speaking at a fireside chat hosted by the McMaster Academic Women's Success and Mentorship Committee, alongside her sister, researcher Sonia Anand — the one who did go to medical school.
Their parents came up often in the candid and sometimes playful discussion between the two, moderated by radiation scientist and instructor Erica Dao. Besides their experiences growing up in rural Nova Scotia after their parents immigrated there from India, they spoke about being women in positions of leadership, dealing with adversity and developing resilience; and the importance of finding — and eventually being — mentors.
"Mentoring is important and I take it very seriously," said the minister, who was a professor before her successful run for Parliament in Oakville in 2019. She spoke of the encouragement she received from her colleagues in the Liberal caucus when she was a rookie MP, and of finding mentors and support in unexpected places.
On the flip side, during her time as a professor, she had the chance to work with people starting out in their career, and to foster their potential.
We owe it to people to encourage their vision and ambition, she said. "We should tell people, 'Go for it, and we will be here for you every step of the way.'"
That encouragement is key, agreed Sonia Anand, who is McMaster's acting Associate Vice-President of Equity and Inclusion. "We owe it to our future to diversify leadership across the board."
The subject of diversity came up often in the conversation and the audience questions that followed. Asked about addressing inequity in institutions, Sonia Anand spoke of engaging with, respectfully listening to and appreciating differing opinions.
They also spoke about failure and learning from it. Anita Anand, a self-described lifelong perfectionist, said she struggles every day with imperfection and is still working on looking ahead rather than looking back with regret.
After teasing her about her perfectionist tendencies, Sonia Anand said making time to relax is important, adding she tries to see her sister on weekends because being around people who make you laugh is a big part of that.
Asked about the challenges and obstacles that women in leadership face, the minister's answer cut right to the heart of the matter: "The only way to change that is for more good people to run and occupy positions of leadership."
That's one of the reasons she left a secure and enjoyable career in academia to run for office, she said. It's one of the things that keeps her going when the going gets tough. That, and another of her mother's refrains.
"She whispered it in our ears and I can still hear it: Just keep going. Life can present challenges and in those moments, sometimes you have to continue, you have to forge ahead. You have to just keep going."