Jordan Derochie talks figure skating, rediscovering his Indigenous heritage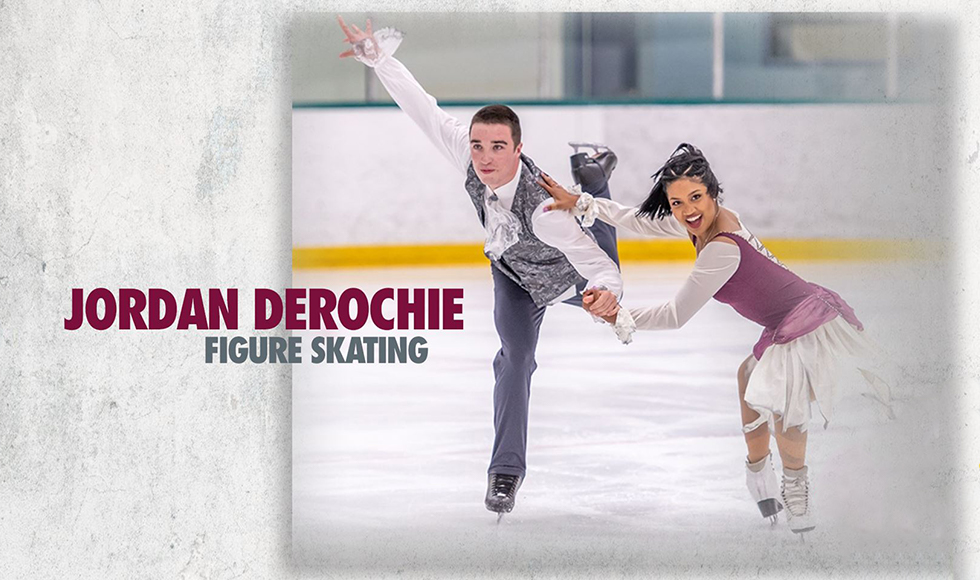 ---
For a young Jordan Derochie growing up in Sault St. Marie, Ontario, learning how to skate was a necessity.
"Living in northern Ontario, you have to know how to skate – everyone does," he smiled.
A three-year-old Jordan could never have imagined that he would go from crying on the ice to competing for Canada internationally as one of the top figure skaters in the country.
Derochie fell in love with his sport alongside his twin sister Breanne. The pair enrolled in Canada's CAN Skate program at age three, and went on to train and compete for nine years in Sault St. Marie, before moving to Toronto for a more competitive and high-performance training environment. Derochie credits his sister for motivating him to become the best skater he could.
"We pushed each other. It was great to have someone who would challenge me," he said.
It wasn't until high school that Derochie and his sister would discover a new shared passion: rediscovering their family's Anishinaabe and Métis heritage. The siblings set out to create a family history map, piecing together years of heritage lost to the records after their great grandmother became enfranchised by marrying a French man. Through researching government archives, the twins came across residential school documentation that allowed them to complete their family tree.
From there, the two researched online, and met with First Nations support organizations and elders in order to learn about the culture that had faded from their family tradition. Today, Derochie's Indigenous heritage is a strong aspect of his identity.
That strong foundation in his Indigenous heritage helped lead him to McMaster. When it came to choosing a university, Derochie set out four criteria to be met: a strong figure skating team, a unique and challenging academic program, a Disability Support Centre, and a strong Indigenous Services Centre.
"McMaster had all the boxes that I needed," he said. "The McMaster Indigenous Service Centre is one of the strongest in Eastern Canada."
Derochie, now entering his second year in Mac's Public Law & Judicial Studies program, will bring an ability to both compete and coach on the varsity figure skating team.
For Derochie, June's Indigenous History Month represents an opportunity for non-Indigenous Canadians to learn about and take action on contemporary Indigenous issues.
"[Indigenous History Month] should be an entire year," he said passionately. "We have 11 months until the next Indigenous history month … one of my hopes is that people will continue this learning and advocacy process throughout the year."
The chilling discoveries in Saskatchewan and British Columbia last month have left many Canadians seeking an opportunity to take action on the contemporary issues facing Indigenous peoples. Derochie feels that the best way for people to make a positive difference is to do their own research, speak to their local MPs, and reach out to Indigenous organizations about opportunities to volunteer.
For his part, Derochie is using his involvement in varsity athletics to make a positive impact. Along with the rest of the figure skating team, he participated in McMaster's Motionball campaign, which raised a total of $67,000 for Special Olympics this year.
"It was a great opportunity for us to learn about the barriers that Special Olympics athletes face," he said.
Derochie would also like to see Indigenous presence and influence elevated in Canadian figure skating: "We need to improve [Indigenous presence] in our sport as a whole – whether it be skaters, coaches, judges, or technical officials."
As a presence on the ice and in his community, Jordan Derochie is speaking up and making an impact on the causes he cares about.