Remembering McMaster Chancellor Emeritus John Panabaker
John Panabaker (left), pictured with former McMaster Chancellor Lynton "Red" Wilson, receiving the McMaster Alumni Distinguished Service Award in 2011.
---
Former McMaster chancellor John Panabaker was always a "true believer" in the power of education and giving back.
On being awarded the Distinguished Service Award from the McMaster Alumni Association in 2011, Panabaker, who earned a BA and MA in political economy, described his volunteer contributions as chancellor, serving on the Board of Governors and with the McMaster Museum of Art as a "thank-offering" to the university.
He recalled his first day, registering for classes in Convocation Hall, when the student population was about 1,000: "I was young, unsophisticated and very apprehensive – a kid from a small-town high school. Neither my parents nor my grandparents had attended university, and I came to McMaster because I had won a scholarship that provided four years of free tuition. University was an intimidating prospect."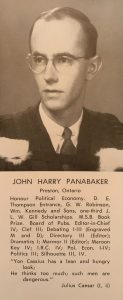 Panabaker noted the campus was filled with war-time veterans mixing with high school students in temporary wooden buildings. "The wartime Drill Hall served as our athletic complex, a venue for dances, and the site for examinations and large spring convocations. There were no computers: scientists and mathematicians used slide rules. Our statistics lab had only three or four electric calculators."
Yet, he said, the rich array of courses and exposure to new fields of study gained during his McMaster education as well as many friendships made "fundamentally changed me and the way I looked at the world."
He added: "My years at McMaster have been treasured and savoured throughout my lifetime."
Panabaker, who died Feb. 5 at the age of 94, earned his BA in 1950, receiving the Chancellor's Gold Medal and the Honour M in the process. He began his career as an investment analyst with Mutual Life of Canada while he continued his studies and eventually earned his MA in 1954. He rose steadily through the ranks at Mutual Life and became the company's president in 1973 and chairman of the board in 1985, a position he held until his retirement in 1989.
"Dr. Panabaker was a steadfast, thoughtful and articulate McMaster leader from his days as a student to his time as chair of the Board of Governors, then as chancellor and beyond," said McMaster President David Farrar. "His relationship with our university began in the shadow of the Second World War and endured for more than three quarters of a century. The impact of his volunteer efforts and philanthropy will extend at least that long again, I am sure."
---
Listen to Panabaker's reflections on his McMaster experience
---
A significant aspect of Panabaker's legacy is his extensive volunteer and community leadership. That volunteer spirit extended to McMaster where he served 12 years as a member of the Board of Governors, including two years as chair. He was also chair of the Administrative Board of the McMaster Museum of Art and was the university's chancellor from 1986 to 1992. A dedicated McMaster philanthropist, he made significant contributions to many projects over the decades including the creation of the John H. Panabaker Trust Fund and the Panabaker Digitization Trust.
Carol Podedworny, the Museum of Art's director and chief curator, said Panabaker's impact was monumental.
"John made a commitment early on to the art gallery, assisting to ensure its expansion into the McMaster Museum of Art," she said. "He fundamentally understood the importance of arts and culture to inquiring minds and our understanding of the world around us. He stayed connected with the museum over the years, regularly receiving notices of our research, achievements, and contributions, with obvious joy and pride.
"While his initial and significant financial contribution to the museum has long supported our operations, more recently, his continued vision and generosity enabled the museum to digitize our entire permanent collection – a task many institutions are only beginning to undertake. His commitment enabled us to stay current and innovative and for that we are forever grateful. John was a thoughtful, supportive, generous, and kind donor. Though he was not here with us daily and had long ago left his official role at McMaster, his belief in the museum and its work, guided us from afar. He will be immensely missed. We send sincere condolences to his family and friends."
McMaster recognized Panabaker's contributions with an honorary Doctor of Laws degree in 1981, induction into the McMaster Alumni Gallery in 1982, the 1997 McMaster Students Union Alumni Association Lifetime Leadership Award and the McMaster Alumni Association's Distinguished Service Award in 2011. He was also awarded honorary degrees from the University of Waterloo and Wilfrid Laurier University, received the 125th Anniversary of Confederation Medal and, in 1990, became a member of the Order of Canada.
McMaster's flag will fly at half-mast in honour of the former chancellor.
---
A funeral service will be held Wednesday, February 15 at 11 a.m. with reception to follow at Erb & Good Funeral Home, 171 King Street South, Waterloo. The family has asked that in lieu of flowers, consideration be given to donating to the John H. Panabaker Trust Fund at the McMaster Museum of Art or to the Kitchener and Waterloo Community Foundation, or to the St. Andrew's Bequest Fund.
As well, cheques can be made payable to "McMaster University" and sent to:
McMaster University
c/o Advancement Services & Operations
OJN-432
1280 Main Street West
Hamilton ON L8S 4K1