John Bell wins Distinguished Alumni Award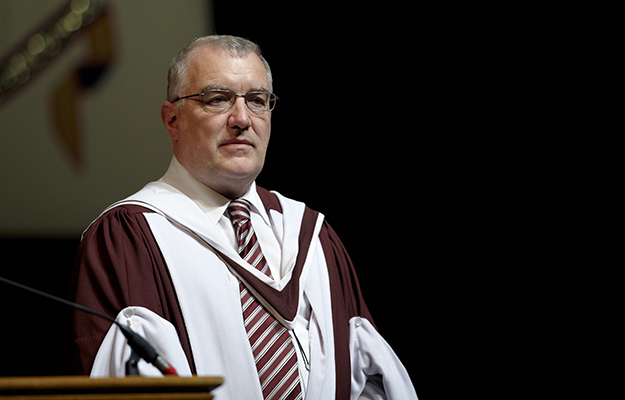 Dr. John Bell, a world-renowned cancer researcher and a professor at the University of Ottawa, is this year's recipient of the McMaster Distinguished Alumni Award.
---
Dr. John Bell is this year's recipient of the Distinguished Alumni Award.
The award recognizes McMaster graduates who have attained a high level of distinction and achievement through scholarship, research, teaching, creative contributions to the arts or sciences and/or service to society.
Though Dr. Bell admits his greatest McMaster-based achievement was meeting his wife Sheila on campus, he also earned two degrees from the University – an Honours B.Sc. in 1977 and a Ph.D. in 1983. His professional career has been simply remarkable.
Over the years, Dr. Bell has built an international reputation for his work on identifying and characterizing certain types of animal viruses that specifically infect and kill cancer cells, giving them potential for use as cancer therapeutic agents. These so-called "oncolytic viruses" hold promise as treatments of various human cancers, and as inoculations against certain types of cancer.
In a ten-year period, Dr. Bell registered 18 patents related to this technology and delivered invited talks at the Mayo Clinic, the Yale University School of Medicine, Busan National University in Korea and the European Society of Gene Therapy (Cork, Ireland), among other sites around the world.
Dr. Bell currently heads the Canadian Oncolytic Virus Consortium – an alliance that connects Canadian research groups developing virus-based cancer therapeutics. He is also the director of the Biotherapeutics Program for the Ontario Institute for Cancer Research.  In the private sector, he co-founded Jennerex Biotherapeutics, a biotechnology company that is developing an oncolytic vaccinia virus as a new therapeutic technique to treat cancers.
Upon graduating from McMaster in 1983, he trained as a postdoctoral fellow at the University of Ottawa and the National Institute for Medical Research in London, England. In 1986, Dr. Bell joined McGill University as an assistant professor and three years later moved to the University of Ottawa's Department of Medicine as an associate professor. From 2000 to 2005, he served as senior scientist at the Ottawa Regional Cancer Centre and Cancer Care Ontario.
A longtime Ottawa resident, Dr. Bell is a senior scientist at the Centre for Innovative Cancer Research at the Ottawa Hospital Research Institute. He also works as a professor of medicine at the University of Ottawa, where he has a cross-appointment to the Department of Biochemistry, Microbiology and Immunology, and serves as director of the Graduate Program in Human and Molecular Genetics.
Last year, he received the Robert L. Noble Prize for Outstanding Achievement in Cancer Research from the Canadian Cancer Society. In 2010, he won the Dr. J. David Grimes Career Achievement Award from the Ottawa Hospital Research Institute for career contributions to science.