"It's about seeing students have those 'a-ha' moments" — Meet the next generation of profs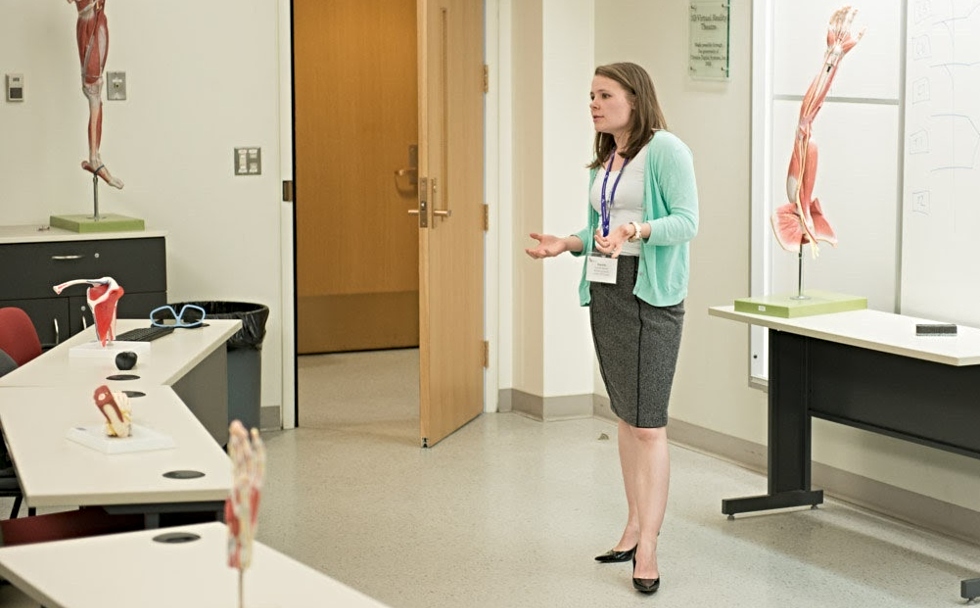 Danielle Brewer-Deluce, above, is one of 13 McMaster postdocs in the McCall MacBain Postdoctoral Teaching and Leadership Fellows Program.
---
For Danielle Brewer-Deluce, teaching is all about those "a-ha" moments.
"The lab is my favourite place to be – I feel that's the moment of learning, where students really understand why the information matters," says Brewer-Deluce, recently a postdoctoral fellow in McMaster's kinesiology department.
"For me, it's about watching students 'get it' and seeing them have those a-ha moments again and again. I realized that's what was really driving me to come to the lab every day – it's all those little moments that add up over time."
Over the past year, Brewer-Deluce has been one of 13 exceptional McMaster postdoctoral fellows taking part in the McCall MacBain Postdoctoral Fellows Teaching and Leadership Program. Based in the Faculty of Science, the program is a unique training experience designed to develop the next generation of post-secondary teaching and education research stars.
---
Learn more about McCall MacBain Postdoctoral Fellows Teaching and Leadership Program
---
Under the supervision of Joe Kim, an award-winning instructor and world-leading educational researcher in the Department of Psychology, Neuroscience & Behaviour and program coordinator Connie Imbault, the program familiarizes fellows with cutting-edge research in education and cognition, and offers fellows hands-on opportunities to hone their teaching and leadership skills, while continuing their discipline-specific research activities.
Through journal clubs, workshops, opportunities to teach and refine their science communication skills, as well as by completing educational research projects, fellows learn innovative, evidence-based educational practices aimed at making them leaders in teaching excellence — at McMaster and beyond.
As Brewer-Deluce, now an assistant professor at Western University, wraps up her fellowship, she reflects on her experiences with the program, what she learned about the science of learning and why it's so important to be a great teacher:
Learn more about the McCall MacBain Postdoctoral Fellows Teaching and Leadership Program with Program Faculty Advisor, Joe Kim:
On July 15-16, 2021, join Joe Kim at the McMaster Conference on Education and Cognition, an annual event that brings together teaching and learning experts from across North America to explore the latest evidence-based practices in education. REGISTER NOW