'It has become necessary to have conversations about AI's role within the academic setting'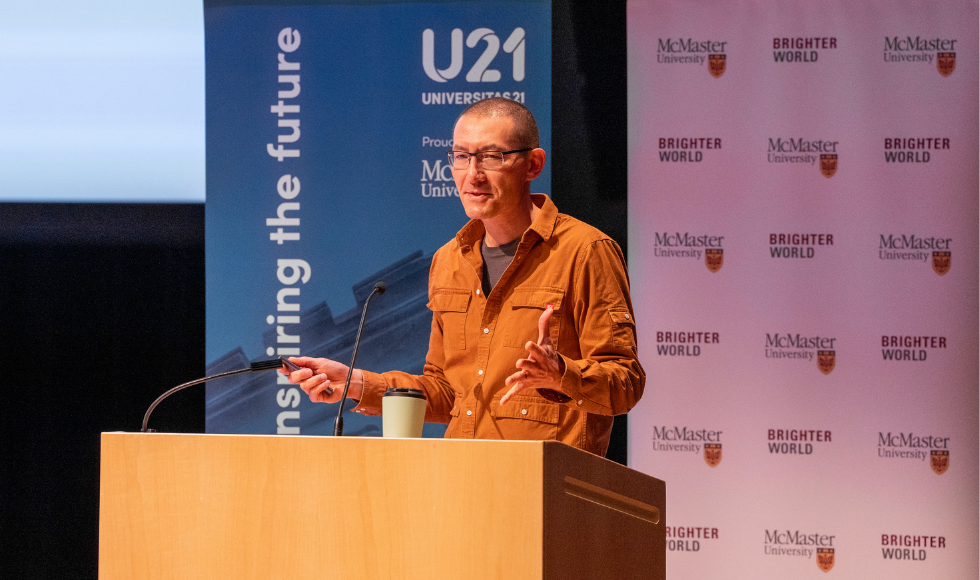 Simon Buckingham Shum, a professor of Learning Informatics from the University of Technology Sydney, delivered the keynote address on Learning, Analytics, AI and the Future of Universities at the 2023 Educational Innovation Symposium at McMaster last week. (Georgia Kirkos, McMaster University)
---
Generative artificial intelligence is here to stay, and it's crucial we have conversations in the boardroom, staff room, server room and classroom to decide how we are going to work with it, a leading expert says.
Simon Buckingham Shum, a professor of Learning Informatics from the University of Technology Sydney, delivered the keynote address on Learning, Analytics, AI and the Future of Universities at the 2023 Educational Innovation Symposium at McMaster last week.
The event, which brought together delegates from Universitas 21, a network of some of the world's top research-intensive universities, focused on artificial intelligence and the future of higher education.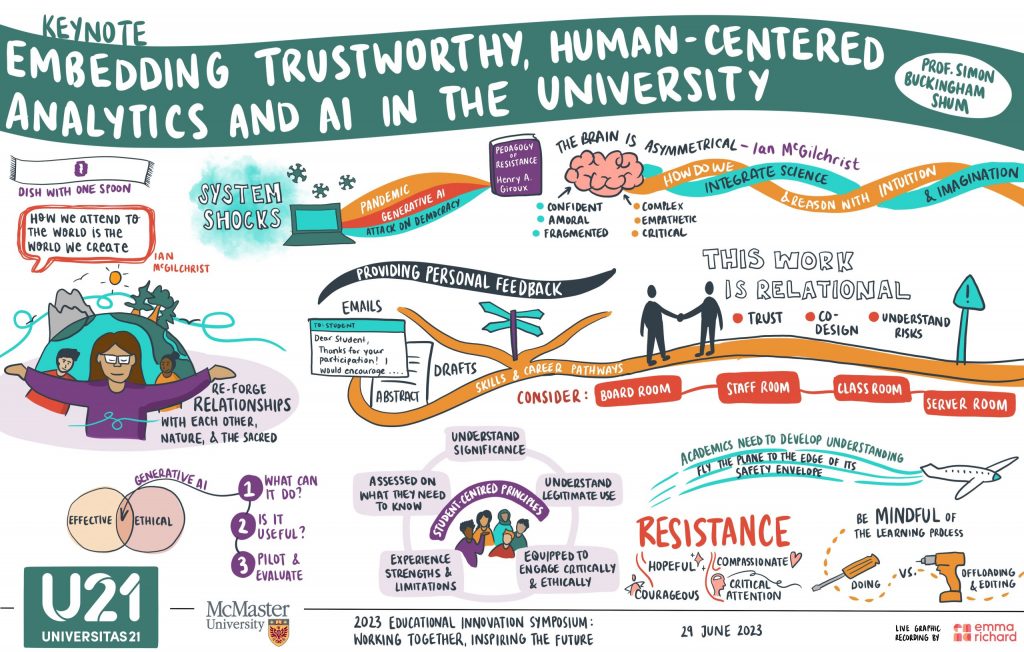 A graphic artist created a visual summary of the speech, above.
We asked a recent grad, student attendees, McMaster's vice-provost, Teaching and Learning and the leader of the Office of International Affairs to reflect on Shum's speech.  (You can also find their full reflections on their LinkedIn profiles.)
"Shum made an interesting connection between generative Artificial Intelligence and deliberative democracy. … Given the potentially transformative impact of AI on society, all stakeholders must have a voice in deciding how we use and regulate the technology."
— Bonny Ibhawoh, vice-provost (International) 
---
"Keynote speaker Simon Buckingham Shum invited us to engage with "hopeful pedagogies" including engaging effectively and ethically with generative AI. Our students are anxious about the future that we are leaving for them. We are facing a climate crisis, economic uncertainties, global social injustices, the necessary challenges of truth and reconciliation with Indigenous peoples, and now the unknown impact of AI.
Nonetheless, I left this symposium feeling, in fact, hopeful because of who our students are."
— Kim Dej, vice-provost, Teaching and Learning  
---
"Shum brought up the comparison between post-secondary AI integration and bringing calculators into classroom. Initially, educators feared the use of scientific calculators in classrooms would hinder a student's ability to conceptualize math. By the time I entered elementary school, educators had developed a balance between incorporating technology into learning and encouraging exploration without it. A harmonious balance is necessary in the integration of advancing technology, especially in learning. I believe AI is not a tool to be feared. Rather, it is a powerful tool to embrace as we find our footing with how to find a balance between the integration and regulation of AI in education.
— Sydney Edmund, sociology student, Faculty of Social Sciences
---
"As technology develops, AI will undoubtedly become an important part of the future, and how to properly guide students in using AI, such as ChatGPT, to avoid dishonest behaviour is an area for reflection. But a student trying to keep up with the times should learn how to use it properly for their own development."
— Haiqi Liang, business student at McMaster's DeGroote School of Business
---
"Artificial intelligence is an entity that is likely here to stay and shouldn't be ignored. It has become necessary to have conversations about AI's role within the academic setting. We need to be asking the right questions: should students be allowed to use AI software in their work? How do institutions protect academic integrity?
With this being said, it is equally necessary to learn how to use these systems to help prepare students for their future employment. As AI software evolves and becomes a more common presence in the workplace, new graduates need to be able to understand and efficiently interact with these systems to be successful."
— Sydney Sinclair, recent graduate, Communications and Media Studies 
---
"My takeaway from this keynote is that, with AI, there is a fine line to [tread]: We must remain critical of the way that AI claims to "transform the university," while remembering that ignoring its emergence is not an option."
— Zachary Gan, ArtSci student and a member of the Task Force on Generative AI in Teaching and Learning