International programming to showcase McMaster's global opportunities and initiatives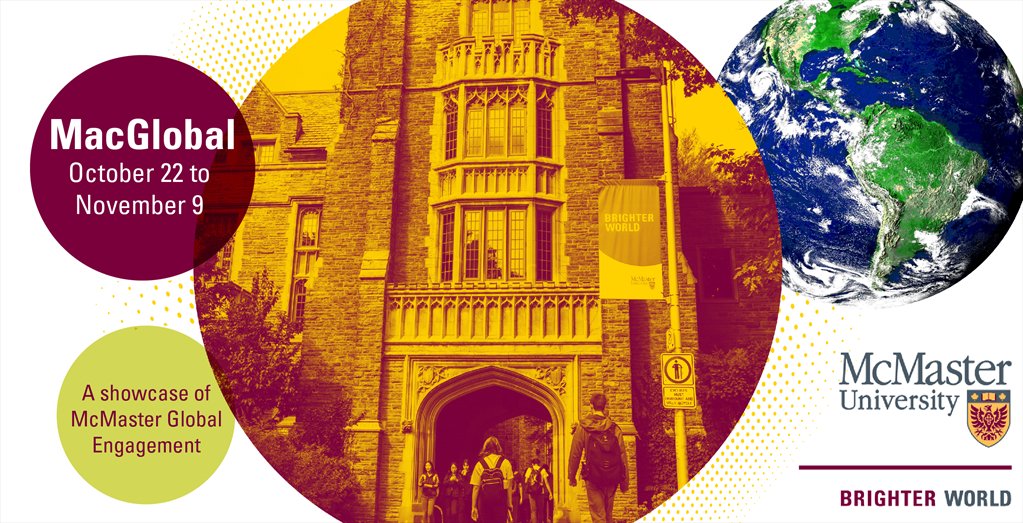 ---
How are McMaster researchers and students making a difference in communities around the world?  What are Faculties and units doing to connect students to global learning experiences, both abroad and on campus? What opportunities are available to students who want to study internationally?
From October 22– November 9, Faculties, departments, research centres, student organizations, and administrative units are hosting dozens of events that focus on these questions and more as part of MacGlobal, three weeks of international programming aimed at showcasing and celebrating McMaster's commitment to global engagement.
Organized by the Office of International Affairs in collaboration with the Student Success Centre, the School of Graduate Studies, the Global Health Office, and the Office of the President, MacGlobal features a wide-range of workshops, talks, and public events that highlight the many international initiatives and activities taking place across campus, and offer diverse perspectives on pressing global issues.
"Global engagement is deeply embedded across McMaster through the innovative academic programming, international research collaborations and global experiences of our faculty, staff and students," says Vice-Provost, International Affairs, Peter Mascher. "MacGlobal is a campus-wide opportunity to share the many initiatives underway, and spark cross-Faculty dialogue that I hope will lead to the development of more interdisciplinary partnerships and initiatives."
"This programming is a way for the McMaster community to learn from those with global experiences and diverse perspectives, and to explore the many international opportunities available across campus," says Sean Van Koughnett, associate vice-president (Students and Learning) and dean of students.  "It's just one example of how we are helping to build global citizenship in our staff, faculty and students."
MacGlobal Highlights include:
Global Engagement Town Hall update –Friday, October 26 @ 2:30 p.m., in R. Wilson Hall Concert Hall. The McMaster community will have the opportunity to hear from a number of University leaders about new initiatives and activities aimed at enhancing global engagement at McMaster.
Film screening: I am Rohingya: A Genocide in Four Acts, directed by Yusuf Zine – Friday, November 2 @ 3:30 p.m., L.R. Wilson Concert Hall. This film chronicles the journey of fourteen Rohingya refugee youth who re-enact their families' harrowing experiences in Burma during the escalation of military violence in their homeland. It tells the story of their escape to refugee camps in Bangladesh and their eventual re-settlement in Canada. To be followed by a panel discussion and a Q&A with the director, producer and cast members.
International Education Week (November 5 – 9), From language cafes to workshops and study abroad opportunities, this event celebrates international education, and highlights global learning and experiential opportunities for students across campus
Documentary screening: Fire at Sea, an award-documentary focused on the migrant crisis in Europe, directed by Gianfranco Rosi – Wednesday Oct. 24 @ 5:30 p.m., in L.R. Wilson Concert Hall. The screening will be followed by a panel Q&A. Register Now
Global Health International Symposium: Global transitions within local communities – Wednesday, Oct 24. Hosted jointly by McMaster's Global Health Program and the University of South Eastern Norway.
SEE FULL SCHEDULE OF EVENTS 
New events will continue to be added to the schedule – check back regularly for updates.
The MacGlobal showcase is in support of McMaster's Global Engagement Strategy as outlined inThe McMaster Model for Global Engagement: A Strategy Documentreleased in 2016. The document was the first step in the development of the university's international strategy – a key institutional priority – and continues to provide a framework for the development of international activities at McMaster.