Interdisciplinary team of Mac students to tackle space waste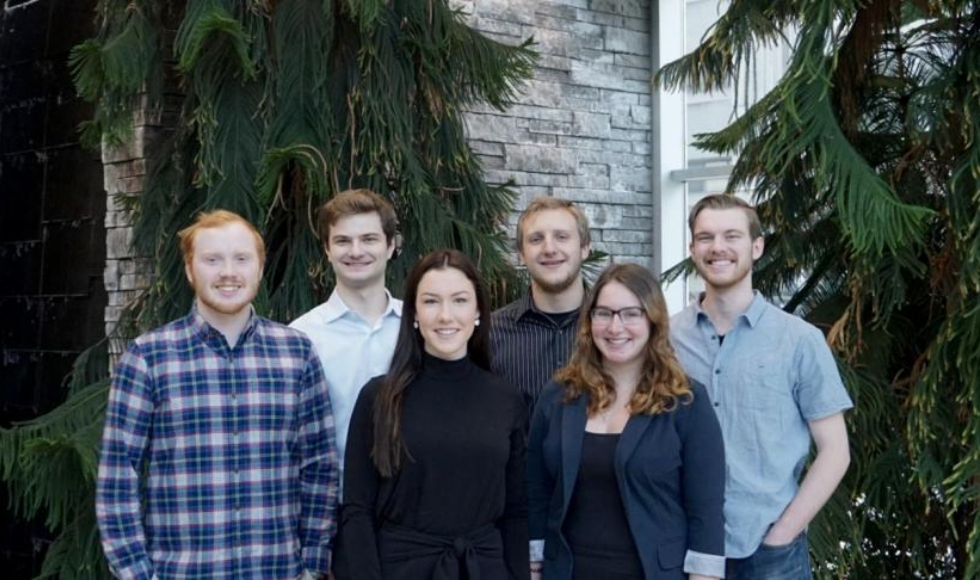 The MERGE team from left to right: Adam Tweedle (Science IV), Michael Stramenga (Engineering IV), Elizabeth Sharpley (Business III), Gregory Lech (Engineering IV), Gabriella Wynn (Science IV) and Jarod Coppens (Science IV)
---
Would you take your car to the scrapyard every time you ran out of gas?
It may be wasteful, but this is essentially what happens when satellites in orbit run out of fuel. To try and find a better solution, a team of McMaster engineering, science and business students has been selected for the 2018-2019 Canadian Reduced Gravity Experiment (CAN-RGX) Design Challenge organized by SEDS-Canada, the National Research Council of Canada (NRC) and the Canadian Space Agency.
The McMaster Experimental Reduced Gravity (MERGE) Team, led by Michael Stramenga, will be studying the effects of sloshing during satellite refueling and developing a slat-screen system to dampen and evenly disperse incoming fluid to minimize instabilities in the satellite.
"Our team is very excited to represent McMaster University at this national design challenge," says Stramenga. "All of our team members share a common interest in space exploration and are very excited at the prospect of being able to contribute to this field through the development of our experiment."
MERGE will be designing, building, testing and operating their experiment in a weightless environment meant to replicate the same conditions experienced by orbiting satellites.
"When satellites in orbit run out of fuel, they are often decommissioned despite all onboard systems still functioning normally," says Stramenga.
Stramenga adds that in recent years, the space sector has looked at ways of refueling satellites in orbit to improve their overall mission lifetime and reduce the amount space junk being produced.
"The experiment we are developing will attempt to study and better understand the behavior of fuel as it is transferred from one satellite to another in orbit. Specifically, we will be looking at how fluid behaves when pumped into an empty satellite fuel tank and possible methods for controlling this flow."
Once the competing teams finalize their designs, they will have six weeks to build their experiments which will be integrated into NRC's Falcon 20 aircraft before the Flight Campaign scheduled for July 2019.