Learn the basics of Intellectual Property with McMaster's free online course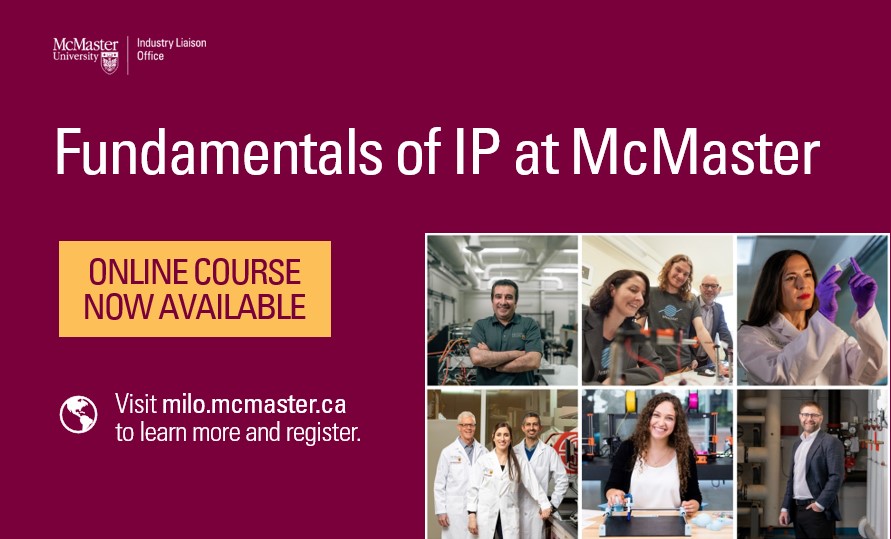 ---
The McMaster Industry Liaison Office (MILO) has launched a new online course focused on the core principles of Intellectual Property (IP) and research commercialization.
The course is available for free to all McMaster students, staff and faculty and consists of three modules designed to help participants enhance their understanding of fundamental IP concepts, develop effective IP strategies and discover how to access additional IP and research commercialization support from MILO.
Having a basic understanding of intellectual property is key to navigating research collaborations and the research commercialization process, says Leyla Soleymani, Associate Vice-President, Research (Commercialization & Entrepreneurship) and co-founder of FendX Technologies.
"This course is the perfect introduction to IP for beginners and a great refresher for those already familiar with IP concepts who want to brush up on their knowledge and learn more about McMaster's IP and innovation ecosystem," she says.
The course offers self-paced, interactive learning exercises embedded with quizzes to test participants' knowledge, as well as activities and case studies to apply what they've learned to real-world scenarios.
Participants who complete the course will receive a certificate of completion that can be added to their CVs.
"MILO is excited to offer our new Fundamentals of IP course to the McMaster community," says Gay Yuyitung, Executive Director of MILO.
"Intellectual property enables McMaster researchers to secure exclusive rights, drive creativity and enhance the impact of their innovations on a local, national and global scale. Whether you are a researcher, student or faculty member, knowledge of IP is the first step in bringing your ideas to market, where they can address pressing health, social, economic and technological needs," she says.
Learn more about the Fundamentals of IP at McMaster and register for the course.
What is intellectual property?
Intellectual property (IP) refers to forms of property created with one's intellect. It includes inventions such as technologies, materials, processes, symbols, logos and literary and artistic works.
IP rights are typically protected by patents, copyright and trademarks, which enable creators and businesses to continue innovating and earn recognition and financial benefit from their inventions.
In the video below, McMaster researchers and entrepreneurs discuss why understanding IP is important.