Integrity in Canadian news media: Terry Flynn examines the core issues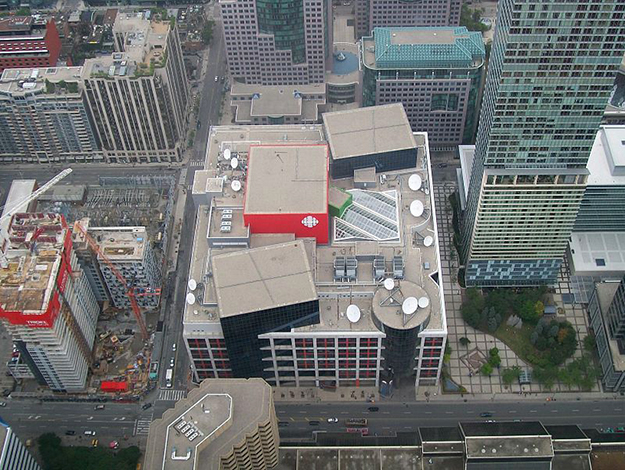 The Canadian Broadcasting Centre on Front Street in downtown Toronto, as viewed from the CN Tower. 'The CBC's reputation for integrity and excellence has been tremendously impacted by the Jian Ghomeshi scandal, and now each new revelation of potential journalistic conflicts of interest continue to negatively impact the corporation's integrity and reputation,' says McMaster assistant professor Terry Flynn.
---
Three months. Three reporters. Three integrity issues under the national spotlight. 
Read below as McMaster assistant professor Terry Flynn (Communications Management) dissects the allegations and improprieties surrounding Amanda Lang, Leslie Roberts and Jian Ghomeshi.
Flynn is considered one of Canada's leading public relations / communications management scholars. He was the first Canadian to ever be elected to the board of trustees of the Arthur W. Page Society — the leading global association of chief communications officers — and was recently named a board member of the prestigious Institute for Public Relations. In 2014, Flynn was named one of the Top 50 Social Media Marketing Influencers on Twitter by Vocus Research, a global communications research company.
Veteran news anchor Leslie Roberts recently resigned from Global Television. How would you describe the company's initial handling of the situation, when it was revealed that Roberts' owned part of a public relations firm, Buzz PR, whose clients appeared on his show? 
Given Roberts' position as the executive editor and anchor of Global TV's News Hour, once the information was revealed and confirmed that he held an equity position in a communications firm, Global had no option but to suspend and then end his employment due to breach of trust and failing to uphold accepted journalistic standards for transparency and integrity.
Was Roberts' resignation appropriate, given the circumstances? 
At no time should journalists ever hold equity ownership or management of communications firms in which they intentionally promote the interests of their own clients over legitimate news stories. Global News was within its legal and professional rights and duties to first suspend and then to terminate Mr. Roberts' employment.
Kashif Khan, co-founder and managing director of Buzz PR, issued a statement to Global News that stated Roberts had "zero influence over how stories got to air." What do you make of the company's overall response to this situation?
Let me first address the issue of the name of Khan's company, Buzz PR. Neither Mr. Khan nor Mr. Roberts have recognized public relations or professional communications management experience or expertise. In fact, Mr. Khan's stated profession is that of an auctioneer and occasional diamond seller. It appears that Mr. Khan's primary skills were marketing, promotionalism or publicity — a very narrow slice of the spectrum of the field of media relations. His belief that Mr. Roberts had no influence on story selection doesn't appear to fit the historic role of an executive editor — someone like Peter Mansbridge or Lisa LaFlamme — who are intimately involved in the production of each newscast. Although it is difficult for those of us who study and observe the professional communications fields to have a complete understanding of the business relationship between Mr. Khan and Mr. Roberts, it would appear that they both believed that they could financially benefit from Mr. Roberts' position as the executive editor of Global Toronto.
Canadaland published a report alleging CBC television host Amanda Lang tried to "sabotage" a CBC story about the Royal Bank of Canada, who had previously paid her for public speaking engagements. It has since been revealed that Lang has been romantically involved with an RBC board member while reporting on the company's business practices. Has the CBC effectively managed or responded to this situation? 
Unfortunately, the CBC's reputation for integrity and excellence has been tremendously impacted by the Jian Ghomeshi scandal, and now each new revelation of potential journalistic conflicts of interest continue to negatively impact the corporation's integrity and reputation. The challenge with this case (Lang's relationship with the RBC) is as much perceptual as it is fact. If Canadians believe that Lang's credibility and integrity have been negatively influenced by her relationship with a member of the RBC board, that is the reality that Lang and the CBC must address.
How would you gauge RBC's response to the allegations? 
While RBC has been associated with this issue because of the relationship Lang had with the board member, it is more of a CBC issue to manage then it is for the bank. It seems to me that the CBC's defence of Lang's role and involvement in the RBC story was appropriate but certainly not effective. It harkens back to the stories last year about speaking fees paid to senior CBC journalists (Mansbridge and Murphy) and potential conflicts of interest. The CBC must show Canadians that they have strict and enforceable standards of professional conduct for all of their journalists and news employees. At the centre of those standards must be the values of integrity and transparency. NEW: CBC will no longer approve paid appearances by on-air journalists, memo states
Lang's was the third story involving impropriety in Canadian media to emerge since last fall, including Jian Ghomeshi's firing and the ensuing sexual assault charges. How can Global Television and the CBC regain the public's trust and move forward? Have they already done so? 
Let's be clear that the Ghomeshi scandal is having a much more profound impact on CBC than either the Lang or Roberts conflicts of interest cases. Both news organizations will recover from the Lang and Roberts cases and they will have had their 15 minutes in the news cycle. The Ghomeshi scandal will continue to expose the actions of CBC management in dealing with workplace harassment allegations brought up against Ghomeshi during his time at the CBC. Through the pre-trial investigations and then during the criminal trial both Ghomeshi and the CBC will be under the spotlight.
The changing landscape of the Canadian news media — caused in part by the disruption and commoditization of news through social media, and the movement by some leading news organizations (such as the Toronto Star) and citizen journalists (Jesse Brown and Joey Coleman) to focus their resources on investigative journalism — creates the potential for more of these "inside baseball" type stories, with the media reporting on the media. In my opinion, I believe that a strong and critical voice or voices that hold our media and journalists accountable will, in the end, produce more transparent and ethical news reporting.