Indigenous Studies course takes students on 10-day paddling journey down the Grand River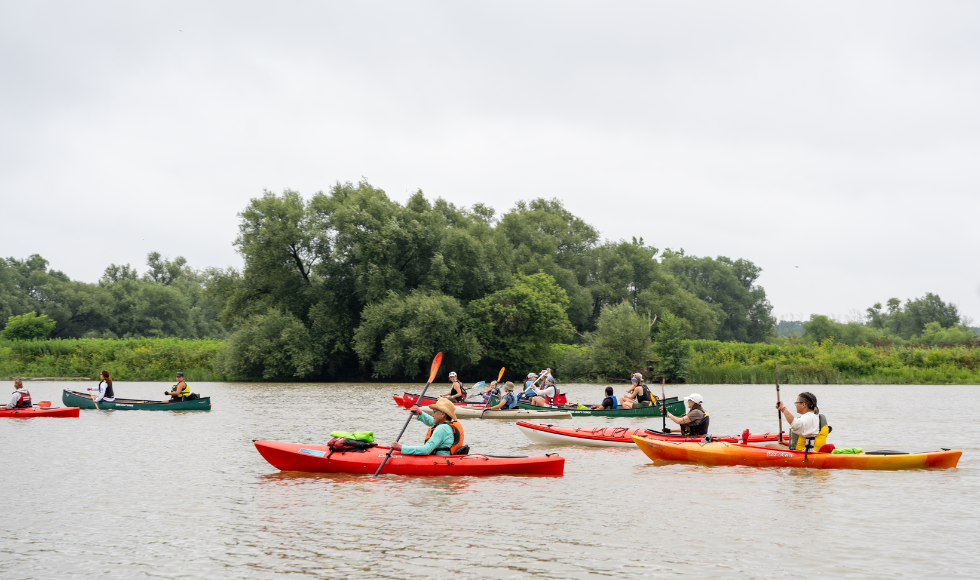 The Two Row Paddle is at the heart of the new, land-based course that will combine what students learn in the classroom with real community experiences.
---
McMaster's Indigenous Studies Department is introducing a land-based course that will take students in canoes or kayaks over 100 kilometres down the Grand River as they learn about the Indigenous histories and communities along the way. 
This is the first time that McMaster will be offering the Two Row Paddle as a credit-bearing course. The Two Row Paddle has taken groups down the Grand River every summer for eight years. It incorporates the principles of the Two Row Wampum treaty, the oldest treaty still in existence between the Haudenosaunee and non-Indigenous peoples in North America.  
The treaty recognizes the importance of co-existing and building relationships between Indigenous and non-Indigenous peoples through peace, friendship and respect. 
The course is the perfect way to take what students have learned in the classroom out into real community experiences, says Bonnie Freeman, associate professor of Social Work and Indigenous Studies.  
"How do students understand Indigenous truth and the calls to action through reconciliation?" she says. "The course will bring what Indigenous and non-Indigenous students learned through Indigenous Studies and look at Indigenous theory, Indigenous knowledge and Indigenous ways of understanding by engaging in relationship building, leadership skills and the understanding of cultural resurgence and reconciliation by immersing themselves in this Two Row Paddle experience." 
Before they begin their 10-day journey down the river, instructors will familiarize students with literature related to their journey, give them opportunities to engage with guest speakers, and teach them paddling skills.  
Students from a similar program at the University of Guelph participated in this summer's paddle, memorably combining practical skills with knowledge.   
Beyond just paddling a watercraft on the Grand River, they learned to participate in a community group setting by helping and supporting each other, and gained an understanding of Haudenosaunee teachings, the ecology of the river and the history of its communities. 
Indigenous student Maya Wetzel says the program shone a light on aspects of Indigenous history and culture that she was unaware of. 
"There's so many details about Indigenous peoples that, as an Indigenous person, I should know, but I learnt more about how different people live," she said. 
One campsite was at the former Mush Hole, or the Mohawk Institute Residential School. "There were two speakers there that spoke about their experience in the residential school," Wetzel says.  
"That was really hard, but they spoke about it in a positive light. It was very eye-opening because normally you think about it as all negatives, that there's nothing good about it. But they spoke about how they played and how they wanted to look at it as more of a positive experience." 
The academic component of the course may include a reflection journal (art, photos, writing, collecting natural elements) and talking circles during the journey, and it will be capped off with an art expression and writing piece, Freeman says. 
"It could be a digital story, it could be a photo-voice piece, it could be something that they want to express through their experience," she says.  
"Most importantly, how they can take what they've learned from the Two Row Paddle and this course in working with both Indigenous and non-Indigenous communities, as well as what it takes to move forward in supporting Indigenous truth and cultural resurgence. As well, what actions they can take towards reconciliation and building better relationships between Indigenous and non-Indigenous peoples."   
The Two Row Paddle Indigenous Studies course will be open to students in Summer 2024.