Indigenous studies and history professor wins 2019 Canada Prize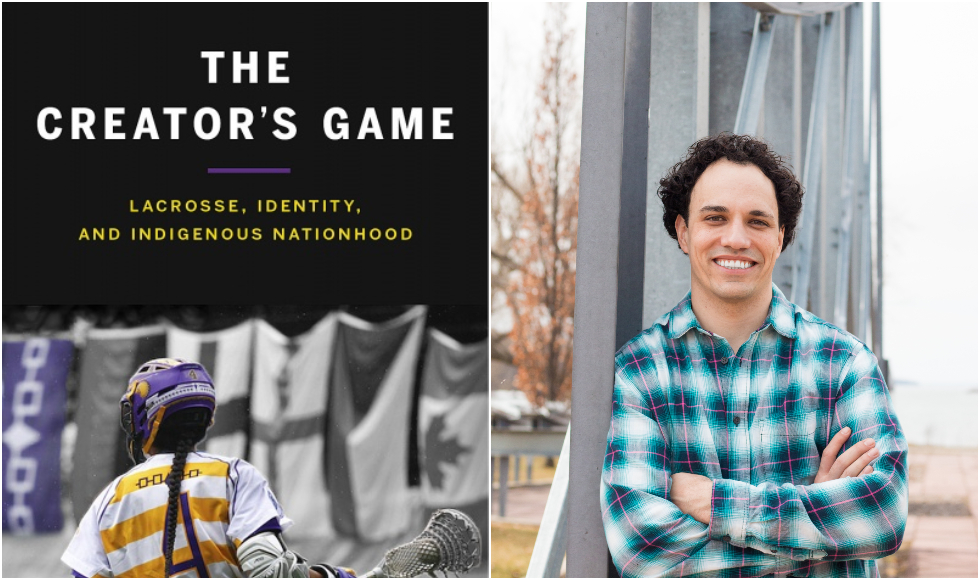 Allan Downey (right), in front of a monument to ironworkers in Kahnawake, Quebec
---
Allan Downey, an associate professor of Indigenous studies and history, has won this year's English-language Canada Prize for his book The Creator's Game: Lacrosse, Identity and Indigenous Nationhood.
Downey, who grew up in Waterloo and is Dakelh from Nak'azdli Whut'en, a community in central British Columbia, says the prize really isn't about him.
"So many Indigenous knowledge holders, elders and community members worked with me and contributed to the book," he says. "It's their knowledge, their expertise, their experience, their brilliance that shines throughout the work. I'm absolutely indebted to them."
I am at a loss for words, The Creator's Game just won the Canada Prize. The book was a series of decade-long collaborations and I am forever indebted to all those I worked with. Musicho! https://t.co/u216mb3oyV @UBCPress @UWAPress @MACIndigenous @ideas_idees @McMasterU @UWAPress

— Allan Downey (@allan_downey) April 8, 2019
The $10,000 prize is awarded annually to two books – one written in French, the other in English – that "make an exceptional contribution to scholarship, are engagingly written, and enrich the social, cultural and intellectual life of Canada." It is administered by the Federation for the Humanities and Social Sciences, and is funded by the Social Sciences and Humanities Research Council of Canada.
Downey has just finished up his first semester at McMaster, after spending the fall term at Columbia University in New York City as a Fulbright scholar –a "terrific opportunity" to meet up with Indigenous students and work with influential scholars like Audra Simpson, Yale's Ned Blackhawk and Harvard's Philip Deloria.
|Listen to Allan Downey talk about The Creator's Game on CBC.
While Downey has a personal as well as academic connection to lacrosse ‑ he attended college in the U.S. on an athletic scholarship, and was drafted to play professionally during his graduate studies at Wilfrid Laurier – his research since the publication of The Creator's Game has gone in a slightly different direction.
He's now exploring Indigenous sovereignty and self-determination by researching the history of Haudenosaunee ironworkers in New York City.
"All my research has looked at the history of Indigenous self-determination – that's what I'm focused on, that's what I'll continue to focus on," he said in an interview before leaving for Columbia. "There's a connection between lacrosse and ironworking, in that a lot of ironworkers also played lacrosse. While the lacrosse project looked at Indigenous self-determination within the borders of Canada, I'm now shifting to a project that is focusing on Haudenosaunee community members coming from within the borders of Canada travelling to the United States and asserting their sovereignty that way."
Downey says that no matter what direction his research takes, he is always aware of the contributions made by Indigenous communities and individuals.
"My accountability is aimed at the communities and individuals I worked with," he says. "I'm continuing to share stories with youth and communities – to create an Indigenous history that stands on its own."