Indigenous students get taste of grad school at McMaster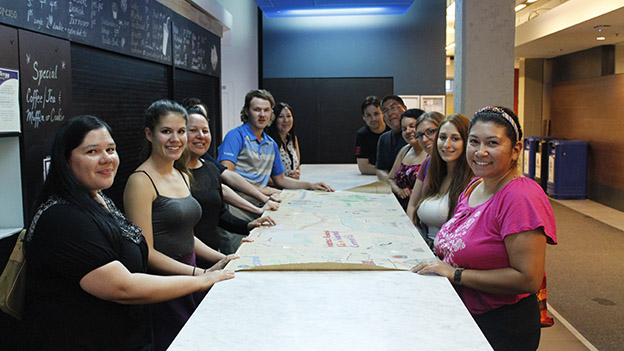 Students in the Indigenous Undergraduate Summer Research Scholars program created a mural which will hang in the Indigenous Studies Program office in Hamilton Hall. The students are on campus to get a taste of life as a graduate student researcher.
---
The sound of drums, song and celebration filled the Skylight Room in the McMaster Commons earlier this month, as students from across the province, community members, faculty and staff came together to mark the beginning of the Indigenous Undergraduate Summer Research Scholars (IUSRS) program.
The IUSRS is a collaborative effort between McMaster's Indigenous Studies Program and the School of Graduate Studies, offering Indigenous undergraduate students a glimpse at life as a graduate student researcher at the University.
Elders-in-Residence for the program, Renee Thomas Hill (Mohawk/Cayuga) and Bertha Skye (Cree) opened the lunch with a traditional welcome that included an opening prayer and address, bringing a spiritual tone to the gathering.
Like other undergraduate research programs, IUS Scholars have been matched with supervisors from the faculties of Health Sciences, Social Sciences, Science, Humanities and Engineering. They will work in labs and libraries across campus, in the field, and in local communities.
Unlike other summer research programs, all of these undergraduate students will complement their research experiences with a series of interactive workshops on research methods, community engagement, and skills training in preparation for graduate school.
IUSR Scholars also will enjoy a broad range of immersive experiences on campus and in the community – Six Nations of the Grand River Territory and Hamilton.
IUSRS coordinator Bernice Downey is a recent graduate from the McMaster anthropology and health program, where she focused on health literacy, Indigenous knowledge and knowledge translation for Indigenous populations. As a current postdoctoral fellow in the School of Graduate Studies, Downey is interested in understanding and advancing the learning experience for Indigenous graduate students.
Beyond the basic research skills, the curriculum is infused with Indigenous concepts, values and practice – fostering a relational approach with Indigenous community partners, drawing on Indigenous Knowledge and theory, and working with Elders and self-reflective talking circles.
"These skills and more will teach them about doing research in a self-determining and culturally relevant way, and assist them in working with communities to advance the Indigenous research agenda," Downey says.
"The outcomes are in keeping with the recommendations of the Truth and Reconciliation Commission, which advocates the use of Indigenous knowledge and teaching methods in the classroom."
Rick Monture, academic director of the Indigenous Studies Program (ISP), says that McMaster has been a positive space for Indigenous students since 1992, starting with the establishment of the ISP.
"With the recent approval of a new degree for undergraduates – an Honours BA with a minor in Indigenous Studies – and the introduction of this new summer research program, McMaster is definitely on the map as an institution dedicated to Indigenous learners," he says.
Although Indigenous students still face challenges in the academy – including a lack of funding, too few Indigenous faculty members and graduate supervisors, and not enough programs geared to Indigenous student researchers – Monture believes programs like the IUSRS can make a difference.
Allison Sekuler, Acting Vice-President of Research, initially proposed the new program not only to provide a transformational experience for IUSR Scholars, but also to broaden the understanding of Indigenous research within the Academy.
"Indigenous approaches to research should have a place in every corner of campus, but Indigenous scholars often face systemic obstacles in their quests to become academic researchers," she says.
"The onus is on universities to recognize and remove those obstacles, so that future generations find smoother paths that fit their unique backgrounds, needs, and interests. Our hope is that the IUSRS program will help students travel those paths, increasing the numbers of Indigenous graduate students and faculty at McMaster, and enhancing appreciation for and understanding of a diversity of approaches in all research fields."