Imagining 2080: Future of Canada forum will chart Canada's path forward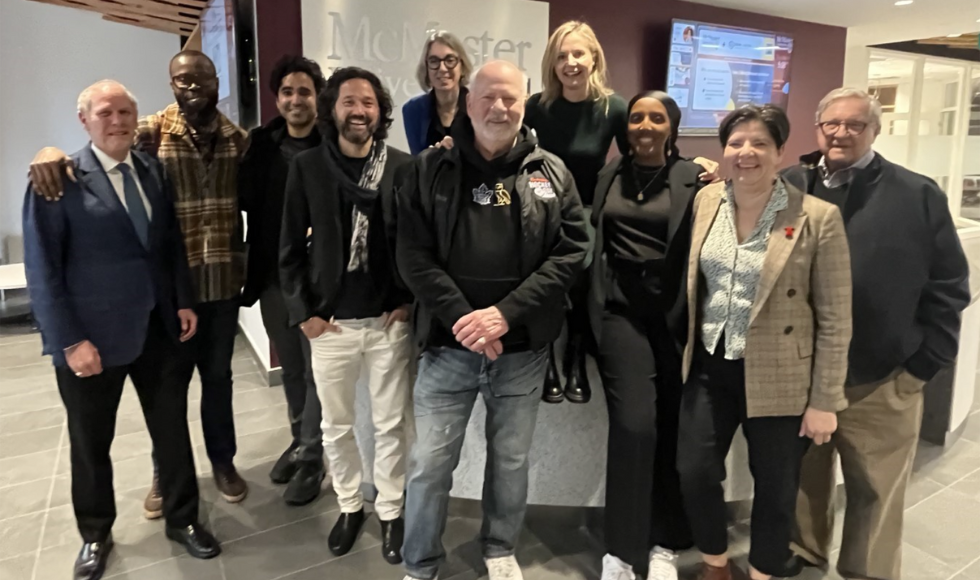 The Future of Canada Project Council gathered to provide guidance around the design of Imagining 2080: a Forum on Canada's Futures—a culminating event for the Project where 150 possibility-minded delegates will gather to collectively explore potential futures for Canada in 2080.
---
Sometimes preparing for the future requires a bit of imagination.
Since its inception in 2020, the Future of Canada Project (FCP) has sought to better understand the issues and opportunities facing Canada. Supported by a generous gift from Chancellor Emeritus L.R. Wilson, the project has been supporting multi-disciplinary, future-focused research that contributes to the development of a better Canada — one that is more equitable, sustainable, resilient and prosperous.
The three-year pilot will culminate this November in Imagining 2080: A Forum on Canada's Futures.
The forum, being held Nov. 1-3 in Hamilton, will provide a space for leaders across sectors and disciplines to imagine the possibilities for Canada in 2080 while identifying the key actions and changes needed to get there.
"This forum is a unique opportunity for academics, futurists and students, as well as business and community leaders, to come together and develop new narratives about what our collective futures could hold," says Ann Elisabeth Samson, strategic advisor for the Future of Canada Project.
"While there are many people doing future-focused work across Canada, there hasn't been a central opportunity to gather, collaborate and collectively explore scenarios regarding Canada's future," she says. "Imagining 2080 will provide people with the opportunity to do that here at McMaster."
With 150 delegate spaces available, those who want to participate in the Forum are being asked to submit an application by June 23, 2023.
To be considered, potential delegates must already be involved in work that is advancing a better future of Canada.
"In order to have meaningful conversations about potential futures of Canada for 2080, we need to have a diversity of people in the room who are already thinking about what's next," says Samson.
"We hope to attract delegates from a broad range of backgrounds so that participants can challenge each other and learn from one another."
Why imagine 2080?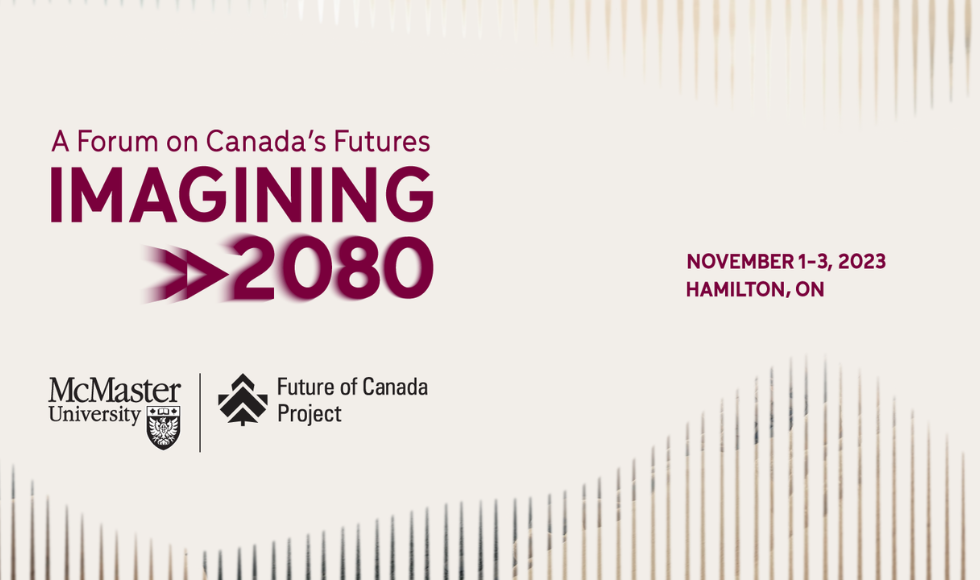 The forum will be rooted in the practice of strategic foresight — an approach that explores different plausible futures that could arise and the challenges and opportunities they could present.
This futures-focused approach uses time horizons to guide thinking around possible outcomes that are typically in the range of five to 25 years in the future.
A unique aspect of this forum is the focus on a particularly long time horizon that will allow space for delegates to explore deeply aspirational futures.
"By focusing on 2080, we hope to enable participants to dream about a new possible Canada, where they can look generations ahead," says Samson. "When planning for 2080, there is enough time to enact deep and complex change where a shorter time horizon could feel restrictive."
The event has also been designed as an immersive and participatory experience where delegates will have the opportunity to not only learn from visionary speakers, but take part in hands-on experiences as well.
"Having the Forum based in Hamilton with access to the McMaster campus provides such a great backdrop for delegates to explore and experience the surrounding environment in its different forms" says Samson.
While details are still being confirmed, activities at the forum will involve a makerspace as well as activities that to explore the role the land plays in future visions of Canada.
"We are intentionally designing the forum to be more than a usual conference," says Samson. "We believe that to have an impactful event, we need to get people there, and build an environment that would facilitate meaningful conversations about where Canada is going. We have invested heavily in the design of this gathering in hopes of achieving this."
FCP Council contributes to Forum design
Throughout the life of the Future of Canada Project, the Project Council has helped to shape and identify FCP research themes and priorities. At their recent meeting, council members brought their diverse perspectives to the table to provide input on the forum.
To prompt feedback specific to the forum design, the council was led through a series of exercises where they were asked to look back 57 years into the past, as well as 57 years into the future.
"Asking the council to consider the changes that have taken place since 1966 and then asking them to think forward to 2080 was a really enlightening experiment," says Samson.
"The areas of focus that emerged, ranging from the importance of Indigenous perspectives to the advent of AI, will help us to shape the design and delivery of the Forum."
How you can get involved in Imagining 2080
In addition to applying to become a delegate, there are other ways to join in the Imagining 2080 conversation.
The McMaster community and the greater public will have the opportunity to attend the opening keynote event on Nov. 1, as well as virtually attend some key presentations at the forum, which will be livestreamed.
"Through the forum, we hope to build new possible narratives for Canada's future," says Samson.
"We believe that in order to inspire hope and action, we need to envision the Canada we want to build and take concrete steps to bring it into existence."
Visit the website for more details, and sign up for the Future of Canada Project newsletter to learn details as they are announced.