"If you really want to change health for the better, you have to know effective ways of connecting with people"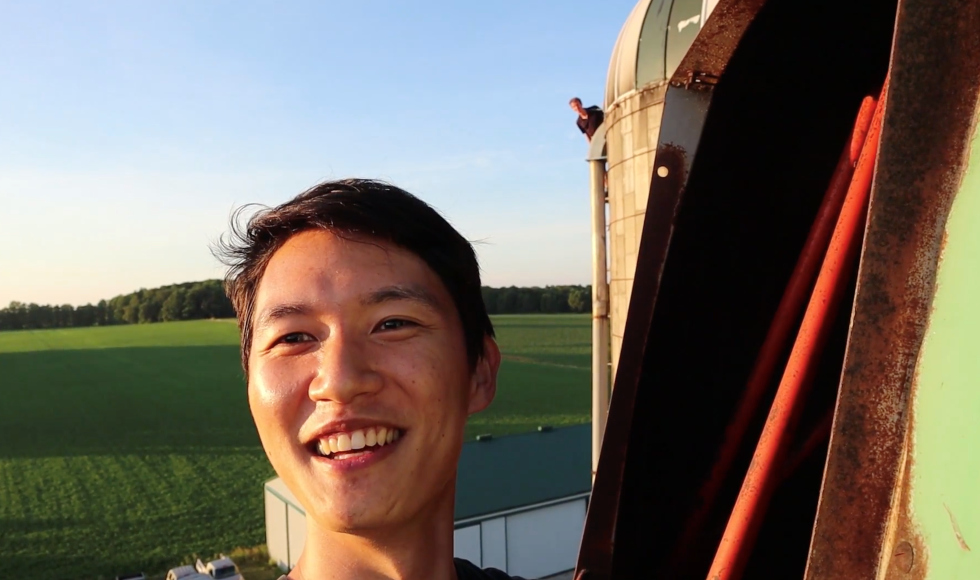 Medical students Jun Park and Matt McArthur on top of silos at a southwestern Ontario dairy farm during their Song of Ontario scholarship-funded tour of the province.
---
McMaster medical students Jun Park and Matt McArthur dodged black bears in Marathon, climbed towering grain silos in Walkerton, offered free hugs in Ottawa and played music in venues including seniors' homes, street festivals and restaurants.
They were invited into people's houses to play, including a Mennonite family's home where the students performed old church hymns from their childhood.
All this thanks to a scholarship program that allowed them to trade the classroom for the school of life last year, taking a road trip across Ontario. They visited close to 50 communities as far north as Moose Factory and connected with hundreds of interesting people – from an orchestra conductor, to farmers, to homeless shelter workers.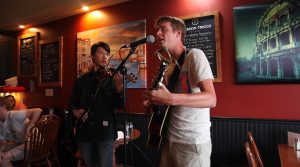 Their adventure was made possible through the Drs. Jolie Ringash and Glen Bandiera Renaissance Award, a scholarship that gives McMaster students an opportunity to take on a project outside of their field of study. It's a chance for students to broaden their learning experiences over four to 12 months through a project they feel passionate about.
The pair took the 2019-20 school year off for this opportunity and named their project The Song of Ontario because all aspects of their travels were tied to music.
Park is a highly accomplished violinist who toured internationally with the Canadian Sinfonietta Youth Orchestra. In his undergrad years he played for the McMaster Chamber Orchestra and was concert master for the 2017-18 season. McArthur is a talented singer-songwriter who plays guitar.
For six months, they toured the province by car, exploring communities and sharing their many experiences through songwriting, poetry and storytelling. "We felt very comfortable exploring outside of our medical school bubble," said Park.
They are now back in medical school and will graduate in 2022. Park is interested in psychiatry and McArthur plans to pursue family medicine.
Both feel that the Song of Ontario project will make them better physicians.
McArthur believes the trip made them both more resilient and open. "We developed a stronger sense of ourselves and what's important to us. We also had many opportunities to really connect with people. This will help us build strong doctor-patient relationships and be more effective caregivers and healers."
Park points out that their experience has given them a valuable perspective on health care generally. "We can zoom out and see a larger systems picture of what's going on in our province and in our world."
The two friends met as undergrads studying health sciences at McMaster. Both were accepted into the Michael G. DeGroote School of Medicine in 2018, and during a retreat for first-year medical students they became involved in a long and wide-ranging conversation covering everything from their shared love of music, to their roots, to the importance of feeling connected to their community and country.
The discussion inspired them to apply for the Renaissance Award, with a project proposal that combined their shared passion for music with their interested in exploring the broader theme of community and personal connection across Ontario.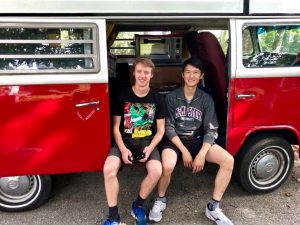 "If you really want to change health for the better, you have to know effective ways of connecting with people," said McArthur. "We both love music and recognize it's a very powerful tool to connect humans."
Their adventure began in July 2019, starting in Toronto, where Park was raised and Walkerton, where McArthur grew up. "We wanted to explore our own roots and sense of community first, before branching out to other parts of Ontario," said McArthur.
In Toronto, their stops included the home of Park's violin teacher Tak Ng Lai and piano teacher Aster Lai since both had a profound influence on his life. Tak Ng is founding director and conductor of the Toronto-based Canadian Sinfonietta and Aster is an internationally recognized piano instructor. The Song of Ontario project includes a video interview with the husband and wife musicians.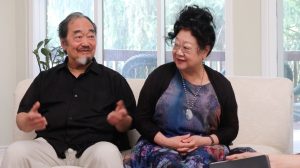 The Walkerton stop included a video interview with McArthur's Dutch immigrant grandparents and a tour of his aunt's farm where the two students scaled the exteriors of 20-metre-high grain silos and conducted a video chat from their perches. "Will my mother kill me after she sees this?" Park mused from the top of the silo.
Their journey continued across Ontario, where they collected stories and wrote original songs about the people and places they encountered. Some stops were planned. Others happened organically.
"It often felt like we were following a trail of breadcrumbs and didn't know where it would lead, and this took us to amazing places," said McArthur.
Experiences included touring farms and food banks, helping with Habitat for Humanity house building project at Chippewas of Nawash Unceded First Nation, visiting a homeless shelter in Timmons and a health centre in Lac Seul First Nation.
They performed concerts at seniors' residences, bars, restaurants and festivals along the way and jammed with fellow musicians across the province, including members of the North Bay Ukelele Club and a Thunder Bay fiddling and guitar drop-in session.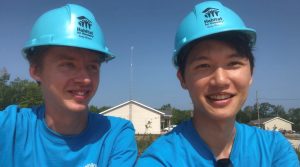 At a music festival in Thunder Bay, a man they met offered the use of his cabin in Jackfish, a ghost town on northern shore of Lake Superior, east of Terrace Bay. It was a highlight of their trip. They foraged for wild blueberries, swam in Superior and performed at a seniors' residence in nearby Marathon. The blueberries were so delicious, they inspired McArthur to write a poem in their honour.
Driving back to Jackfish from Marathon after dark, they saw "many" hunched figures of black bears. The closest place to park their car was a 20-minute walk along railway tracks to the cabin. Fortunately, they had a flashlight. "We sang to calm ourselves and to keep the bears away," said McArthur.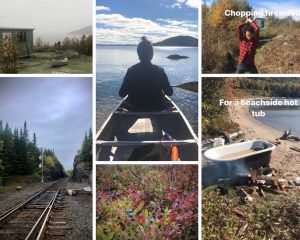 The two travelled as far south as Windsor, west as far as Dryden and east to Ottawa where, on federal election day, they offered free hugs to voters as a reminder of the importance of staying connected regardless of political beliefs.
Friends and colleagues could follow their adventures online and even post suggestions for places to visit. With travel restrictions now in place due to COVID-19, Park and McArthur thought this would be an ideal time to share their adventures with the public as a virtual travel experience.
The completed project includes an album of nine original songs – including one inspired by Jackfish — as well as poems, blog posts and video interviews featuring the places they visited and people who inspired them.
For a map of their journey, and to access songs, blogs and vlogs and more, please visit https://bit.ly/3eIHdEn.
Their original album, The Song of Ontario, can be listened to on major streaming platforms including Spotify, Bandcamp and YouTube.