Icons of stage and screen: Cynthia Dale and Peter Mansbridge to receive honorary degrees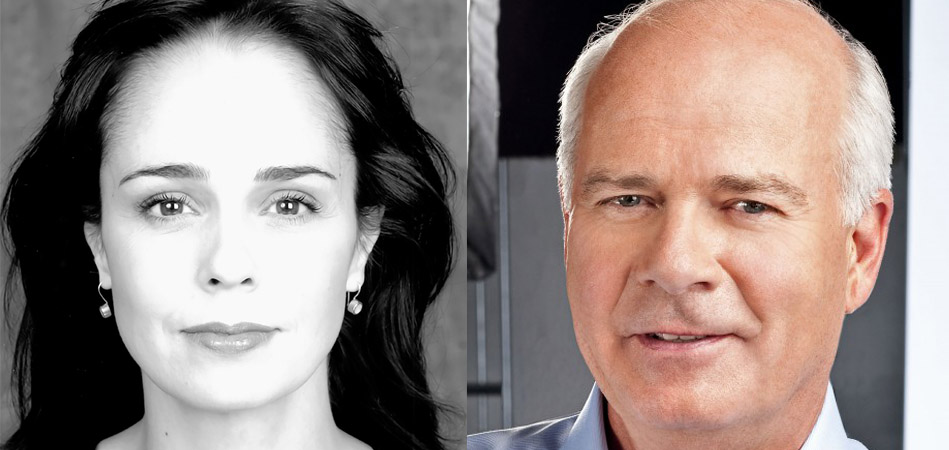 ---
Cynthia Dale is one of Canada's most renowned thespians. Peter Mansbridge delivers hard realities on the small screen. Both are receiving honorary degrees today from McMaster during the DeGroote School of Business' spring convocation.

Posted by McMaster University on Monday, June 12, 2017
She is one of Canada's most renowned thespians. He delivers hard realities on the small screen. Both will receive honorary degrees from McMaster during the DeGroote School of Business' spring convocation.
Cynthia Dale and Peter Mansbridge rarely rub shoulders on the job. They inhabit separate worlds – as the queen of Canadian musical theatre and the iconic face and voice of Canadian TV journalism.
Yet they are husband and wife, parents of a teenage son, and national stars. From different directions, they have climbed to the summit of the arts and news media industries in this country.
Now, for a brief moment on June 12, they will inhabit the stage together at Hamilton's FirstOntario Concert Hall to accept their degrees and address DeGroote's graduating class. It will certainly feel weird being in the spotlight together, Dale admits, sitting in a coffee shop in Stratford, Ont., the scene of her great roles and the place the couple now calls home.
As for Mansbridge, on this spring day, he is at work in Toronto preparing for the nightly newscast on CBC's The National, still jet-lagged from covering the Vimy Ridge centenary in France and bracing for a July 1 retirement from a career that lifted him into the chief correspondent and nightly anchor's role for the past three decades.
Over the years, Mansbridge has maintained a keen interest in Canadian business activity and how it impacts not only our day-to-day lives, but our national identity.
He has been a key player in efforts by the CBC to establish a stronger business-news presence, which has led to satisfying off-the-job roles as a supporter of Junior Achievement Canada and its Canadian Business Hall of Fame, and a judge in the National Business Book Awards.
That has given exposure to business leadership in Canada, adding an extra dimension to his passions for the North, military history, and Indigenous people. Fellow journalist Brian Stewart remarks that his friend is an unabashed lover of "the loons, the canoes, the trees" – the things that define this country.
Meanwhile, Dale has developed an appreciation for business as a life skill. She wishes she had pursued some, or any, business training. As a performer, she knows she faces the constant challenge of promoting herself as a brand, hiring agents, potentially even starting a theatre company. "I need to have that arsenal of skills," she says, adding that, "it is great to do a time step in dance, but I wish someone had said to me, 'Get a business degree.'"
Mansbridge too is mindful of the need for hard-headed business skills for a media personality. "It is my brand. Like Cynthia, I am protective of it. We are aware of the value of personal branding."
Over the years, Dale and "Pete," as she calls him, have remained respectful of their space and their very different careers. Yet they are open about what they like and don't like about each other's plays or programs. You do no favours, Dale says, by just being there to offer passive support.
He remains at heart a Cynthia Dale fan, standing in awe of his wife and her triple-threat talents. "Singing, dancing, acting, she does it all, while I am basically a storyteller." Indeed, the best stories may be their own – their rise to leadership roles in their professions, their community-building in Stratford and on a national stage, and their life lessons.
Despite their obvious connection, there are starkly different narratives to their life stories. Dale was the kid who had a dream and nurtured it from the beginning, who wanted above all, to be a star. Mansbridge was the aimless teenage dropout who saw the light when he was "discovered" giving flight announcements in a remote Northern airport.
Dale grew up in the Toronto suburb of Etobicoke, as the daughter of a car dealer father and a fiercely ambitious mother whom she fondly calls "a bit of a Mama Rose" in reference to the relentless stage mother in Gypsy.
The reference is tinged with sadness. Her mother Barbara Ciurluini died a few days before this interview at age 84, but she had the satisfaction of seeing Cynthia and her actor sister Jennifer forge careers in the arts. "My mom did the dreaming stuff well," Dale says.
She started her professional career at age five, working on Canadian TV shows with the likes of Tommy Hunter and Wayne and Shuster. Life was a constant stream of lessons, with the discipline of dancing every day. In her mid-20s, she landed a Gemini-nominated role as the beguiling Olivia Novak, on CBC's lawyers-in-love show Street Legal, a role that gained her a high public profile.
She had first appeared at Stratford in her early-20s in a Gilbert and Sullivan operetta. Twenty years later, a more seasoned Dale was able to land the great roles. Maria in The Sound of Music was "a gift," as was Eliza Doolittle in My Fair Lady. She had dramatic turns too, including Maggie from Cat on a Hot Tin Roof. For a decade, she was the shiniest star in the Stratford firmament, amassing a body of work that qualifies among the most impressive in Canadian theatre.
After her mentor, artistic director Richard Monnette, left the Festival she had a few years' hiatus when she explored other channels of her singing-dancing repertoire. She triumphantly returned to the Stratford stage in 2012 for 42nd Street, in the powerful role of Dorothy Brock, the veteran diva whose injury opens up an opportunity for an up and comer.
She has earned the respect of the theatre community for her skill and collegiality. "Cynthia Dale is not only hugely talented, she is a wonderful colleague and dear friend to so many of us here at the Stratford Festival," says Artistic Director Antoni Cimolino. "Her luminous performances have thrilled audiences over the years helping to make the Festival a stronger arts organization and more attractive destination."
Through it all, she has been a consummate news junkie who loved to hang around the Street Legal makeup trailer, chatting with the rest of the crew about current events. She channels that interest into being a passionate signer of petitions, marcher in marches, engaged in society's great debates, reveling in a freedom of expression that is generally not available to her husband, a national news anchor.
While she was the child prodigy, Mansbridge was the classic late bloomer. British born, the son of a civil service family, he grew up in Southeast Asia and Ottawa. On leaving school, he tried a naval officer's training program but left early. Working as a 19-year-old ticket agent, he was speaking over an airport public address system in Churchill, Manitoba, when the local TV station manager heard "the voice," smooth and sonorous even then. The station needed a news reader and the rest is history.
"I loved the business from the first second I was involved," he says. It evoked memories of his own family sitting around and reviewing the day's events. "That's what journalism is all about. I had to layer in the ability to tell stories – it started from the very bottom." One key to success in life is seizing opportunity. "You need to be willing to understand it is there and take advantage. I grabbed it and I ran with it."
It is advice he shares with today's students as a mentor and friend, but he recognizes it is a different media industry than when he started. "It's tough to talk to journalism students now and I tell them [at Churchill] I was the only option. Today there would be 250 people lining up for that job."
He earned his stripes in the network's Parliamentary news bureau, and became one of CBC's stalwarts. "He was the best pure reporter in the Ottawa bureau and a great TV presence," remembers Brian Stewart, another rising star who would become a close friend – and an authoritative newsman in his own right.
Mansbridge emerged as a candidate for the big job of nightly news anchor. But he was also being wooed by a big U.S. network. In a now legendary story, Mansbridge's mentor and longtime anchor Knowlton Nash stepped aside to keep the younger man in Canada.
Thirty years later, he retires as perhaps the best known news person in the country, the winner of 13 Geminis, and possessor of iconic pipes immortalized as "Peter Moosebridge" in the Disney animated flick Zootopia.
"For many of us, Peter Mansbridge has been a trusted guide to our country's history as it unfolded," says CBC News editor-in-chief Jennifer McGuire. "He is synonymous not only with CBC News, but with calm, reassured and factual coverage.
Peter has always taken the responsibility that comes with that very seriously.  He has always remained first and foremost a journalist. He has never lost the fire to follow and break stories.  This is who he is."
While both he and Dale are national celebrities, they are private in their lives outside their professions. Both are quietly committed to supporting communities, though. Dale has been a strong supporter of the Hospital for Sick Children in Toronto, for example, lending her narrative voice to productions as part of the hospital's outreach. She often comes to the aid of Stratford institutions, including the local hospital and cancer society.
She and Mansbridge also share a strong commitment to literacy, kindled by their work with the late CBC host Peter Gzowski in literacy awareness programs. Education is a big part of what they do. He backs five scholarship and internship programs in different provinces. As a family, they have a significant community foundation fund supporting environmental concerns in Perth County, where Stratford is located.
So what's the next chapter for both of them? Now in his late 60s, Mansbridge enters the life of a freelancer, albeit a household-name freelancer. He will work on some big documentaries for the CBC and become available for boards and volunteer roles that, as a 24/7 journalist, he had to turn down in the past.
As for Dale, it is a challenging year – a mother's death, a husband's retirement, a son leaving for university this fall. It is a time for family. She is also searching for new experience, as she has all her life. She believes it is not a world of doing this or that – it should be a life of this and that, of constantly adding skills and roles. That is her message to young people – escape the "orange cones" that can constrain your life and experience.
As someone who dreamed big and made it happen, she loves to hear young people's stories of aspiration. "I honour their dreams so much." That alone is the best qualification for any convocation speaker.