"I wanted to think about the kind of world I want the next generation to be living in"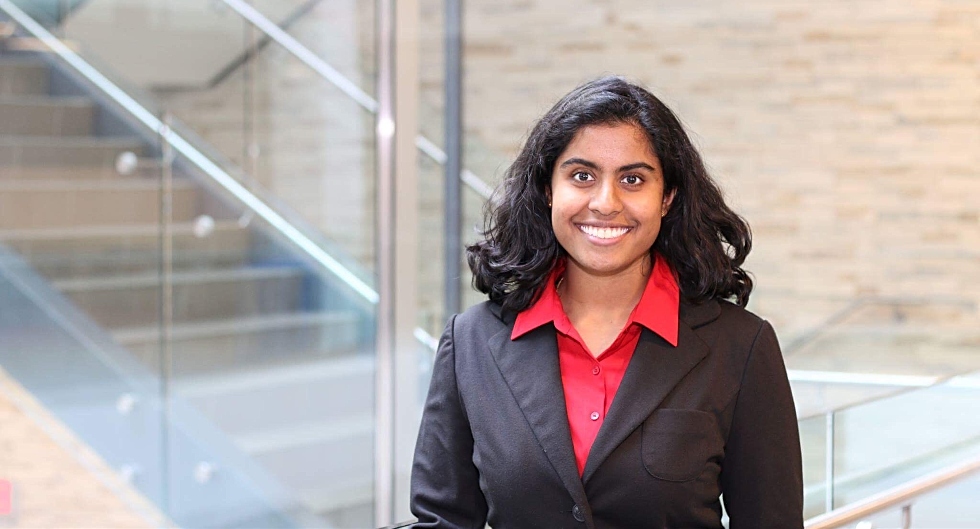 McMaster Global Health student Aloka Wijesooriya has been named a runner-up in a global competition that asked students to consider what a world where companies care and people come first could look like.
---
It might, at times, be difficult to imagine a world where businesses are driven by social and environmental responsibility or where organizations place their employees and the wider world at the heart of corporate strategy.
But for McMaster graduate student Aloka Wijesooriya, that world isn't as far off as it may seem.
Wijesooriya, a student in McMaster's Global Health program, was recently named a runner-up in the Universitas 21/PricewaterhouseCoopers Innovation Challenge, an international competition that invited graduate students from around the world to create a three-minute video submission focussed on how they would respond to and prepare for a world where "companies care and humans come first."
"This competition was an opportunity for me express my voice in a public forum using what I'm learning in the classroom," says Wijesooriya, who explains that her submission was informed by her learning and experiences in the Global Health program. "One voice can start a ripple effect, so I wanted to share my ideas and find out whether they resonate with others as well."
In her video submission, Wijesooriya described her vision for the future, detailing a world in which people and organizations work collaboratively and respectfully to care for both the environment and society.
She also identified the skills and approaches she says are needed to create such a world, stressing the importance of multilingual communication and conflict resolution skills, as well as the need to adopt a caring and open mindset that embraces diversity in all its forms.
"I wanted to think about the kind of world I want the next generation to be living in," she explains. "One that gives people the opportunity to be who they want to be and where they are treated in a respectful manner. Right now, there are places where I see this is being achieved and areas where it's not. For me this was an important time to say 'ok, this is what I want to see in the future."
Watch Aloka Wjesooriya's video submission:

The Innovation Challengeis part of a partnership between global professional services firm, PricewaterhouseCoopers, and Universitas 21(U21), a leading global network of research universities of which McMaster is a member. The competition included submissions from students at U21 member institutions in Hong Kong, Singapore, Korea, South America, the United States and Canada.
Wijesooriya qualified for the global competition after participating in the McMaster round, which was organized with support from the Office of International Affairs.
As a runner-up, Wijesooriya, who graduates this spring, will receive personalized professional coaching sessions with the PwC Academy. "I anticipate that the coaching sessions will help me further develop my skillset and help me adapt into a future role within the global health field," she says.
Wijesooriya is currently in Nunavut where she is conducting research under the supervision of McMaster's Chelsea Gabel. Her research focusses on learning from parents and caregivers about the supports they need and the challenges they face when raising a child
Wijesooriya says, for her, the Innovation Challenge was a valuable opportunity to reflect on the kind of world she would like to create and encourages other students to think about how they can help build a better future.
"Try and find an idea that you're passionate about and something that will help better human-kind and the environment and think about ways you can do your part to not just be living in a world that's great right now, but also many generations from now," she says. "It could be within your academics, your personal life, whatever it is, but just have that open heart."
*The McMaster round of the PwC/Universitas 21 Innovation Challenge was organized by Tania Hakim, project officer in McMaster's Office of International Affairs.