"I have so much hope for this space"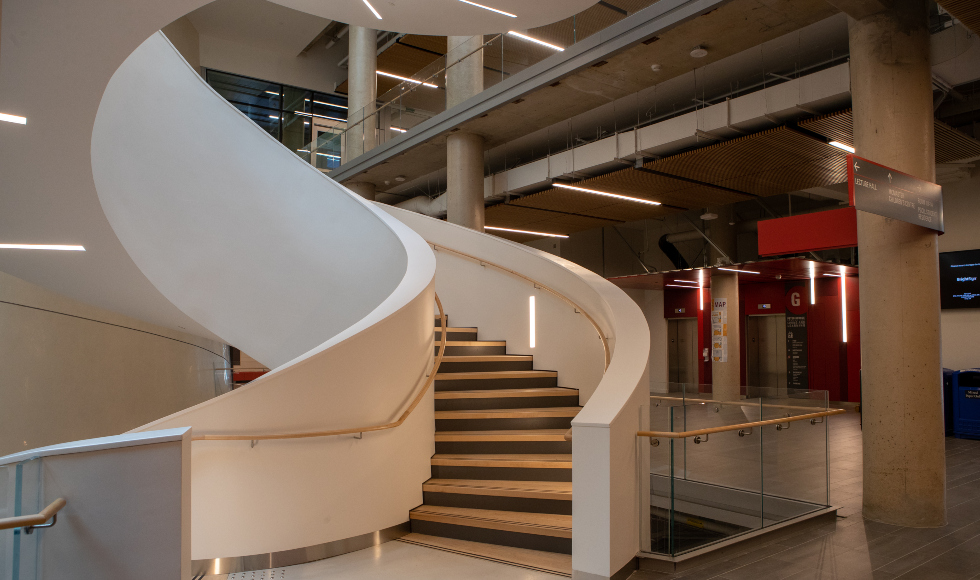 The Peter George Centre for Living and Learning will be the home of the new Black Student Services office. Photo by Georgia Kirkos.
---
Once pandemic restrictions are lifted and Mac's students can return to campus, they'll notice a new space in room M07 of the Peter George Living and Learning Centre (PGCLL): the home of the new Black Student Services office.
The office is one part of the five-point action plan developed after the release of the university's review of the Black student-athlete experience in late October.
The space will house an office for the university's new Black student services advisor, as well as a community gathering area for Black students.
"The Black Student Services office is an important step towards strengthening a culture of inclusivity at McMaster," says Sean Van Koughnett, associate vice-president, students and learning, and dean of students. "The review of the Black student-athlete experience was the catalyst for the creation of this office, and all Black students at McMaster can benefit."
Three Black students have provided feedback on the space. Here is some of what they shared about its importance, their hope for change, and what still needs to be done.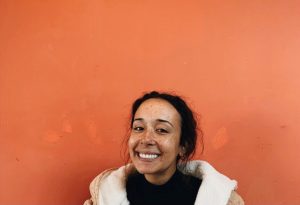 Payton Shank is a third-year Faculty of Science student, studying human behaviour and specializing in autism. A varsity rugby player, she's been involved with Ontario University Athletics' Black, Biracial and Indigenous Task Force, and is part of the Black Leaders in Sport group at McMaster.
Events throughout the summer – like the killing of George Floyd and Breonna Taylor – sparked outrage among everybody. And while 2020 has been chaotic, it's also been a year to get things moving – people are coming together and saying, enough is enough.
We're starting to realize that there are underrepresented students at McMaster who are unsupported and unheard. There are hurt students at McMaster, people who are being attacked, people who are impacted day in and day out.
There needs to be fundamental change. I don't care if you say you support the Black community – I want to see, if something happens, or the opportunity arises, that you demonstrate that you actually care about us.
I have so much hope for this space, and for the Black student services advisor. Having this space will be like having that really cool teacher in high school – the one whose room you could hang out in, the one you could talk to. That's where I felt safest in high school – there was someone I could talk to, who understood me, who got me.
This is one step that says, 'We honour you here.' The issue is ensuring that we keep pressing to make sure people are being held accountable and doing what they're supposed to be doing.
I see so much change coming out of this – it will open doors and start to change the way people think.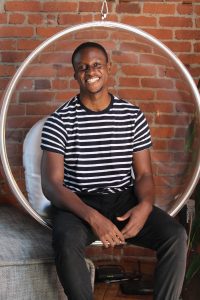 Kwasi Adu-Poku is in his fifth year of kinesiology, and is a Wilson Leadership Scholar. Part of the Black Leaders in Sport group, he's played basketball during his entire time at Mac. He also runs his own business: a series of interactive workshops called the Reach Series.
This has been a long time coming; spaces like this are the start of a more collective response to the forms of intergenerational trauma that Black and Indigenous people, and People of Colour, have been experiencing for many years.
I think it's important to have a safe space you know is your own, where you're guaranteed you'll feel welcome. Racism is systemically embedded in our institutions, and so much of our being is viewed through a Eurocentric lens.
Ultimately, we need an overall review of Black students' and faculty's experiences – and I think when we do that, we'll see a lot more trauma, a lot more things that people have had to go through with brave faces. Giving them a forum to speak will hopefully bring changes and create a domino effect from more than just Black student-athletes. At the end of the day, it's a privilege to play our sport – but the people who don't have the title of "athlete" deserve to have their voices heard too.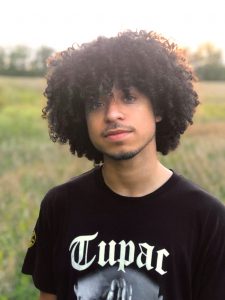 Aaron Parry is a fourth-year student in Indigenous Studies and Anthropology, with a minor in African and African Diaspora Studies. He's active in McMaster's Black Student Association and was involved in the early planning for Black Graduation (which was cancelled due to COVID-19).
This new space is exciting – it's been something I've been thinking about for the past four years.
Right now, we don't have a safe space, whether that's for expressing intense and sometimes sensitive subject matter, or just having the freedom to have a good time.
Having Black student services means a lot because it acknowledges there's a gap that Black students face that doesn't affect the rest of the student community – there are issues of anti-Black racism that we as Black students continue to face at McMaster that are unresolved and need to be fixed.
People think that ignoring differences prevents things like hate and discrimination, when what it actually does is negate the experiences and identities that people have. Not only do we want to be able to define and express our identities on our own terms, we want to do this without the threat of harassment from our school community.
Dealing with anti-Black racism is something that's been placed on the shoulders of Black students, and having someone in Black student services, while it doesn't solve all the issue, definitely gives people somewhere to go to deal with issues, have their voices heard and get things started.
We are here, we deserve to be here, we deserve to have a voice and be safe and have a positive educational experience, which we often don't have. It's time for these things to happen. My hope is that this isn't where it stops.