How to change a life: Volunteer program connects students and newcomers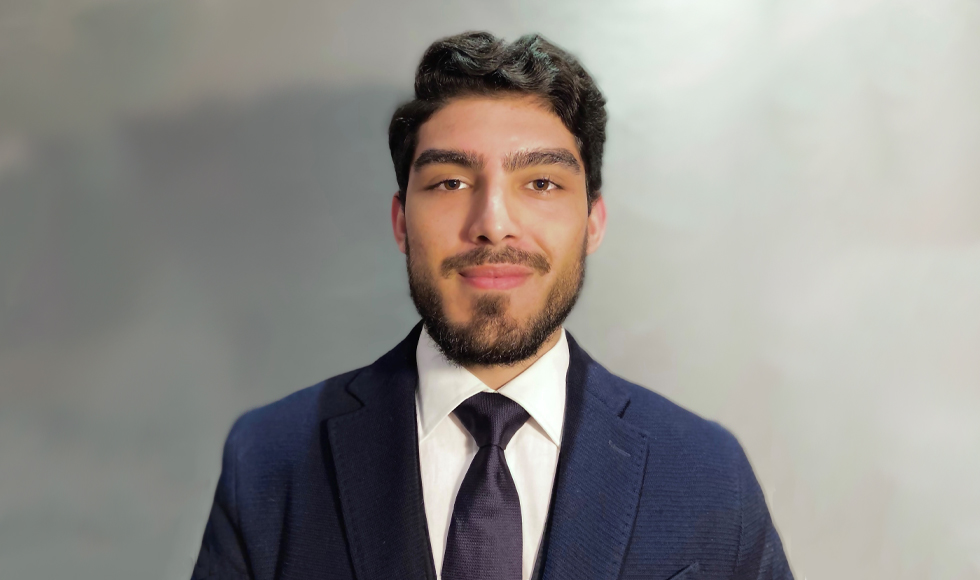 Jordan Salehi's volunteer placement started with him befriending a young newcomer. It wasn't long before he was helping his friend realize a big dream.
---
It isn't every day that you can change someone's life.
For Jordan Salehi, a student in political science and health, aging & society, the opportunity came while volunteering through one of his courses.
HLTHAGE 3EE3 – The Practice of Everyday Life: Observations and Inquiry, taught by associate professor Geraldine Voros, encourages students to put their studies into practice. The class has a volunteer placement component, allowing students to engage with members of the Hamilton community and reflect on how these individuals practise health and well-being in their daily lives.
"I had done one of [Voros'] courses before, and really enjoyed it," Salehi says. "I was very excited to take the class because of the hands-on component. My only hesitation was my shyness, but I told myself that I'd try it and step outside of my comfort zone."
Salehi was placed with the Canada Connects program in Hamilton, an initiative run by the YMCA Hamilton Burlington Brantford. The program helps familiarize newcomers to Canada with the social, political, and cultural context of their new community.
Salehi was part of the first cohort after the program began a partnership with the department of Health, Aging & Society in September, through the office of Experiential Education in Social Sciences.
Making a tangible difference
He was connected with a young man around his age. Over the 12-week program, they chatted virtually and quickly forged a friendship. During one of their conversations, Salehi discovered his newcomer match needed help meeting a goal: He wanted to pursue a post-secondary education.
"After I learned what his goal was, we dedicated at least one hour each week to helping him with his (post-secondary) application process. There were some areas that I had some experience with, such as navigating the Ontario Universities' Application Centre, completing prerequisites needed to apply, and setting up meetings with counsellors," Salehi says.
He helped with other aspects as well, including improving his match's skills with Microsoft Office Suite, and helping him draft emails and improve his  English.
"One of the most significant changes I noticed over the weeks was how much his English improved," Salehi says. "The more we spoke and the more we interacted, he definitely became more confident and even in that short time, there was a tremendous improvement."
Their hard work paid off. In December, Salehi received a call from his friend, confirming that his program of choice had accepted him for January 2021.
"That was an amazing moment. When he told me that they had accepted him into his program, it almost felt like they had accepted me. I was so happy for him."
"I knew I played a role in helping him achieve such a significant goal that could really change his life," Salehi says. "That was so amazing."
Friendship and a sense of belonging
Program coordinator Abir Alsaid, from YMCA Immigrant Services in Hamilton, loves volunteer success stories like Salehi's.
"It is so great to see these young people making a tangible difference in newcomers' lives," she says.
"Our program is available for newcomer individuals and families and we often have many newcomer youths who are between 18 and 24," Abir says. "It is beneficial to match them with a third- or fourth-year university student, who can help them understand the Canadian education system while learning about Canadian culture and life."
"Overall, the program helps newcomers build new friendships with Canadians and to develop a sense of belonging, overcome the cycle of social isolation, improve their language skills, empower them and gain confidence."
Salehi's own family received guidance from their friends and community when they first arrived in Canada from Iran, and he says he was glad for an opportunity to pay it forward, and to expand on what he learned in class.
Would he recommend volunteering in the community? Definitely.
"My advice for students is to reflect on what they intend to achieve with their education," he says.
"I plan to be an attorney, and so for me, building my communication and leadership skills is crucial. After thinking about my education goals, I enrolled in an opportunity that not only helped my academics, but ultimately allowed me to help change someone's life for the better."