How to be good guests on stolen land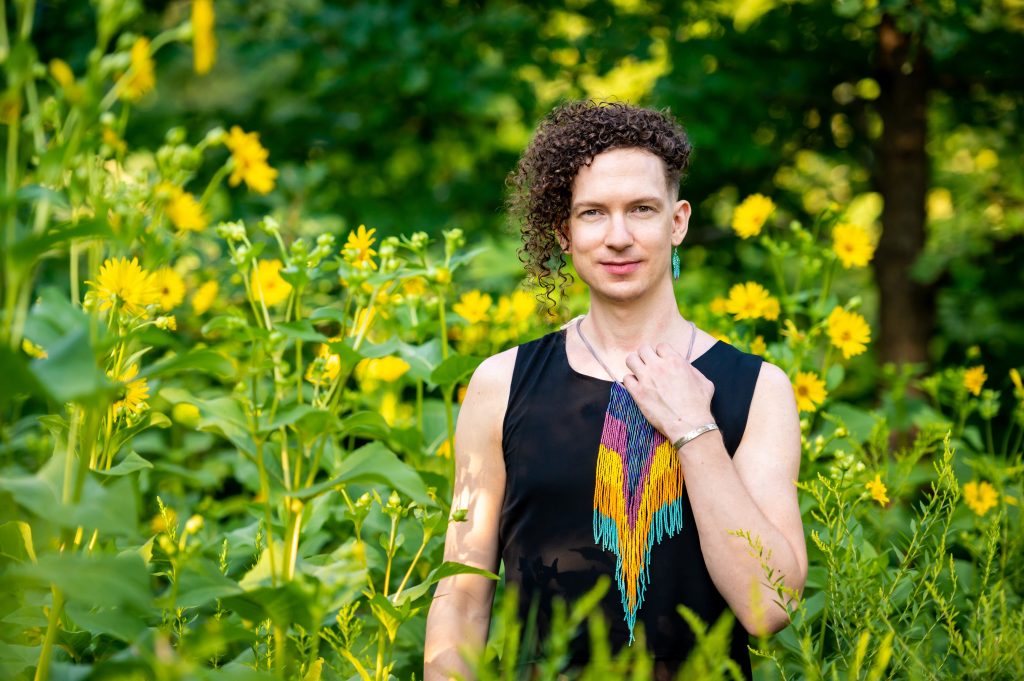 Artist-in-residence Cole Alvis facilitates an exploration of colonialism, abolition and social justice through theatre.
---
Cole Alvis, a Two-Spirit Michif artist and theatre director (she/they), will be taking on a one-year artist-in-residence position with the School of The Arts starting in the Spring 2021 semester.
The year-long residency continues her work within SOTA that started last fall. Cole will again be working with Peter Cockett and Theatre and Film Studies students to create a performance that will explore the understanding that, on this land, we are all treaty people. The project will build on the work of last fall's devised theatre class that investigated the question, "What does it mean to be a good guest on stolen land?"
Relating to the past and present
"There are so many misunderstandings about Indigenous rights out there because of the education system, the media, the Canadian government – the colonial stories we tell ourselves get reinforced again and again," says Alvis, whose fall and winter work at McMaster was funded by the Shepard Foundation. "Our goal for the students is to guide them to make things they're proud of, to think about their role in upholding the treaties, and facilitate their relationship to the past, present and future as caretakers of the land."
To support the class's exploration of what were unfamiliar – and potentially uncomfortable – topics for many, Alvis created an extensive information hub of multimedia materials, including articles, videos and Instagram posts. This wealth of material, along with Alvis's encouragement, created an atmosphere of support and understanding, says Bianca Mancino, a third-year biology major.
"It's OK if you ask questions that may seem hard," she explains. "Cole has helped create such a positive environment – I never feel like I'm going to be judged on anything I do, say or present, which is great when you're learning about topics like what has happened to Indigenous people and your role in being a settler. It's great to have an environment where I feel like I can learn comfortably, then push myself into uncomfortable places so I can grow – and be supported in doing that."
Playing a role in Canada's narrative
Students eventually created solo works, including a short film, a radio play and a digital video, inspired by their work with Alvis. Emma Yim, a fifth-year Arts & Science student, used the opportunity to reflect on her family and how she fit into the story of Canada's past and present.
"I felt like I would never really be connected with Canadian Indigenous issues, because, being from an immigrant family, the perspective and the worldview is very different," says Yim, whose grandparents came to Canada from Korea. I always felt like I was a spectator, but never felt that I could be a participant, feeding into the injustices that Indigenous folks face, simply because I'm from an immigrant family, so I don't feel connected."
Yim explains that, as the family grew and adapted to life in Canada, the divide between the generations widened: raised in Canada and speaking only English, she can't communicate with her grandmother, who speaks mostly Korean. While her experiences aren't the same as those of Indigenous peoples, she says she's come to see that her family's history is intertwined with the larger Canadian narrative.
"Cole has been very vocal about Indigenous issues not being black and white – it's still your story, even if you don't fit into either the settler or Indigenous category," she says. "They're very clear that everyone should be thinking about what their role is in the narrative – and that's very different from the perspective I had at the beginning of the course, which is that this is Canada's history – I don't have a personal connection to it. But I do."
Realizing and acting on that connection, and sharing stories, is part of the work that needs to be done to move theatre – and, by extension, settler culture – forward into a new understanding between colonial and Indigenous peoples, Alvis says. And that work can start in the classroom.
"We're articulating our experience and holding space for the experiences of others to meet the expectations of what we need to do right now – how to translate this broader work into an academic scenario. It's like the layers of an onion – there are important ideas threaded throughout the year."
Looking ahead
As artist-in-residence in 2021-2022, Alvis will work with Cockett and theatre and film students once again to develop a theatrical performance about Treaty Rights, which will be presented as the annual Fall Major Production. The performance will be the product of two Theatre and Film Studies courses, which will be open to students in Indigenous Studies, Studio Art, Music, and Arts and Science programs. An Indigenous undergraduate student from the Indigenous Undergraduate Summer Research Program has been invited to collaborate with Alvis and production director Cockett during the Spring semester. As well, two scholars and a research assistant from the Gender Studies and Feminist Research program will also work on the production.
Working in collaboration with Indigenous Studies and the McMaster Museum of Art, Alvis will also curate a new workshop series for Indigenous Studies that will connect students and faculty with the work of national Indigenous artists.
"This residency is a response to the university's call for anti-racist and decolonial curriculum and actions," explains Stephanie Springgay, director of the School of the Arts. "We believe that the arts have an important role to play as an act of resistance, as a way to challenge colonial institutions, and provoke critical dialogue. We are so pleased that Cole will continue to be with us to share her wisdom, insight and significant experience."