How Take Our Kids to Work Day influenced my interest and passion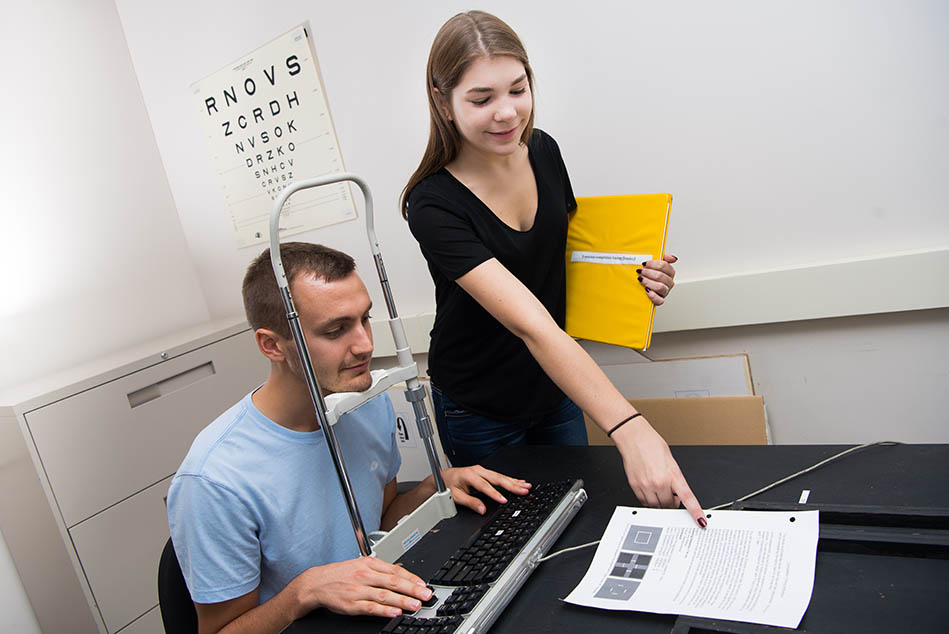 ---
This year on November 2, McMaster University will be hosting grade 9 students as part of the nation-wide Take Our Kids to Work Day. These young minds will have the opportunity to explore campus labs and facilities in many areas, including music and the arts, science, space, strength and conditioning, anatomy, engineering and cognitive neuroscience.
Now an undergrad at McMaster, Sophie Poinar remembers attending the event four years ago and shares her experience and how it influenced her career path.
—
When I was in Grade 9 at Westdale Secondary School, I participated in "Take Our Kids to Work Day" at McMaster University. My strong interest in the human mind drew me to the Department of Psychology, Neuroscience, and Behaviour breakout session that offered insightful information on how the mind works. I did not know then what an impact this event would have on my life. It opened up an array of opportunities and changed the approach I took towards my future. My passion for psychology grew that day after visiting the Vision and Cognitive Neuroscience Lab and left me wanting to learn more about this field of study. My eagerness led me to email Dr. Allison Sekuler and Dr. Patrick Bennett, both Professors of Psychology, Neuroscience and Behaviour and the Principal Investigators of the lab I visited, to inquire about a volunteer position. 
That was four years ago and I have been volunteering in that lab ever since. I am now a first year undergraduate student in the Arts and Science Program at McMaster University and have recently accepted a job as a Research Assistant in the Bennett and Sekuler lab. This is only one of countless opportunities that my volunteer position has given me. For example, I have met so many wonderful people: the kind, upbeat participants; the passionate, hard-working graduate students and volunteers; the Staff and Professors of the Psychology Department, and people who generally work at McMaster. Additionally, when I was in grade 9, I became very interested in the subject of law and how psychology could play a role in this field. Due to my volunteering position it confirmed my passion, impacted my sense of direction and influenced my course selection throughout my high school years. As of now, I still hold on to that passion dearly. Volunteering also enabled me to incorporate my experience with the Psychology Department in my supplementary application for the Arts and Science program at McMaster.
The Vision Lab has always supported my love for learning, whether it be the stacks of textbooks and novels that were generously offered, or accepting and integrating a young student into their enthusiastic team. Being surrounded by this great cohort of people has helped me to develop my confidence and made my integration into university life much less intimidating. The first year at university is a very overwhelming experience for any undergraduate student and I am extremely fortunate to have already been exposed to campus life through my volunteer position. In the first month of school I have already seen many familiar faces, which I have met through my involvement at McMaster.
Lastly, I wanted to mention that it is extremely important to understand that your age should not limit you when you begin discovering what interests you. There is no harm in merely asking to become involved as it can lead to many opportunities. I cannot thank the Vision Lab enough for allowing a young high school student to pursue a passion and shadow the footsteps of so many intelligent, passionate and hard-working individuals. I am very excited to be a part of the Vision Lab for another 4 years and I am looking forward to the new responsibilities of my position as a Research Assistant.
Specifically, I want to thank Dr. Allison Sekuler and Dr. Patrick Bennett for affording me the opportunity. I also want to thank Donna Waxman, the Research Coordinator for the Bennett and Sekuler Vision and Cognitive Neuroscience Lab, as she has been more than a co-worker but a mentor and a very close friend.