How 'Big Data' can help solve big problems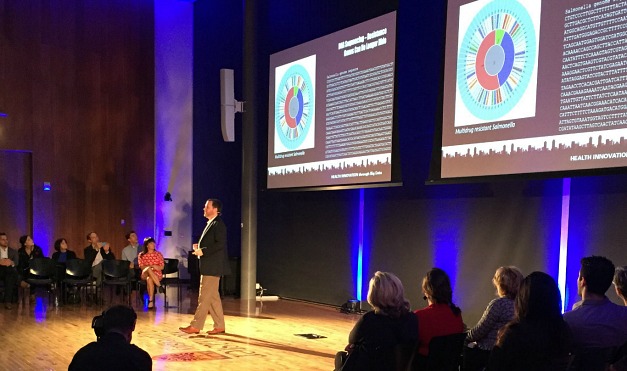 Andrew McArthur, Cisco Research Chair in Bioinformatics, delivered his talk, 'Combatting Antibiotic Resistance Using Surveillance' at 'Health and Social Innovation through Big Data,' the third event in the Big Ideas, Better Cities series held recently at the David Braley Centre in downtown Hamilton.
---
More data is being generated now than at any other point in human history. According to technology giant IBM, 90% of the world's data was created in the last two years alone.
The question facing researchers is how to harness this vast amount of data to better understand the world around us.
That was the focus of Health and Social Innovation through Big Data, the third event in the Big Ideas, Better Cities* series held recently at the David Braley Centre in downtown Hamilton.
More than 300 members of the McMaster and Hamilton communities gathered over two evenings for a series of talks on how McMaster researchers are using Big Data to transform health care and drive creative solutions to some of the complex challenges facing cities today.
Read Hamilton Spectator story on the event
McMaster President Patrick Deane, Hamilton Mayor Fred Eisenberger and Associate Vice-President, Faculty Susan Searls Giroux who is leading the Big Ideas, Better Cities initiative, were on hand for the event, along with lead organizers, John Preston Associate Dean, Research and External Relations in the Faculty of Engineering and Abigail Payne, Director of McMaster's recently launched MacDATA Institute.
"We have researchers that care about health outcomes, that care about reducing the risk of going to a hospital, that care about how we move people around the city," says Payne. "Big Data intersects with everyone across campus, whether it's social scientists humanities, engineering, or health science. We wanted to showcase the work our researchers are doing and show how relevant that work is to the community and to society."
McMaster experts from a number of Faculties delivered a series of 10-minute mini-lectures, or MacTalks, on topics ranging from how Big Data is being used to combat antibiotic resistance to how data is helping to reshape the urban landscape and build sustainable societies. View list of speakers.
These talks were followed by informal 'soapbox' conversations sparked by community leaders, students, industry partners and McMaster researchers on the different ways in which Big Data is influencing public policy and fuelling social and health innovation.
Videos of the MacTalks and Soapbox talks will be available in the coming weeks.
Learn more about big data research in IQ magazine, produced by the Office of the Vice-President, Research.
The next event in the Big ideas, Better Cities series, Building Healthy Communities, will take place from February 5-11, 2016. More information coming soon.
*Big Ideas, Better Cities is a year-long series showcasing how McMaster research can help cities respond to 21st century challenges and is funded through Forward with Integrity.
---
See below for videos on how McMaster researchers are working with Big Data. View all videos.
James MacKillop, Director, Peter Boris Chair for Addictions Research
Fei Chiang, Dept. of Computing & Software, Faculty of Engineering
Jeremiah Hurley, Dean of Social Sciences, Department of Economics