Hospitality Services launches pay-it-forward initiative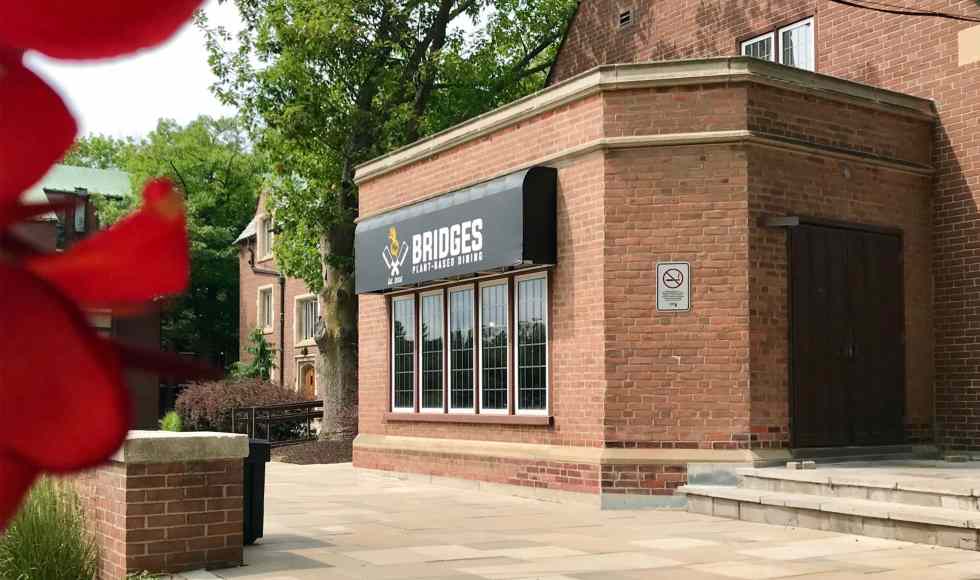 Bridges is the home for a new pay-it-forward Hospitality Services initiative: Cards for Humanity. (Photo by Sarah Janes.)
---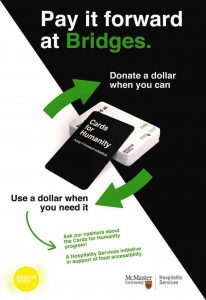 Starting next Monday, March 18, customers can add a dollar or two to their purchase at Bridges to pay it forward for a student who needs a bit of help to pay for their next meal. It's called Cards for Humanity.
"The whole idea is to donate a dollar when you can, or use a dollar when you need it," says Liana Bontempo, Hospitality Services registered dietitian, and project leader. "It's an issue that a number of students face. This financial element is just one aspect of food accessibility which for us includes allergies, dietary and religious restrictions along with plant-based lifestyle choices."
Anyone can donate to the project and students can use up to three dollars at a time towards food purchases at the popular plant-based campus eatery.
Hospitality Services Director Chris Roberts has worked with a number of student groups on initiatives that support food accessibility on campus. Cards for Humanity came about through one of those consultation meetings a few years ago and they have now been able to make it a reality.
Many people know of Cards Against Humanity, which is a hilarious and sometimes edgy party game, but the issue of food accessibility on Canadian campuses is no laughing matter.
The 2016 Hungry for Knowledge report from Toronto charity Meal Exchange reports that two in five Canadian postsecondary students experienced some form of food insecurity.
As recently reported in University Affairs magazine, Lakehead, Ryerson, Saskatchewan and other schools are developing programs to support students in accessing affordable, healthy food options.
McMaster's pilot project runs until the end of April and will start up again in September.