Homecoming 2013: What you need to know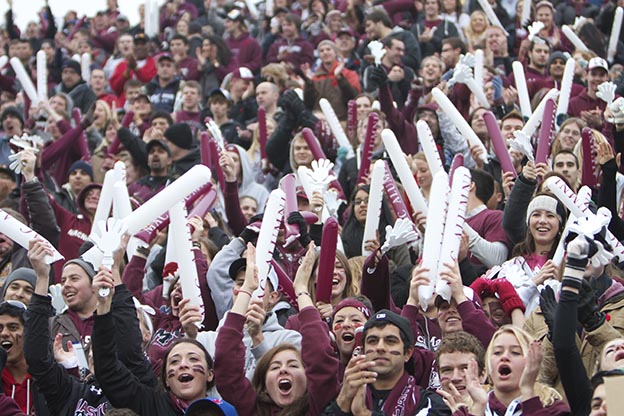 ---
McMaster's annual Homecoming festivities kick off this weekend with music, a pep rally and some of Hamilton's finest food trucks.
Here's what you need to know about the University's Homecoming festivities:
MSU Homecoming Expo: Friday, noon to 5 p.m.
Students and alumni alike can get primed for Homecoming Friday afternoon on the lawn in front of the Burke Science Building. A stage will feature local talent, campus clubs will organize some special activities and the pep rally will start at 2:15 p.m.
Four of Hamilton's famous food trucks will be parked around the rose garden (in front of University Hall), so come hungry!
Celebration of Sport dinner: Friday, 5 p.m. to 9:30 p.m.
Athletics & Recreation will induct Ray Mariuz (football), Janet Cook (swimming), Kojo Aidoo (football), Michelle Greenwood (tennis) and the 1991 national championship-winning women's soccer team into the Hall of Fame Friday night at the Celebration of Sport dinner.
Homecoming Concert: Friday, 7:30 p.m.
Juno-nominated country artist Dean Brody will rock the Ivor Wynne Centre Friday night, for both students and alumni.
Football reunion: Saturday, 10:45 a.m.
Former players and coaches will gather at the Phoenix for pre-game festivities. The event will include a celebration of Marauder teams from 1962, 1963 and 1964.
MBA, commerce class celebrations: Saturday
MBA and commerce alumni from 1973, '78, '83, '88, '93 and '98 will gather for pre-game activities, then head to the football game.
Pre-game lunch: Saturday, noon to 1 p.m.
Chili is on the menu for the Alumni Association's gathering at Marauder Plaza, just outside Ron Joyce Stadium. Wear your maroon and grey – prizes will be awarded for the best-dressed Marauder.
Football game: Saturday, 1 p.m.
The McMaster Marauders will take on the Waterloo Warriors at a sold-out Ron Joyce Stadium.
Sunday sports: Sunday, 1 p.m.
The Women's soccer team takes on UOIT (1 p.m.), women's rugby plays York (1 p.m.) and men's soccer challenges UOIT (3 p.m.) on a Sunday filled with varsity sports.
MD reunion: Sunday
Alumni from 1973, '78, '83, '88, '93 and 2003 will gather in Niagara-on-the-Lake for a winery tour.