High school scientist turns experience at Mac into electrochemical gold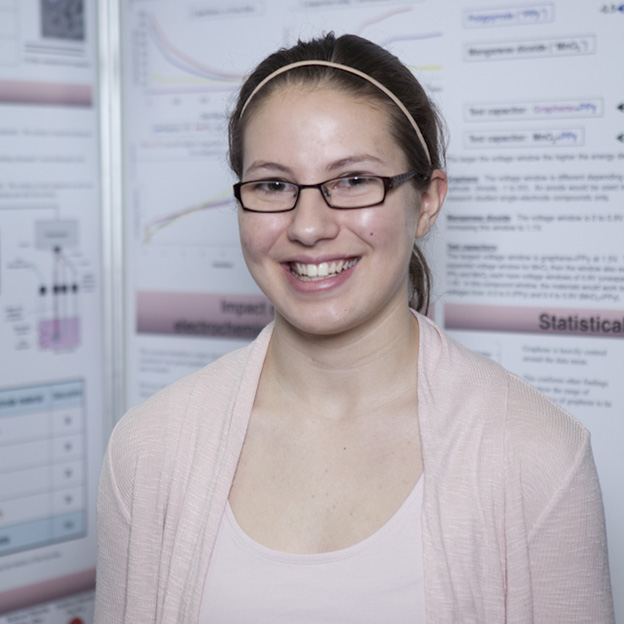 Lauren Reid, a Grade 11 student at O'Neill Collegiate & Vocational Institute in Uxbridge, Ont., recently spent some time in professor Igor Zhitomirsky's Materials Science and Engineering lab at the University. The resulting research earned her the top prize at the Canada-Wide Science Fair.
---
Sometimes, all you have to do is ask.
Back in December, Grade 11 student Lauren Reid sent a letter to David Wilkinson, Provost and vice-president (academic) of the University. Her inquiry was complex, but her request was ultimately simple — Reid needed an advanced microscope and suitable lab space to conduct research involving electrochemical capacitors.
Wilkinson, former dean of McMaster's Faculty of Engineering and a staunch supporter of hands-on student research, didn't hesitate to connect Reid with Igor Zhitomirsky — a University professor with a special interest in batteries, supercapacitors, solar cells and fuel cells.
It was a match made in electrochemical heaven. Last month, the teenage scientist from Uxbridge, Ont. took home the gold medal at the prestigious Canada-Wide Science Fair in Lethbridge, Alberta.
"Dr. Zhitomirsky is the perhaps the most intelligent and disciplined researcher that I have met, and I learned a lot from my discussions with him and two of his researchers, Yeling Zhu and Yisong Su," she wrote in a recent follow-up letter to Wilkinson  "As a result of my research at McMaster, in the Materials Science & Engineering lab of Dr. Zhitomirsky, I was able to design and test a compound that had not yet been used for single-electrode electrochemical capacitors."
Recent studies in Reid's field are based on the notion that graphene is the ideal electrode material. However, the new compound she examined at McMaster— known as manganese dioxide + polypyrrole, or MnO2+PPy — was found to increase capacitance by an average of 40 per cent, with 37 per cent less resistance. Prior to testing, the 16-year-old believed the scientific basis for the new compound was strong. After running a series of tests at McMaster, she was pleasantly surprised by the remarkable results.
For his part, Zhitomirsky said he was thrilled to mentor such a young, inquisitive student, and was delighted when he heard news of the award.
"Lauren was very enthusiastic in the lab, and it's clear that she has a strong interest in engineering," he said. "It was a pleasure to work with her, and show her some of the facilities we have here at McMaster."
The student at O'Neill Collegiate & Vocational Institute is no stranger to awards. She's also past recipient of Youth Science Canada's Excellence Award (Senior, Gold Medal), and recently won a $1,000 award from the S.M. Blair Family Foundation — an organization dedicated to merging science, technology and the arts with Canada's various communities.
"Because of McMaster and a lot of hard work, I now have a knowledge of the area that I did not have in December," wrote Reid, in her latest letter to Wilkinson. "And a project that was worthy at a national science fair."