High achievers: McMaster welcoming first-ever Integrated Business and Humanities class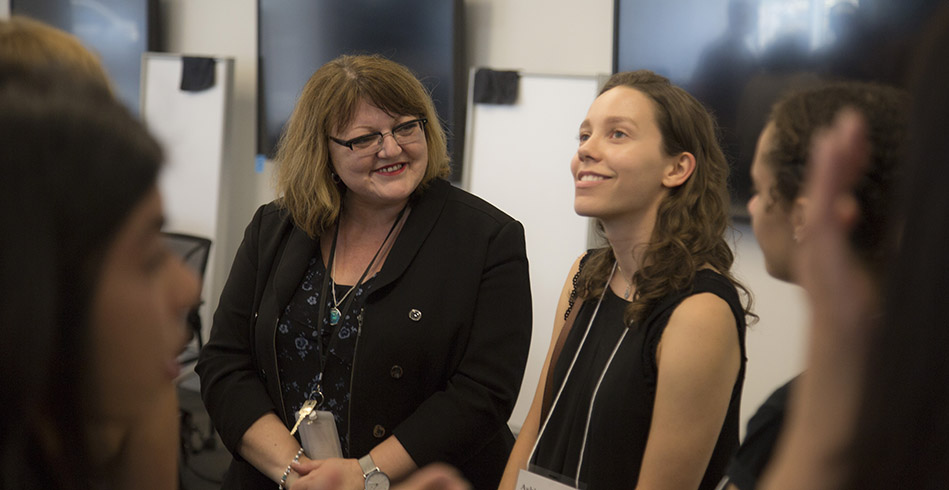 ---
This fall, for the very first time, McMaster will welcome some of the sharpest young minds in Canada into the Integrated Business and Humanities (IBH) program.
Jointly developed by the Faculties of Business and Humanities, the program was conceived to produce the country's next generation of business leaders. Only 52 students will begin their studies in September.
The inaugural cohort was selected based on academic standing, leadership qualities, extracurricular activities, volunteerism, and community engagement. In addition, each student took part in a wide-ranging online interview prior to admission.
According to Emad Mohammad, Director of the IBH program, the aim is to prepare students to make an impact on both business and society. "IBH will encourage community engagement and sustainable business practices, with a great deal of emphasis placed on responsible leadership and management tactics in a changing global economy," he explains.
"Classes will be small, students will benefit from individual attention from faculty, and there will be opportunities to represent McMaster at academic conferences and events across Canada and beyond," Mohammad continues.
First-year classes include topics such as Introduction to Ethics; Foundations of Community Engagement; Business Environment and Organization; and Insight and Inquiry: Questions to Change the World.
Associate Dean of Humanities, Anna Moro, says the program will bring a humanistic perspective to the study of commerce, something she says is increasingly critical in the business world.
"We need business leaders with the ability to deal with uncertainty, and with the complexities generated by the multiple cultures, histories, systems, and viewpoints of our interconnected world, as well as leaders who understand the far-reaching consequences of their decisions, and are guided by an ethical framework," she says. "The Humanities offerings in this program will help provide students with the foundation they need to develop these indispensable skills."
The majority of coursework will involve real-time case studies, with students and faculty examining current issues around the globe. Fittingly, nearly half the inaugural cohort can speak more than one language. Near the end of their studies, students will also participate in an international service learning trip coordinated by ME to WE.
Graduates of the program will possess sharp critical thinking skills, personal and ethical values, and social and emotional intelligence to help transform communities at home and abroad.
Below, get to know some of the award-winning students who will comprise the inaugural cohort of the IBH program:
Matthew Kranendonk (David Feather Family Scholarship)
Matthew Kranendonk's father once offered the following as advice: IQ is important, but EQ, or emotional intelligence, is equally if not more important. That stuck with the Ancaster, Ontario native, and helped guide him toward the IBH program as the end of his time at Rehoboth Christian School approached. "I always knew I wanted to go into business, as I found the combination of mathematical, communicative, and practical skills required to succeed greatly interested me," he explains. "However, the IBH program seemed able to develop my understanding of people and the world in a way no other program could." When classes begin this fall, Kranendonk says he's most excited for Insight and Inquiry: Questions to Change the World, what he describes as a "big-picture" course when it comes to business education. "There are obviously a broad range of problems in the world today, and this sounds like a course that will attempt to solve some of these problems or find better ways to do things," he explains. "There is always room for growth." In the future, Kranendonk sees himself in a management position at a local company, a bank, or in some sort of financial advisory role. Either way, he wants to be in a position of influence: "Not for the sake of power or recognition, but so that I may be a contributing member of society and benefit those around me." No stranger to extracurricular activities, Kranendonk served as Vice-President of his high school student council; wrote for the RCS Beacon student newspaper; played competitive soccer; sang in the Uplifted Voices Chorale; and was also Vice-President of the Young People's Board of Hamilton Free Reformed Church.
"By investing in the lives and education of students, Mr. Feather has displayed the value he places in the quality of education found at the DeGroote School of Business. To be the recipient of this scholarship, an investment in a better future, is truly remarkable and rewarding. The effort put into my high school education has paid off." – Matthew Kranendonk
Yael Morris (Kevin A. Lockhart Family Scholarship)
For Toronto native Yael Morris, earning a Commerce degree while focusing on philanthropy and ethical business practices offered everything she was looking for in a university experience. After visiting McMaster in May and conversing with faculty and staff, she knew it was meant to be. "I think the IBH program is exactly the right fit for me," says the 18-year-old alumna of North Toronto Collegiate Institute. "In fact, it's almost as if they designed the program to meet my own priorities." On the whole, Morris believes businesses can do societal good while still serving the needs of their owners, investors, and corporate leaders. "There is also a need to think about how services and products can better serve populations," she continues. "Combining business and the humanities will bring people together by working toward common goals, with the aim of making societies healthier and happier." Like several of her fellow students, Morris is eager to participate in the Insight and Inquiry: Questions to Change the World first-year class. She says she never expected to find a business course with a focus on pondering such big questions. "I am especially excited for the interesting conversations and new ideas," she admits. Outside the classroom, Morris has an equal passion for athletics and the arts. During high school, she played an active role on several rugby, frisbee, and basketball teams, winning two regional titles as captain of her varsity basketball squad and competing in the international Maccabiah Games. She has also been a member of VIVA! Youth Singers of Toronto since 2013, and has performed with her school choir at venues such as Toronto's Roy Thomson Hall. A keen volunteer in communities at home and abroad, Morris recently took part in a Kindness in Action dental care mission to Morropón, Peru.
"I am very grateful and honoured. The Kevin A. Lockhart Family Scholarship will allow me more financial freedom to participate in campus life, pursue my passions and interests through extracurricular activities, and explore new opportunities." – Yael Morris
Emily Ranta (Kevin A. Lockhart Family Scholarship)
Hailing from Sudbury, Ontario, Emily Ranta says the IBH program struck a chord due to its unique structure and interdisciplinary core. "I have always been interested in studying the humanities, particularly history, but I also value the business experience I gained through various extracurricular activities during high school," she explains. "Personally, I'm most excited for my first-term Introduction to Peace Studies class. I'm looking forward to seeing how it will connect with my other business classes." While visiting McMaster during the annual May@Mac Open House, Ranta says the environment felt "very welcoming and friendly," with a lot of enthusiasm surrounding the IBH program and the student experience. "The visit to the campus was what really made me sure I would be attending McMaster in the fall," she offers. Long-term, she's hoping to become a lawyer or human rights advocate. However, she's also eager to explore different areas of study to see what may be the best path. "Combining business and humanities creates more empathy and more local community involvement," Ranta says. "Their intersection helps our understanding not just of the business world, but of all types of people around the world." She was named to the honour roll three times during her tenure at Lo-Ellen Park Secondary School, and was an award-winning student in Canadian History, Chemistry, and French. Ranta was also a key member of the Lo-Ellen FIRST Robotics Team; founded the Northern Needs School Supply Drive; and took part in the Model Parliament for Youth program at Queen's Park in Toronto, representing the riding of Timiskaming—Cochrane.
"For me, the Kevin A. Lockhart Family Scholarship aids with my academics and extracurricular / volunteer activities that I am passionate about, while providing the financial relief that allows me to focus on the IBH program. It will allow me to have a unique learning experience." – Emily Ranta
Astara Truman (David Feather Family Scholarship)
Astara Truman, a graduate of Hamilton's Westdale Secondary School, wanted to pursue the IBH program for one key reason – she's interested in business as an instrument for social change. "We all have the power to affect the world by being mindful of the companies we support," says Truman. "I am excited by the prospect that the IBH program will teach both business fundamentals and communications, as well as critical thinking skills. These skills will help graduates steer businesses in a direction that can enhance quality of life for people in a socially and environmentally-conscious way, while still making a profit." Understandably, Truman is most interested in the first-year Introduction to Ethics class. Since taking a philosophy course in high school, she has been fascinated by the complex relationship between ethics and business. "I'm really excited to see what topics the course will touch on, and how I will be able to apply them," says the 18-year-old, who hopes to someday open a vegan restaurant chain that doubles as a hub for community activism. Truman, who maintained an average of 98 per cent during her first semester of Grade 12, was also an active participant in extracurricular activities. She was a member of the Westdale rowing team for three seasons; participated in an Ontario Justice Education Network (OJEN) mock trial; served on her school's athletic council; played guitar; and assisted with the rescue of three dogs. Ever altruistic, she also helped teach a family of Syrian refugees English throughout 2016, and recently volunteered with a local soccer team to help with their fundraising and advertising efforts. She's currently working on a program that involves bringing rescue dogs to McMaster Children's Hospital.
"I'm very honoured to receive the David Feather Family Scholarship, I believe this scholarship will enhance my educational experience, as it will allow me to focus on my academics and continue with my extracurricular activities. Without financial worry, I will be able to fully commit myself to the IBH program, network with other students and faculty, and stay involved in the community." – Astara Truman