Help shape the future of McMaster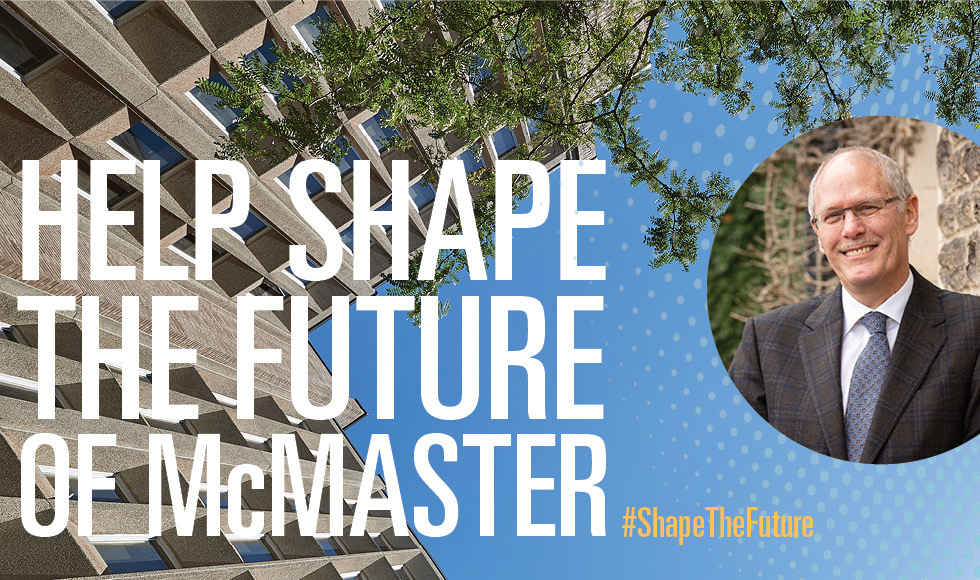 ---
Where should McMaster be in 30 years?
Starting this week, President David Farrar is asking faculty, students, staff and alumni for their thoughts on this and other big questions to help shape the future of McMaster.
It's all part of a university-wide consultation process aimed at gathering input on a number of critical issues that will inform the development of a new strategic plan and create a long-term vision for the university.
The consultation began early in the year, shortly after Farrar was announced as the university's new president, and has involved group and individual interviews with more than 50 people representing McMaster governance, academic, administrative and student leadership.
Now, the president is launching a new phase of consultation to draw insights from the broadest possible range of people from the McMaster community.
"McMaster is built on a bold and innovative past, and now it's time to look to the future," says Farrar. "I invite the McMaster community to share their big ideas and their thoughts on what audacious goals we might set for ourselves. Together we can build on our past successes to chart an ambitious new path for McMaster."
The five questions will cover a range of topics from ways to address pressing global issues, and supporting student success, to how McMaster should engage with the Hamilton community and enhance its campus.
A new question will be posted each week for the next five weeks on the Daily News and on McMaster's social media channels. The Shape the Future project is also part of the new Office of the President website.
The McMaster community can follow along on Twitter using the hashtag #ShapeTheFuture.
Week 1 Question: Where should McMaster be in 30 years?" Share your thoughts now