Heads up, future startups: the McMaster Seed Fund is now accepting applications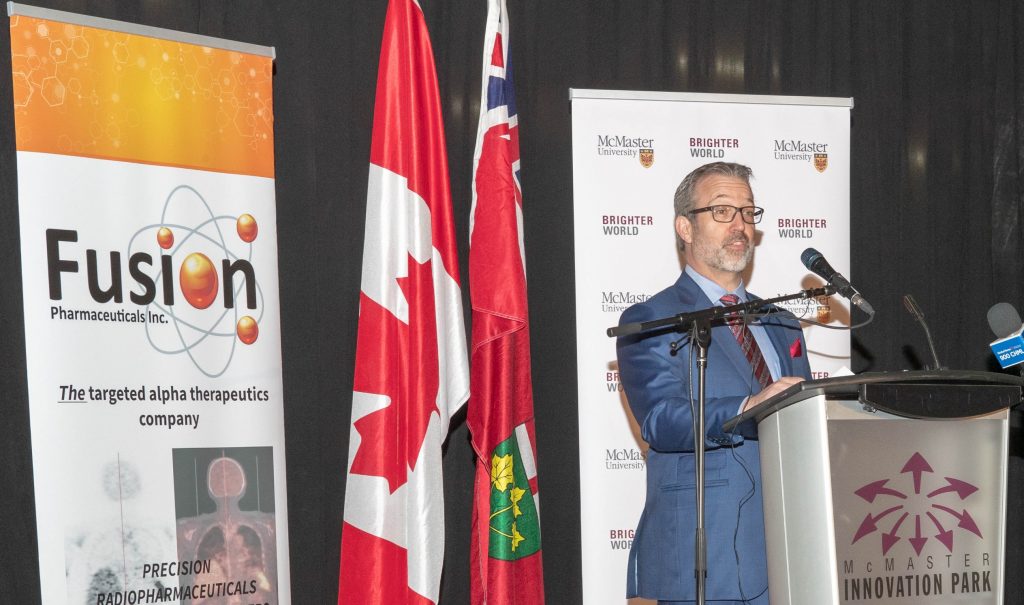 Fusion Pharmaceuticals, founded by chemistry professor John Valliant, began as a McMaster-based startup and is now listed on the Nasdaq. The new McMaster Seed Fund will support promising McMaster start-ups with high growth potential.
---
This story was updated Sept. 14, 2021, now that the McMaster Seed Fund has launched.
 If you've been sitting on a great idea for a startup company but have lacked the means to put it into action, McMaster's new seed fund might be right for you.
Launched today, the McMaster Seed Fund (MSF), is an early-stage investment vehicle designed to foster innovative startup companies coming out from McMaster research with the potential for significant economic and/or societal impact in the Hamilton region and beyond.
Click here for more details on the application process and associated materials.
Karen Mossman, McMaster's vice-president, research, whose office is leading the initiative, says the fund will support entrepreneurs within the McMaster community and advance the university's culture of commercialization and social innovation and drive the transformation of university research into products or services that will make a positive impact on society.
"The MSF will support promising McMaster start-ups with high growth potential," says Mossman, adding the funds are designated specifically for business development.
"Our research enterprise is rich with talent and we need a mechanism to help our innovators move their concepts to reality," she says.
"While many of our researchers have enjoyed great success with startups, they all would agree that the most daunting task is securing the initial funding."
And it's that hurdle, says Mossman, that the MSF is designed to support.
The team at the McMaster Industry Liaison Office (MILO) is managing the effort and Gay Yuyitung, MILO's executive director, says applications will be accepted in the early fall for the first round of funding. The call will be formally announced in the near future, and applicants are expected to present their plans to the MSF Investment Committee by the end of 2021.
The committee will be made up of entrepreneurs, investors and sector experts, all external to the university.
To be eligible, teams must consist of at least one founder, key officer, or personnel who is a member of the McMaster community and must be further developing an innovation, technology or knowledge arising from McMaster research.
MSF will be a competitive fund and selection criteria will be based on expertise and potential of the team, having a business idea with an appropriate innovation / technology readiness level for an identified market opportunity(ies), and a plan to create socio-economic impact with a scalable commercial offering.
Yuyitung says the MILO team will help to determine eligibility and is looking forward to working with applicants from all disciplines and faculties to refine projects that show high growth potential. Teams can apply for an initial investment, expected to be in the range of $200K to $500K.
"There is a lot of exciting research underway that holds such great promise," she says.
"It is great to have these funds to give ventures a kick-start and enable them to secure a larger seed or Series A investment."
McMaster-led start-ups have had some great successes over the last few years, including Allarta Life Science, Elarax, Century Therapeutics Canada (formerly Empirica Therapeutics), Enedym, FendX Technologies, Fusion Pharmaceuticals, MesoMat, Triumvira Immunologics, Turnstone Biologics, and VoxNeuro.
MSF will expand this startup network and lead to the growing number of innovative companies in the region.
Yuyitung encourages anyone interested in the MSF to take advantage of MILO's guidance by connecting with Leigh Wilson at MILO.
In the meantime, get inspired by some of our researchers' startup successes:
McMaster neurosurgeon and Canada Research Chair in Human Cancer Stem Cell Biology, Dr. Sheila Singh, co-founded Empirica Therapeutics, now Century Therapeutics Canada after being acquired by a U.S. firm.
Canada Research Chair in Transportation Electrification and Smart Mobility and Engineering Professor, Ali Emadi, is powering a new paradigm with his spin-off Enedym, which recently received $15 million in second-round investments.
Linguistics Professor and Senator William McMaster Chair in the Cognitive Neuroscience of Language, John Connolly's spin-off VoxNeuro has received FDA and Health Canada designations for its brain health technologies.
Canada Research Chair in Translational Cancer Immunology and Professor of Medicine, Jonathan Bramson, is the founder of Triumvira, which raised $55 million to advance new t-cell platforms.