Hamilton's postsecondary institutions reaffirm commitment to Principles of Cooperation with new city manager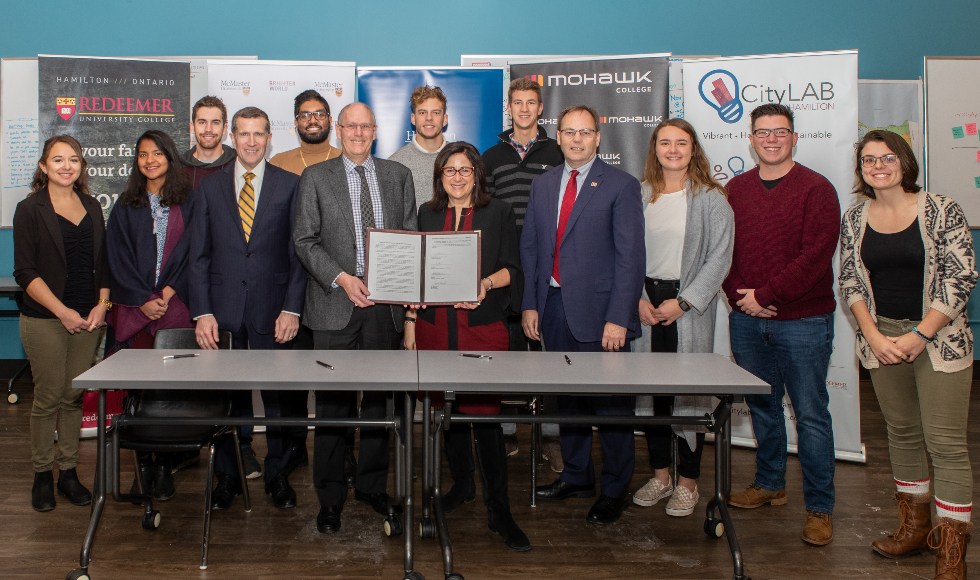 Robert Graham of Redeemer University College (third from left), David Farrar of McMaster University (second from left), City Manager Janette Smith (centre) and Ron McKerlie of Mohawk College (fourth from right) pose with students working at CityLAB. Photo by Georgia Kirkos.
---
Representatives from the City of Hamilton's three postsecondary institutions – McMaster, Mohawk College and Redeemer University College – have re-signed the Postsecondary Principles of Cooperation with the new city manager, Janette Smith.
The principles, originally signed in 2016, lay out "a vision for a long-term relationship that promotes and supports cooperation for the benefit of our citizens and broader society," including working in collaboration, access to education and retaining local talent, among others.
David Farrar, McMaster's acting president, Ron McKerlie, president of Mohawk College, Robert Graham, president of Redeemer University College, and Smith signed the document at CityLAB, a downtown "innovation hub" that is a collaborative facility between the four partners.
Other  examples of the types of partnerships envisioned by the principles include the David Braley Health Sciences Centre at Bay and Main, the Hamilton Anchor Institution Leadership group (which also includes other public and private sector members, such as hospitals and school boards), and projects underway by the McMaster Institute for Transportation and Logistics.
"McMaster is very pleased to have reaffirmed the Postsecondary Principles of Cooperation with the City of Hamilton and our other postsecondary partners," said Farrar.
"McMaster is consistently engaged with collaborative opportunities to build on successes like the CityLAB initiative, which pairs students, researchers and community partners to work on solutions to issues confronting our city. We're looking forward to more opportunities to expand existing partnerships and explore new ones."