Hamiltonians Charles and Margaret Juravinski invest $3.3 million in COVID-19 and brain health research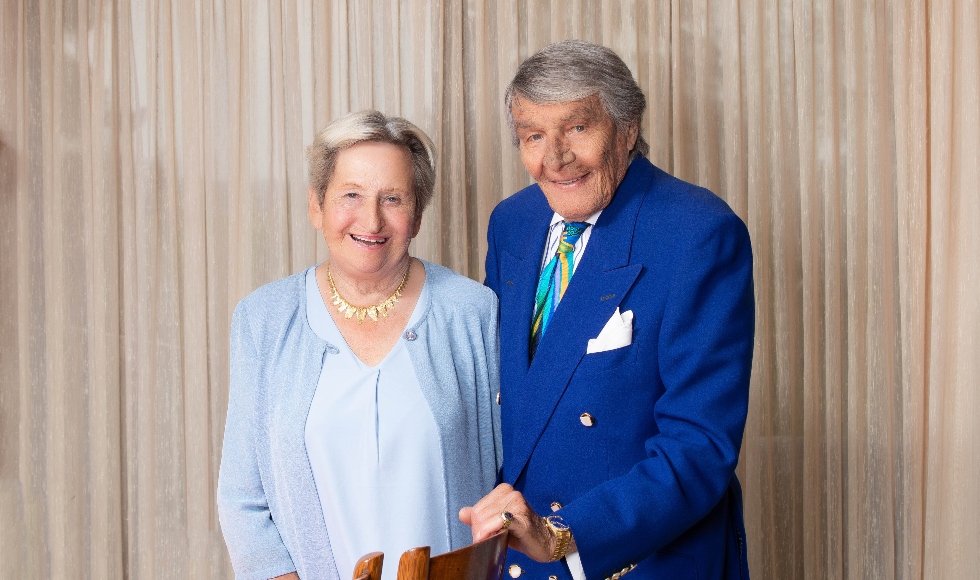 Margaret and Charles Juravinski have invested $3.3 million in collaborative research at Hamilton Health Sciences, McMaster and St. Joseph's Healthcare Hamilton. Photo by Georgia Kirkos
---
Philanthropists Charles and Margaret Juravinski have made a new gift of $3.3 million to accelerate COVID-19-related and brain health research as part of the newly formed Juravinski Research Institute in Hamilton.
Last spring the couple created an endowment of $100 million or more to support collaborative research across Hamilton Health Sciences, McMaster University and St. Joseph's Healthcare Hamilton. Their estate commitment is one of Canada's largest ever planned legacy gifts and established the Juravinski Research Institute.
Charles, 90, and Margaret, 88, wanted to help advance the work of the city's renowned health researchers, practitioners and clinician-scientists as they tackle the many challenges the COVID-19 pandemic poses in our local community, across the country and around the globe.
"We have seen a lot in our lives, and we know by now that there is more than enough ingenuity and goodwill in this world to defeat this pandemic," the couple said in a new Letter to the Community. "Bringing ingenuity and goodwill together requires resources, and that is why we are making this gift. Our wish is that it may inspire hope. We hope it will produce results that benefit people immediately. We urge others to find ways to give what they can."
Researchers from the two hospital systems and the university are collaborating to investigate the efficacy/efficiency of masks and respirators worn by health care professionals, the impact of a pandemic on emergency departments, critical and intensive care units and staff, development of a rapid sampling and detection testing system, and advancing COVID-19 research capabilities by capitalizing on existing national expertise in data collection and biobanks.
Leading brain health researchers, who also received funding from the new gift, will examine mental health and addiction in young people, learning disabilities and the effects on children's mental health, and the development of new imaging technology to predict outcomes and support the recovery of patients with concussions or traumatic brain injury.
Read more about the projects funded by the Juravinski's gift
"We wanted to choose projects that are relevant, that are impactful, but also projects that can be started fast and reach results quickly," said Dr. Julian Dobranowski of the Juravinski Research Institute steering committee, which approved the Institute's inaugural eight projects. "It's great to see positive momentum and know that the funds, through the Juravinskis and the research institute, will start having an immediate impact on lives!"
Leaders from McMaster University, Hamilton Health Sciences and St. Joseph's Healthcare Hamilton were unanimous in their appreciation for the Juravinski's gift:
"Charles and Margaret Juravinski have proven time and time again how passionate they are about helping improve the health and wellbeing of people here in Hamilton, across Canada and indeed around the world.

"This tremendous commitment to world-class health research is crucial to advancing our collective understanding of the profound impacts of COVID-19 and brain health on patients, their families and our health care professionals who are central to their care. We are all deeply grateful to Charles and Margaret for this immensely important investment in our collaborations, and in our ability to truly change people's lives."
Dr. Paul O'Byrne, Dean and Vice-President, Faculty of Health Sciences and Dean of the Michael G. DeGroote School of Medicine
"Charles and Margaret Juravinski have again demonstrated their love for this city through this wonderful gift. Thanks to their generosity, researchers will both tackle the immediate challenge of COVID-19, as well as a number of important longer term brain health initiatives that will help people here and around the world."
Rob MacIsaac, President and CEO, Hamilton Health Sciences
"Once again, we are indebted to the Juravinskis for their ability to anticipate the evolving needs of our healthcare system and their willingness to respond to those needs with unparalleled generosity. Margaret and Charles are also tremendous advocates for St. Joseph's Healthcare Hamilton, McMaster University and Hamilton Health Sciences working together, collaboratively, for the greater good."

"The COVID-19 pandemic has united our institutions, more than ever, in a shared commitment to caring for our community and all those impacted by the virus. And we are bolstered by the Juravinskis' new $3.3 million donation to fund research projects that will help us to combat the COVID-19 pandemic while also supporting the mental health of our community. Two areas of great need and paramount importance."
Dr. Tom Stewart, President & CEO, St. Joseph's Health System