Hamilton to host 2016, 2017 Vanier Cup football games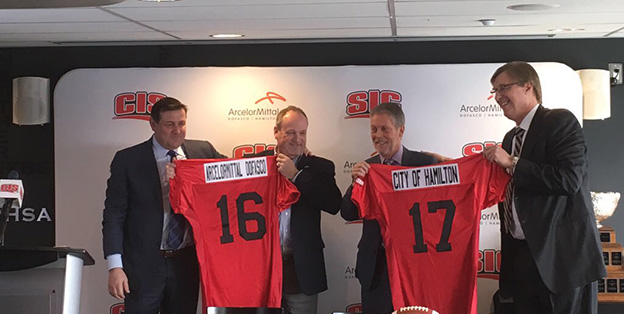 Glen Grunwald (right), McMaster's director of Athletics and Recreation, has been named chair of the host organizing committee for the next two Vanier Cup games, to be played in Hamilton.
---
Hamilton will host the next two Vanier Cup games, Canadian Interuniversity Sport announced today.
The national football championship games will be played at Tim Horton's Field, the home of the CFL's Hamilton Tiger-Cats.
The 2016 game will mark the fourth overall staging of the CIS football final in the Steel City but the first one at Tim Hortons Field, the world-class multi-purpose stadium which opened in September of 2014.
The CIS championship match is scheduled for Nov. 26 in 2016, while the date for 2017 will be confirmed in the coming months.
McMaster University will play a major role in delivering successful Vanier Cups over the next two years, especially when it comes to engaging the local community.
The Marauders football program has returned to national powerhouse status over the past five years, winning the first Vanier Cup title in school history in 2011 and reaching three CIS finals in four seasons from 2011 to 2014.
Glen Grunwald, McMaster's director of athletics and recreation, has been named Chair of the host organizing committee.
"Hamilton is well known as a community that loves sports in general and football in particular," Grunwald said. "I am counting on the sports fans of Hamilton that have supported football at all levels so well over the years to come out in force to attend this great event. Our goal will be to present Hamilton as a first-class sports town and play the ArcelorMittal Dofasco Vanier Cup in front of a sold-out crowd."