Hamilton Bike Tour tells story of Hamilton's past and future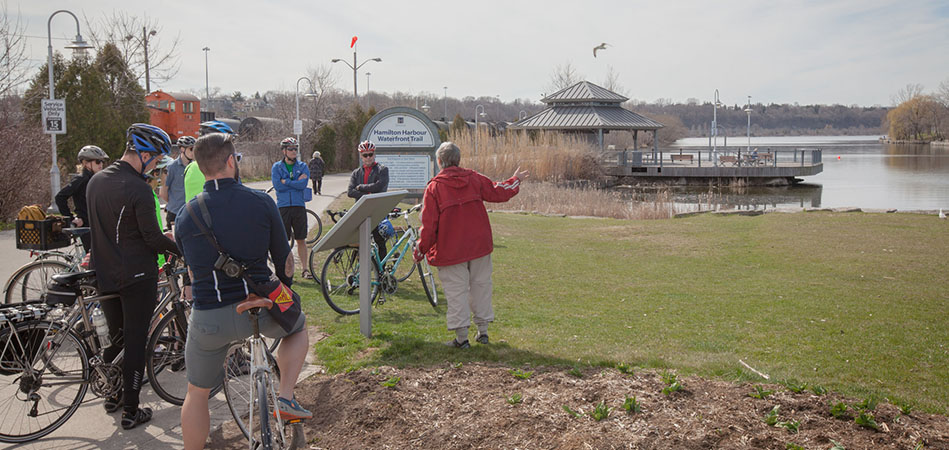 ---
Tuesday afternoon a group of around 50 cyclists, a mix of students, professors, and community members, gathered to take part in a bike tour of the city. The bike tour was part of McMaster's Big Ideas Better Cities: Climate Change and Environment week of events.
Michael Egan, Associate Professor of History in the Faculty of Humanities, organized and led the event from the Tim Horton's Field in downtown Hamilton through the city to Dundas.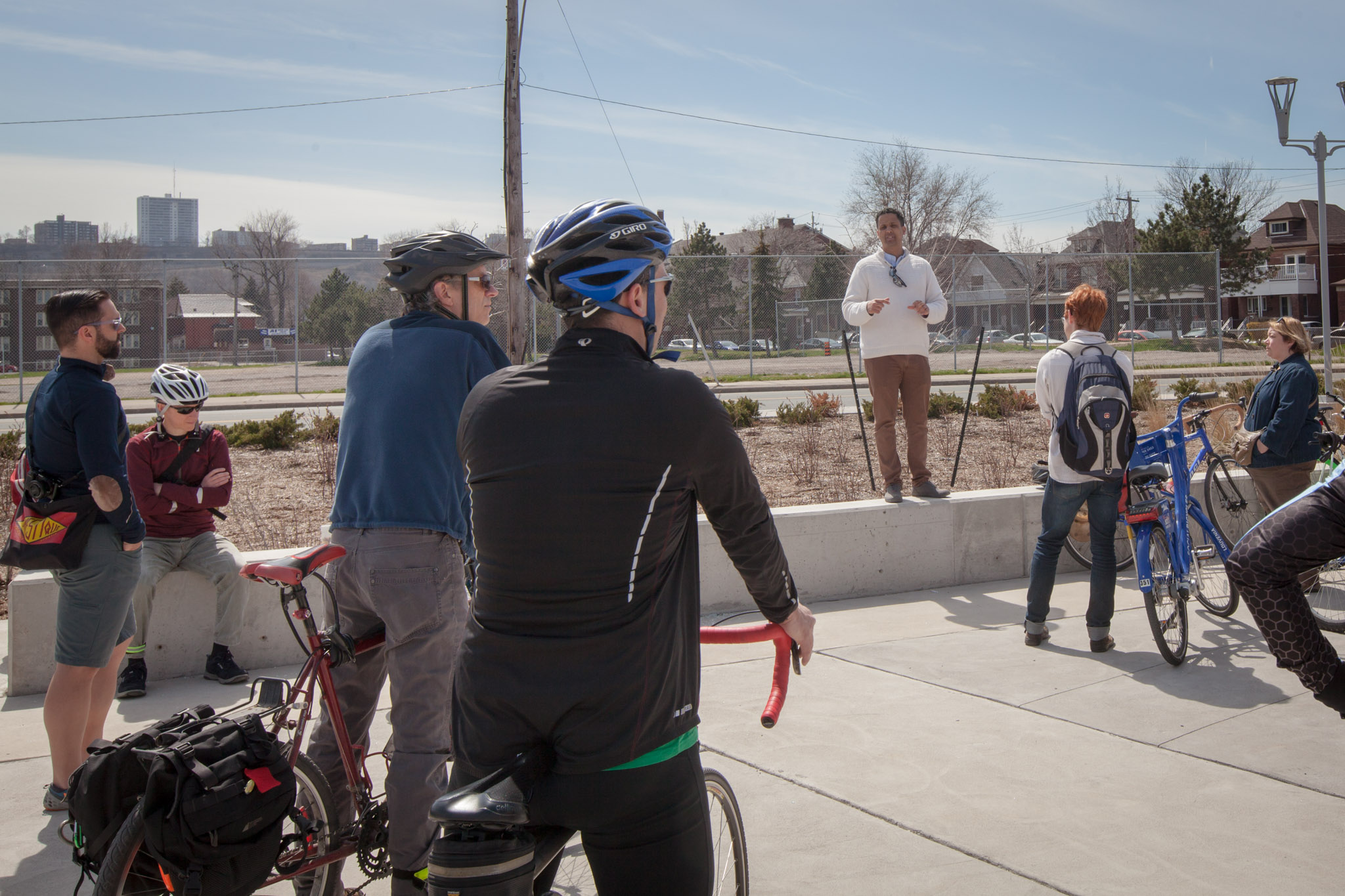 Ward 3 Councillor Matthew Green kicked off the ride with opening remarks, "I used to drive everywhere! Three years ago I decided to park my car and change the way I move by using public transit, cycling, and walking."
Beechwood Ave. was the first stop where Randy Kay from OPIRG (Ontario Public Interest Research Group) spoke about the Hamilton Street Tree Project. Residents can request a tree to be planted on their property by the city of Hamilton – for free!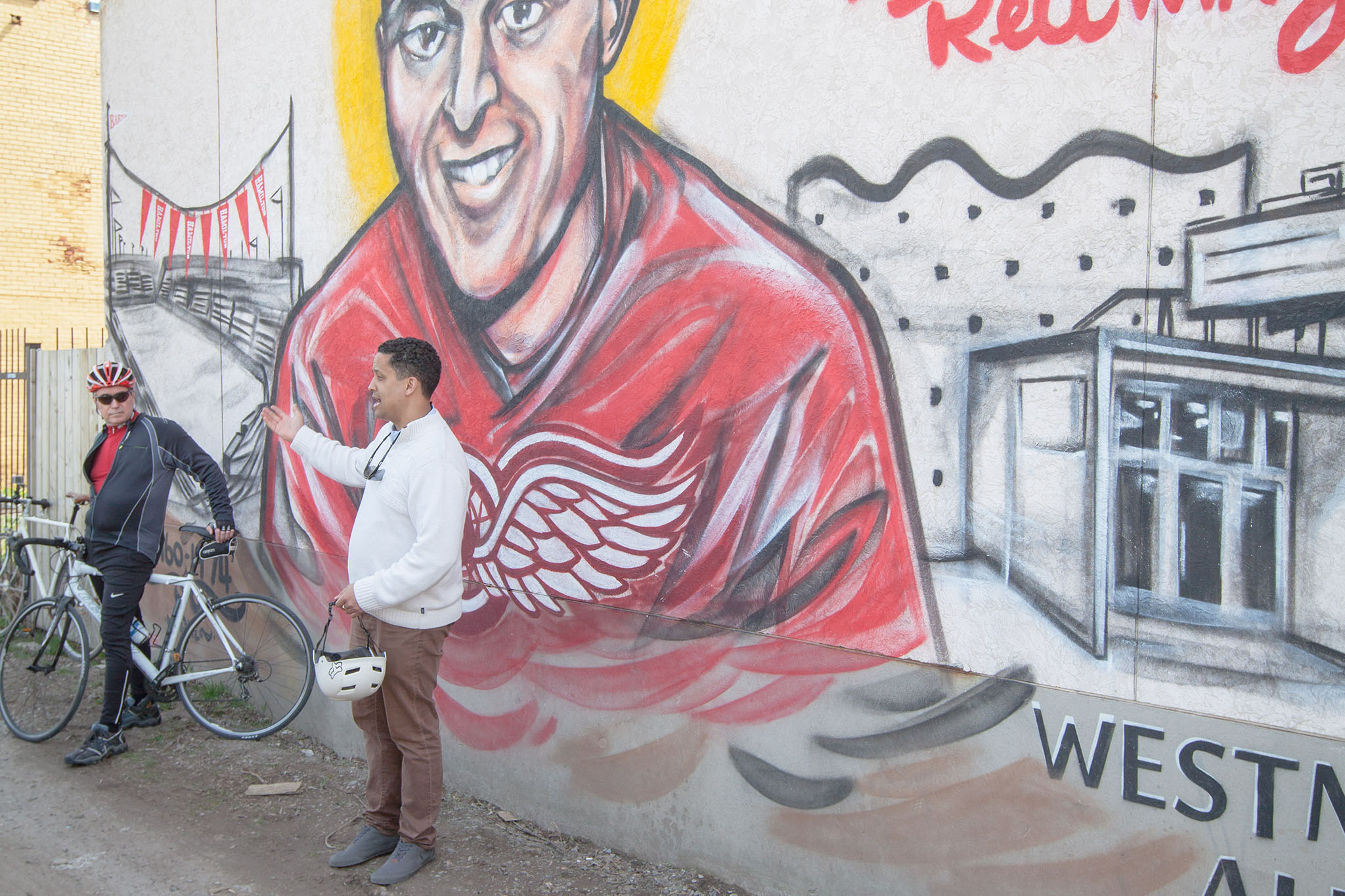 Behind 541 Eatery and Exchange is an alleyway that runs parallel to Barton Street East. Councillor Green spoke about the Beautiful Alleyways Project, a campaign with a volunteer action team dedicated to creating a cleaner, greener Hamilton.
From there the bike route traveled down Cannon using the bike lanes and stopping on Barton East and Smith Ave. to hear Mark Chamberlain explain Bike for Mike, a movement that aims to make Hamilton a more cycle-friendly city by creating and empowering a new generation of bike riders.
Down Ferguson Ave. and stopping at Strachan the group heard from Sean Burak, Operations Manager for Hamilton Social Bicycle program, "SoBi is a not-for-profit local operator that uses funds to bring in more bikes to continue to make cycling accessible for everyone."
Nancy Bouchier, Associate Professor in the History department, talked about the history of the Hamilton Waterfront.
"Forty years ago this [Hamilton Waterfront] development was unfathomable. Now it's a story from the past and also a story of the future."
Following the Waterfront Trail the convoy of bikes made their way through the McMaster campus and down into Lot M where Rayna Matties spoke about the riparian buffer stream that runs behind the lot and is also a habitat area for turtles.
The final stop of the tour featured Engineering's Brian Baetz who talked about the Dundas Desjardins Canal Park.
"We are standing within the most biologically diverse square mile in Canada. Conservation of land contributes to the overall health of everyone; it's upstream health care."
Did you miss the mcmaster_snaps Snapchat story?