Grad students, postdocs use their skills to make a difference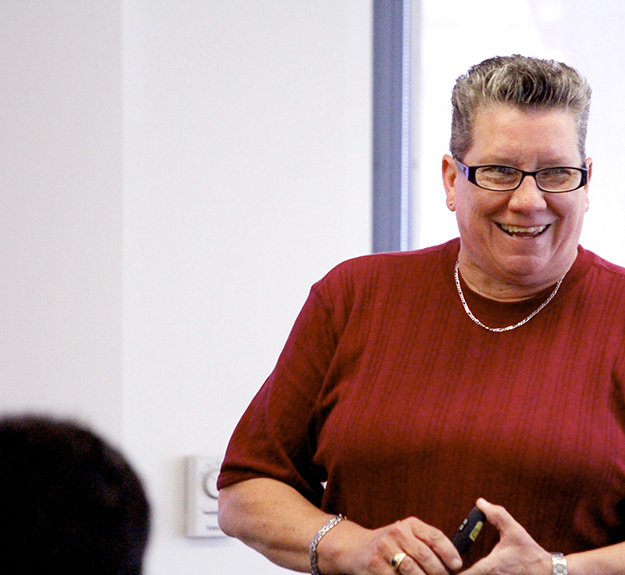 Deirdre Pike, senior social planner at the Social Planning and Research Council of Hamilton, speaks to graduate students and postdoctoral fellows at the recent Grant Training Conference, organized by the School of Graduate Studies.
---
Writing a successful grant for a community initiative can make a big impact on the lives of people in that community.
To help graduate students and postdoctoral fellows learn more about the grant writing process for organizations beyond the campus gates, a Grant Writing Training and Placement Program is being piloted by the School of Graduate Studies.
"Grant writing is not a strictly academic skill; it's integral to so many roles and professions," says Catherine Maybrey, graduate career strategist in the School of Graduate Studies.
From community service organizations to healthcare delivery, even business boardrooms – grant development is a function of many professions.
Professionals from both sides of the granting world – funding agencies and organizations that depend on external funding to support their programs and services – presented writing and development strategies and techniques to more than 45 graduate students and postdoctoral fellows at a one-day Grant Writing Conference held at the Perkins Centre in east Hamilton.
The Grant Writing Training and Placement Program is intended to provide hands-on experience for participants. The one-day conference was a must for those wanting a community placement.
"The program brings together students and postdocs in need of experience for their résumés, and community groups who need people to research and prepare grants," Maybrey says.
Biology PhD candidate Mitchell MacLeod just submitted his thesis, so the conference and placement program came at a good time.
"I'm exploring different career options and this seemed like a great chance to hone my grant writing skills in non-academic areas. Also, the placement program is a great opportunity to get some evidence for my grant writing skills, in a capacity other than research grants," he said.
For MacLeod, the placement program also provides an important networking component. As a graduate student in science – his research focuses on making plants more tolerant of adverse environmental conditions – MacLeod said he spent much of his time in the lab; he's looking forward to making connections with members of the broader Hamilton community.
Making the community connection:
Carmen Bian, a senior policy analyst at the City of Hamilton and McMaster alumna, led a session that focused on ways to use the graduate experience – managing projects, gathering data, writing – to help community partner organizations.
"Students can definitely use their education in grant writing. They can transfer the skills and approach to writing funding proposals."
Bian added that grant writing as a profession is like anything else – you need a track record.
"The best way to get that track record is to volunteer your skills and put that on your resume. Also, you'll have the chance to make connections and contribute to your community."
Other community partners who spoke at the conference included Maggie Fischbuch from the Ontario Trillium Foundation, and Deirdre Pike, senior social planner at the Social Planning and Research Council of Hamilton (SPRC).
Placement participants will work in teams, preparing grants for four different organizations: Hamilton-Wentworth District School Board Foundation, Fit Active Beautiful (FAB) Foundation, SPRC and McMaster's School of Graduate Studies. Teams will receive guidance from community partners who have grant writing experience.
Funds are needed for a wide range of activities and services, including resources for at-risk elementary and high school students, support for student nutrition programs, developing models for turnkey training programs, and post-graduate employability research.
"Working in teams means that busy grad students and postdocs won't feel that the experience is too onerous; they can participate outside of their research or lab schedules. As well, it will help ensure that our community partners do not feel over-burdened by demands on their time, " Maybrey says.
The Grant Writing Conference was supported by Forward with Integrity and McMaster Graduate Studies.
Carmen Bian, senior policy analyst at the City of Hamilton and McMaster alumna, discusses the ways that graduate skills and approaches can be transferred to grant writing.
Photo by Maxine Gravina