Government of Canada helping to boost social sciences and humanities research in Ontario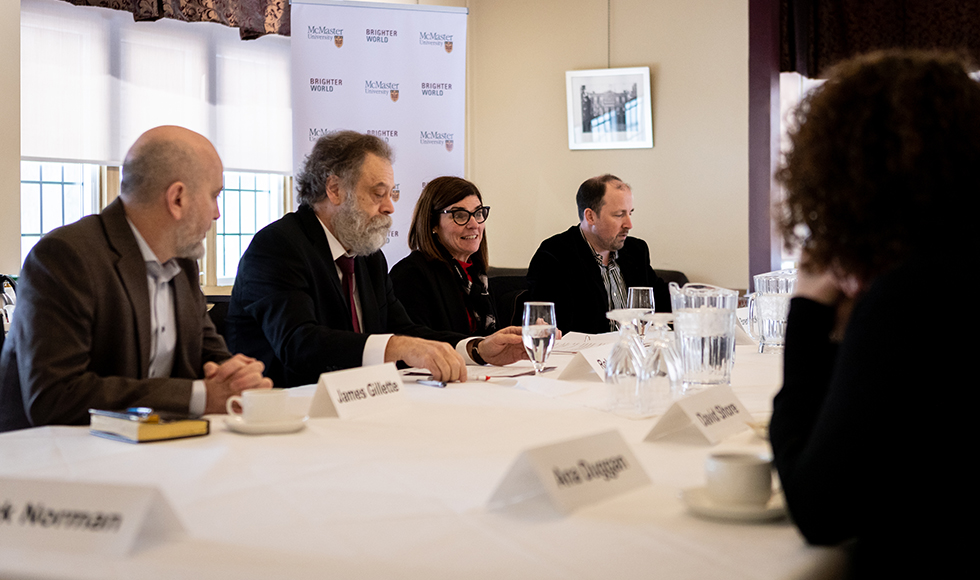 Photo by: Sarah Janes
---
On March 5, Filomena Tassi, minister of seniors, announced $3.3 million to support 72 talented scholars and researchers at McMaster University.
"This federal investment is both a boost to McMaster's research enterprise and to Canadians as a whole," said Rob Baker, vice-president, research. "This research will advance our collective knowledge and contribute to the social, political, economic and cultural understanding of our world."
Tassi, at McMaster on behalf of Kirsty Duncan, minister of science and sport, joined grant recipients at McMaster. The event profiled Ana Duggan, a postdoctoral fellow in anthropology who studies ancient DNA to understand the history of disease like smallpox, as well as Brent McKnight, an assistant professor who researches the mainstreaming of socially responsible investing, and Vanessa Watts, who is Mohawk (Bear Clan, Six Nations) and Anishinaabe and academic director of the Indigenous studies program, studying how material knowledge is produced and inherited within Indigenous communities.
"The award programs we are highlighting today are designed to develop the next generation of researchers and leaders across society," said Tassi. "We know that investing in new and upcoming talent is key to remaking Canada's science culture."
Social sciences and humanities research plays an important role in building a healthier, stronger and more prosperous Canada. To create a thriving economy powered by homegrown discoveries and innovations, and for Canada to be a world-renowned research leader, we need to continue to invest in talented students, scholars and researchers.
Insight Development Grant Recipients:
Sara Bannerman, Communication Studies & Multimedia
Bettina Brueggemann, Economics
Jeffrey Denis, Sociology
Ana Duggan, Anthropology
Paul Glavin, Sociology
Dana Hollander, Religious Studies
Inder Marwah, Political Science
Brent McKnight, DeGroote School of Business
Francois Neville, DeGroote School of Business
Mark Norman, Health, Aging & Society
Christine Quail, Communication Studies & Multimedia
Alina Sajed, Political Science
David Shore, Psychology, Neuroscience and Behaviour
Alisa Tazhitdinova, Economics
Kevin Veenstra, DeGroote School of Business
Vanessa Watts, Indigenous Studies
Yun Zhou, DeGroote School of Business
Thank you @FilomenaTassiMP for visiting with some of our Insight Development Grant recipients and touring the Ancient DNA Centre today.

This year McMaster received $3.3 million from @SSHRC_CRSH to support the work of 72 scholars in @McMasterSocSci and @mcmasterhum. pic.twitter.com/wbAeMf205y

— McMaster University (@McMasterU) March 5, 2019