Global health students gain international experience in India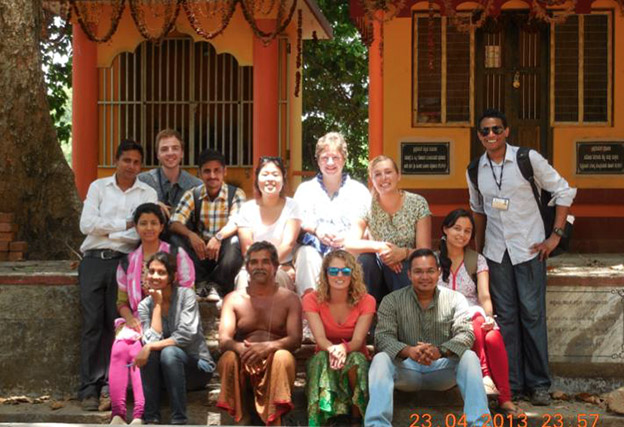 McMaster global health students join others near a 'snake temple' in India. The students have spent the last two weeks in Manipal, where they have been getting a taste of what it's like to work internationally.
---
Forty global health students are currently in Manipal, India getting a taste of what it's like to work internationally with people from different cultures and backgrounds.
The master of science in global health students are among 145 peers from Maastricht University in the Netherlands, Manipal University in India and Thammasat University in Thailand attending the third International Global Health Symposium, Bridging Different Worlds.
The two-week symposium brings together master's students in global health and faculty in public health with other public health experts to exchange knowledge and learn from each other. The experience mirrors the international work situations students will face in the real world.
Since last September, students have been working in "virtual transcontinental learning pods" – technology that allows the students to collaborate online from their classrooms around the world. The symposium is their first chance to meet face-to-face.
"The students are surviving the extreme heat and intense schedule," said Andrea Baumann, associate vice-president, global health and director of McMaster's Global Health program. "They are presenting their research to a panel of professors and students, as well as participating in field work experiences supported by professors from the three universities in very diverse settings."
In fish and cashew factories, some students are investigating occupational health policies and conditions. Others are studying pesticides and productivity in coconut, pineapple and betel nut farms. Additional fieldwork is underway in hospitals, HIV clinics, mental health units, rural tribal communities and primary health care facilities.
Last year, students found residents of a tribal community in Hebri Village were anemic, and their pilot project grew into a major government-funded initiative.
Midway through the symposium, students presented proposals on a range of global health issues at a two-day conference. The nearly 120 topics presented included asthma in three-to-five-year-olds in India, ethical issues facing military health care professionals, stroke rehabilitation in Indonesia, and Canada's Interim Federal Health Program (IFHP) for refugees. Faculty, experts and colleagues provided feedback.
Graduates of the 12-month Global Health program say the symposium challenged their basic assumptions about global health and better prepared them for a future international career. Students not only learn self-management in a virtual work culture, but develop strategies to read diverse group situations and overcome cultural and communication barriers – skills that can only be acquired through practical experience.
Baumman said the Master of Science in Global Health program is a "direct response to the worldwide need for dynamic health professionals with leadership skills who can respond to emerging health concerns on a global scale."
The program is a partnership between McMaster and Maastricht universities. A recent renewal of their agreement lengthens this partnership for another five years and offers the two universities an opportunity to expand the program further.
The students will return from India the weekend of May 4.