Getting involved and giving back key to star student's time at McMaster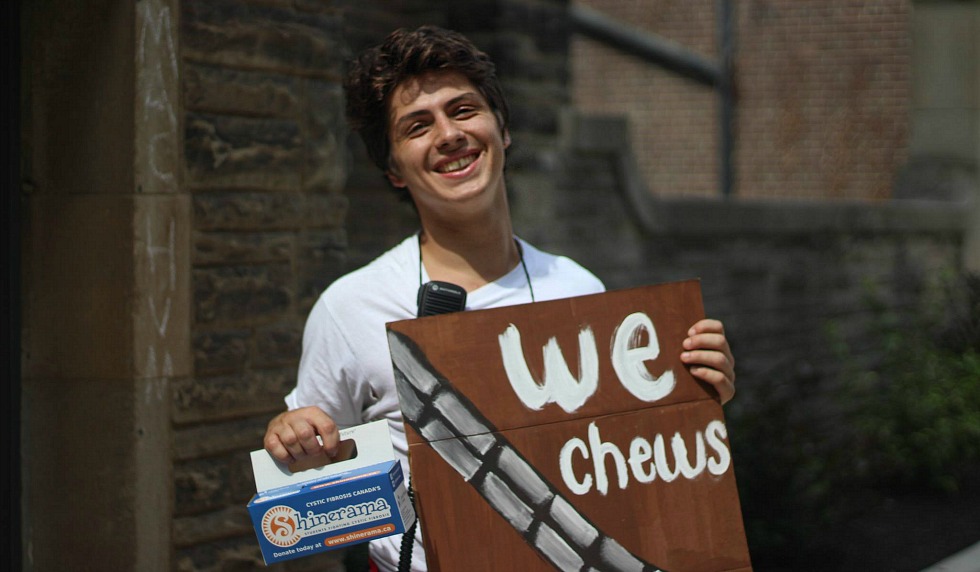 Alex Dhaliwal, who is graduating from the iSci program with a perfect 12 grade point average, was a Science Rep (Sciclone) during Welcome Week in 2015 and 2016. It was just one of the many ways Dhaliwal, an influential student leader, got involved in campus life during his time at McMaster.
---
Alex Dhaliwal is an extraordinary student by any measure.
He's the only student in the Faculty of Science this spring to achieve a perfect 12 grade point average – the highest GPA a student can receive. It's a rare accomplishment, and one that has earned him the prestigious Governor General's Academic Medal.
But, Dhaliwal, who is graduating from the Integrated Sciences (iSci) program with a triple minor in Biochemistry, Mathematics and Physics, says what made his university experience truly rewarding were the many chances to get involved and pursue opportunities, wherever they led him.
"I wanted to explore as many interests as I possibly could," says Dhaliwal, who in addition to his academic excellence, also participated in research, and led countless activities and initiatives that not only enriched his own experience, but left a lasting legacy for other students in his program.
Dhaliwal, who grew up in St. Catharines, Ontario, applied to McMaster after learning about the iSci program from the sibling of a friend. He was drawn to the program's multidisciplinary, project-based approach to teaching and learning.
He was accepted at McMaster and received a $60,000 Schulich Leader Scholarship – a prize reserved for students who demonstrate excellence in academics and/or community leadership, and plan to study one of the STEM (Science, Technology, Engineering or Mathematics) subjects.
He says he's grateful for the scholarship, adding that it took a financial weight off of his shoulders, which allowed him to focus on his many interests – both academic and extracurricular.
Once at McMaster, Dhaliwal threw himself into student life, quickly becoming an active and influential student leader.  He joined the iSci Society and served as second year student liaison, implementing initiatives that helped to build a sense of inclusion and community spirit among students in his program.
As iSci Society Vice-President Academic, he led the development of a number of programs meant to support and guide other students, including the expansion of the iSci Peer Mentoring Network and iStrive, an initiative that connects students to work, volunteer, research and scholarship opportunities.
"I felt like it was important to give back to the academic and social community here at Mac," he says. "I personally felt like they had done so much for me in terms of helping me meet new people and learn new things. I really just enjoyed, and felt good about, getting involved in opportunities where I could help others."
Looking for a way to pursue his academic interests outside of the classroom, Dhaliwal co-founded the McMaster Undergraduate Academic Astronomy Club, a group that brings together students from all disciplines to take part in events related to astronomy and astronomical research.
He also served for two years as Senior Editor of the iScientist, an undergraduate, peer-reviewed journal, created to provide iSci students with a way to showcase their research. While Senior Editor, he helped oversee the creation of the journal's first-ever issue as well as its newest issue, which will be published at the end of this month.
Dhaliwal plans to pursue a career in medicine and will begin the MD/PhD Program at the University of Toronto in September. The program will give him the opportunity to both attend medical school and earn his PhD in Medical Biophysics.
After four years of soaking up what McMaster has to offer, Dhaliwal has this advice for students:
"I think it's important to get involved, especially in things that you're not sure about, but you could really learn something from," he says. "Experiences at McMaster are quite low risk – if you get involved in something and you don't necessarily like it, it's not the end of the world. In such a supportive environment and friendly community like we have at McMaster, it's important to look for those opportunities and make the most of them."