Gearing up for a bold challenge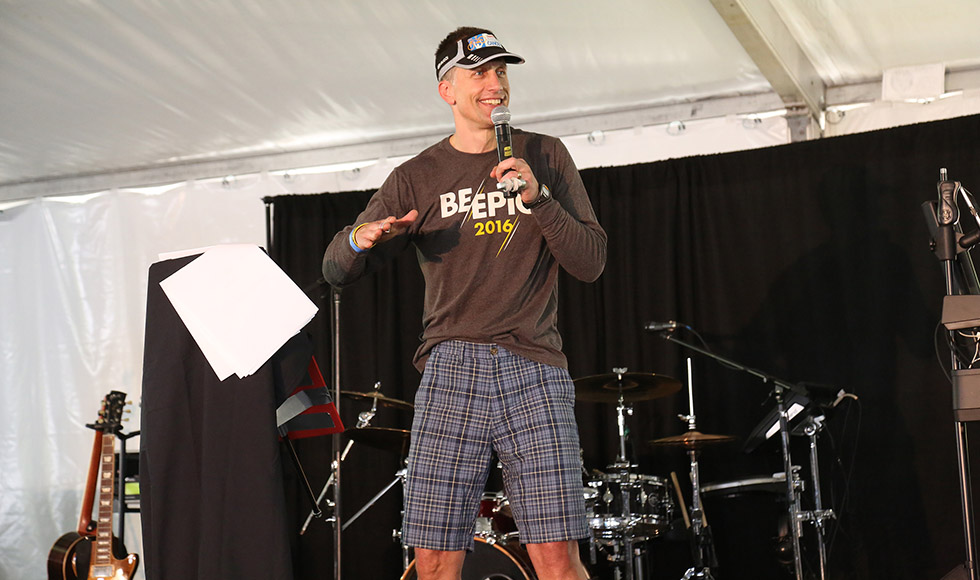 Steve Merker '91, addressing the riders at the end of the first day of the ride in 2016.
---
On June 9, McMaster will welcome more than 4,000 cyclists who are participating in the annual Enbridge Ride to Conquer Cancer fundraising event benefiting the Princess Margaret Cancer Foundation.
Steve Merker, McMaster Physical Education – now Kinesiology – class of '91 and '92, was among a group of five who spearheaded its creation in 2006.
Riders spend two days cycling more than 250 kilometres between Toronto and Niagara Falls, with an overnight pit stop in Hamilton. It's considered a bold challenge, but not an impossible task.
Cycling has always been a passion for Merker, who is Vice-President of Business Development for the Princess Margaret Cancer Foundation. He has previously served as Executive Director of the Ontario Cycling Association and co-owned a business organizing cycling festivals all over North America.
"I love hearing stories of people who got into and stuck with cycling as a result of our program," says Merker. "They lead a healthier lifestyle, which of course, is one of the best preventative health-care systems out there."
This is the third year that McMaster has hosted riders overnight in residence buildings and on its ten-acre athletic field. "As a Mac grad, I'm proud to be bringing so many people through campus to see how great it is."
Merker met his wife Catherine Buchanan at McMaster, and their daughter Kate has just completed her first year in Humanities. To this day, he remains close with friends he made as a student, some of whom also take part in the ride and see it as a reunion to be back on campus doing something good.
Given the large volume of riders, the odds of encountering other grads along the route are high. Richard Holt, class of '93, has taken part in the ride for the last ten years. He credits Merker for that – they were roommates in Bates residence for three years.
When he first joined the ride, Holt hadn't cycled in 10 years and his bike was 15 years old.
"It started out as something that seemed like the right thing to do," says Holt. "You grow up learning that you need to give back in some way."
Seven years ago, Holt's father passed away at Princess Margaret Hospital.
"There's a tangible emotion that permeates the whole event," says Merker. "Everyone knows someone who has been touched by cancer and a lot of participants say the ride is a way for them to channel their grief."
Since 2008, the event has raised more than $175 million in support of the Princess Margaret Cancer Centre, and is Canada's largest peer-to-peer fundraiser.
Holt strongly encourages everyone to participate, "It's emotional, it's physical, and it's a great weekend to spend with friends doing something memorable."