From Saigon to Santa Monica: Filmmaker Martyn Burke to receive Auteur Award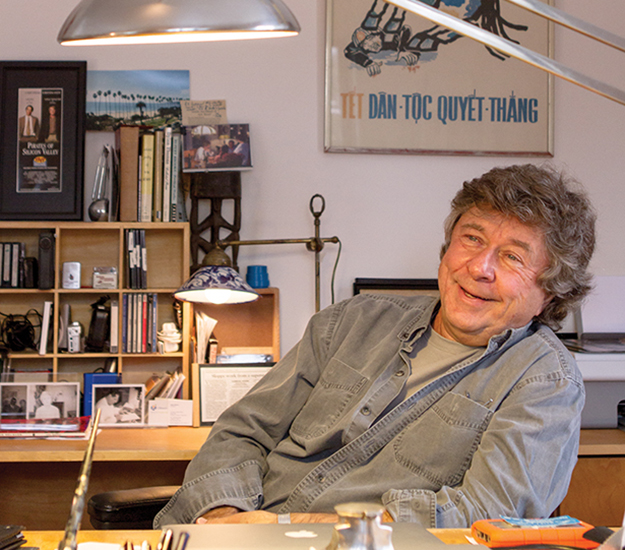 McMaster alumnus Martyn Burke is the 2015 recipient of the International Press Academy's Auteur Award. He graduated from the University in 1964 with a degree in economics before packing a bag and travelling abroad to cover the Vietnam War as a young freelancer. The experience sparked his lifelong fascination with combat reporting. 
---
George Clooney. Guillermo del Toro. Baz Luhrmann. Peter Bogdanovich. Martyn Burke.
Each has been honoured with the prestigious Auteur Award from the International Press Academy, but only this year's recipient is a McMaster alumnus.
Burke, who currently splits his time between Toronto and Santa Monica, has spent the past four decades carving out a reputation as one of Hollywood's most versatile and daring filmmakers. The Auteur Award recognizes one artist each year based on creative vision, unique artistry and the lasting impact of one's overall body of work. 

"It's a tremendous honour, and one I'm still trying to comprehend," Burke said of the award, which he'll receive during a gala reception in Beverly Hills on Sunday, Feb. 15. "I'm too coy to say I wasn't flattered."
A celebrated journalist, novelist and feature film director, Burke is perhaps best known for his gripping documentaries and front-line war reporting.
He received a 2012 Peabody Award for his most recent project, Under Fire: Journalists In Combat, which was also shortlisted for an Academy Award. The film places some of the world's top war correspondents in front of the camera rather than behind it, and explores the psychological toll that comes with reporting from the most dangerous places on earth.
Born in Hamilton and raised in Toronto, Burke came to McMaster in the early-1960s to study economics and play linebacker for the Marauders football team. Almost immediately after graduation in 1964, he stuffed a single pair of blue jeans into a backpack and set off for the jungles of Southeast Asia to cover the Vietnam War as a freelancer for the now-defunct Toronto Telegram.
He travelled with the troops, and learned how to file clean and accurate copy from the middle of a war zone. There was nowhere to cash incoming cheques from the Telegram, so he ate whatever the front-line American soldiers were being fed. It was dangerous and unpredictable, but Burke was hooked.
After returning to Canada and joining forces with the CBC's expanding television division in the late-1960s, he trekked through Europe, Africa and South America and produced hour-long documentaries for broadcast on the network. His early field reporting quickly set a new standard for long-form televised news in Canada.
Idi Amin: My People Love Me — produced by Burke while working for the CBC — is one of only two films ever made with the military dictator, who declared himself president of Uganda in 1971 following a brutal coup. It was hailed by the International Press Academy as one of Burke's crowning achievements.
"I'm always looking ahead, but it's interesting to see older films like My People Love Me floating back to the top of my oeuvre all these years later," said Burke. "In terms of creating documentary films, my approach has always been to get the information out; to do whatever is best for the story. I don't know if I have a singular style or vision in that sense. Each project develops a style all its own as it begins to take shape."
In recent years, Burke says he's been fascinated by VICE News' unique brand of immersive combat reporting from global hot zones.
In 2014, the network released the popular and controversial documentary The Islamic State, which featured reporters and videographers travelling alongside ISIS radicals as they pushed through Syria and northern Iraq. Burke is a fan, but knows the dangers and limitations of embedded reporting all too well.
"Every generation has its own way of covering combat, but at what point do you cross the line between news and propaganda?" he offers. "I was very, very lucky over the years, but certain lessons are learned at your own peril. And those perils are much more obvious now."
His latest book, Music For Love or War, is slated to be published by Cormorant Books in March.
Watch "On the Front Lines with Martyn Burke," filmed during his visit to McMaster for last year's Alumni Reunion Day: