From around the world, the McMaster community comes together for online convocation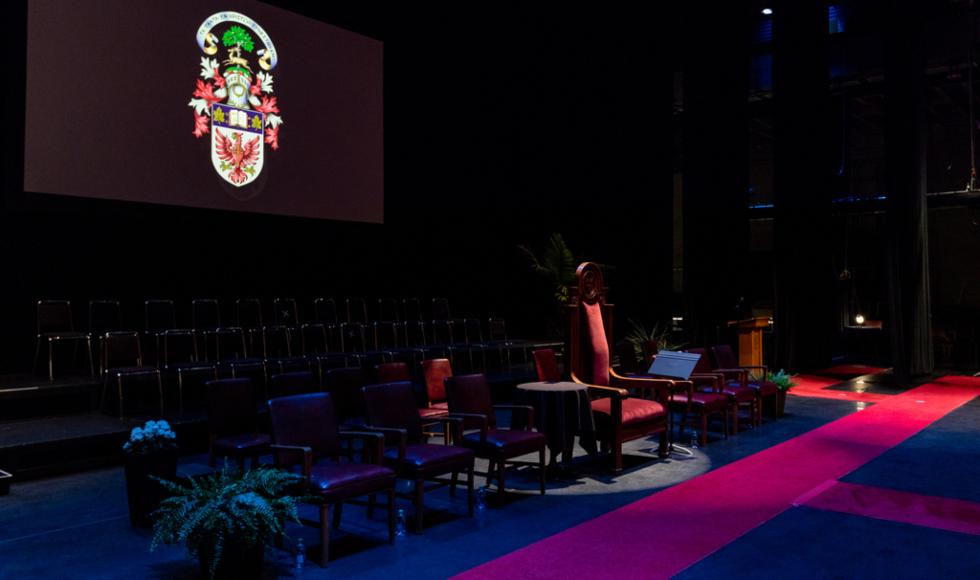 ---
"You've learned so much, and achieved things you never thought possible. And now, you're here – closing a chapter in your life and embarking on a new one."
Through a mix of videos – including the congratulatory one above – and a live but distanced ceremony, the McMaster community celebrated the accomplishments of its graduates and the installation of David Farrar as president at the 2020 fall convocation.
According to McMaster's registrar's office, approximately 1,400 people tuned in from around the world to watch the hour-long celebration, which was presided over by Provost Susan Tighe, Chancellor Santee Smith and President David Farrar.
Smith opened the proceedings with a shortened adaptation of the Kanonhweratónhtshera, or "the words that come before all else," a thanksgiving address to the natural world that is a foundational teaching of the Rotinonhshyón:ni (Haudenosaunee).
From there, the celebration included the official conferring of degrees, done virtually this year with a statement from Smith, filmed outside. Farrar's installation, done through video, was next, and included an original song written and performed by Smith.
Finally, McMaster professor and activist Gary Warner, author Wade Davis, and philanthropist Mick Ebeling were awarded honorary doctorates.
"You, right now, should be rejoicing and celebrating this incredible accomplishment," said Ebeling in a video address to the graduating class from Venice Beach, Calif., where he lives. "You guys are the ones who are going to lead us into the next chapter. The world is a crazy place, and your drive, your inspiration, your optimism, your belief in what the future holds – that's what the world needs right now."
To watch the whole ceremony, go to the convocation website, which also includes congratulatory messages, McMaster photos and messages from the deans of every faculty.
Congratulations, graduates!