Friendship bench honours Dr. Robert Chu, opens door for mental health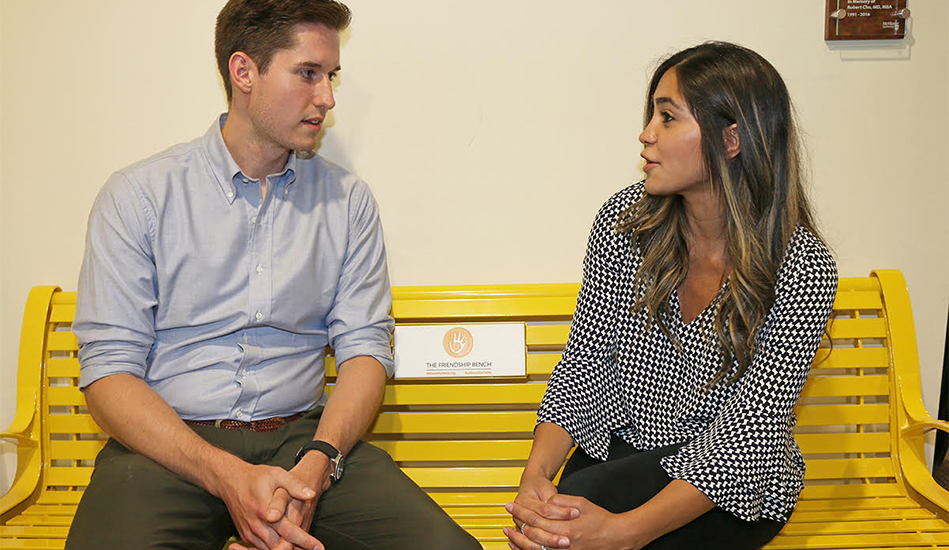 Dr. Dominik Nowak (left) talks with Dr. Jasreen Cheema, on the Friendship Bench in the Health Sciences Library during Monday's unveiling ceremony. Both are graduates of McMaster's MD program.
---
A bright yellow bench sits in the lobby of the Health Sciences Library at McMaster University, but it has more significance than just another place to study or drink an iced latte.
The Friendship Bench is a place where students may connect with a friend, a classmate or a kind stranger. When someone sits on the bench, they are asking in a brave way for a new friend, someone to listen or simply a shoulder on which to cry.
McMaster's first Friendship Bench was officially unveiled on June 26. It was donated by family and friends of Dr. Robert Chu, a graduate of the Michael G. DeGroote School of Medicine. Robert took his life on Sept. 5, 2016; he was 25 years old.
His mother, Clara, says she hopes the bench starts a conversation. That conversation, she says, could make a difference in someone's life.
"In our age of technology, we as a society are losing sight of the importance of human relationships," she said. "Technology has hampered the ability of many of our youth to make new friends, as everyone hides behind their screens.
"It is our wish that this Friendship Bench can make a difference.  We hope it creates a safe haven where people can communicate and have social support in a face-to-face interaction."
Clara says her son was a determined individual who set high standards and ambitious goals for himself.  He had a love of learning and enjoyed sharing that knowledge. He also loved to laugh, and liked spending time with friends.
Robert was close with his family, which also included his father, David, and his younger sister and brother, Cassandra and Michael.
He entered medical school after just three years of undergraduate study at the University of Toronto, and graduated in 2015. He had never experienced failure academically, having been on the dean's list numerous years.
However, his dream to become a clinician collided with a roadblock after graduation.  When he did not match for a residency to complete his medical training in 2015, he did an extended clerkship, completed his undergraduate degree and enrolled in the Master of Business Administration (MBA) program at McMaster. He didn't receive a residency match in 2016 either, which was "devastating", said his mother. His MBA in finance was awarded posthumously at the convocation for the business school earlier this month.
The Friendship Bench program of bright yellow benches was co-founded by Sam Fiorella in honour of his son Lucas, a 19-year-old Carleton University student who took his own life in 2014. The initiative continues to grow, as benches can now be found at more than 30 university and college campuses across Canada.
"Over the last few years we've discovered that most students suffering with mental illnesses while in school suffer in silence," said Fiorella. "Reasons include ignorance of the disease, fear of the stigma associated with mental illness, or simply not wanting to admit to weakness.
"Whatever the reason, we've further discovered that students are more likely to reach out for help with peer-to-peer conversations about mental health. And that's our goal with this initiative."
At McMaster, the bench has been located in the lobby of the health sciences library, which sees almost 500,000 visitors a year and is popular among students from all Faculties across the University.
Sean Van Koughnett, associate vice-president for students and learning at McMaster, added: "The yellow Friendship Bench is a symbol and a reminder that we are a community that cares for each other, and that by reaching out we can find the support we need.
"We have made significant progress in reducing stigma and in increasing our capacity to support mental health, but there is still much work to be done. The Friendship Bench is another step that helps further our efforts to create a healthy, inclusive campus community."
Clara said she often wonders if an initiative like the Friendship Bench would have made a difference for Robert. She said she believes it could have helped, and encourages everyone to use this outreach opportunity.
"It can be difficult to talk with members of immediate family about concerns, as you don't want them to worry, so you put on a brave face and try to manage your struggles alone," she said.
"We hope that when students see someone sitting on the bench, it will encourage people to engage in conversation and support each other, not just in crisis but in everyday life. Sit down, reach out with a kind word, a gentle touch, or a nice gesture as it may help someone suffering in silence.
"Your actions could save a life and a family a lifetime of heartache."
Mental health support at McMaster University
Students in crisis can call campus police 24 hours a day at '88' if you are using a campus phone or 905-522-4135 or call 911.
Counselling services are offered by McMaster University's Student Wellness Centre. During office hours, you can book a crisis appointment by calling 905-525-9140, ext. 27700 or by visiting the centre in MUSC B101. For hours, visit https://wellness.mcmaster.ca/contact-us/.
For more information and other resources on McMaster mental health support, visit https://wellness.mcmaster.ca/resources/crisis-resources/.
Learn more about McMaster's safeTALK Program
All post-secondary students in Ontario have 24/7/365 access to Good2Talk, a free, confidential helpline providing professional counselling, information and referrals for mental health, addictions and well-being. Good2Talk is at 1-866-925-5454.
The McMaster Students Union

 

also offers a peer-run service for McMaster students called SHEC (Student Health Education Centre). Learn more here: 

https://www.msumcmaster.ca/services-directory/6-student-health-education-centre-shec.