Friendly Frank, Hamilton's singing bus driver, gives McMaster students a lift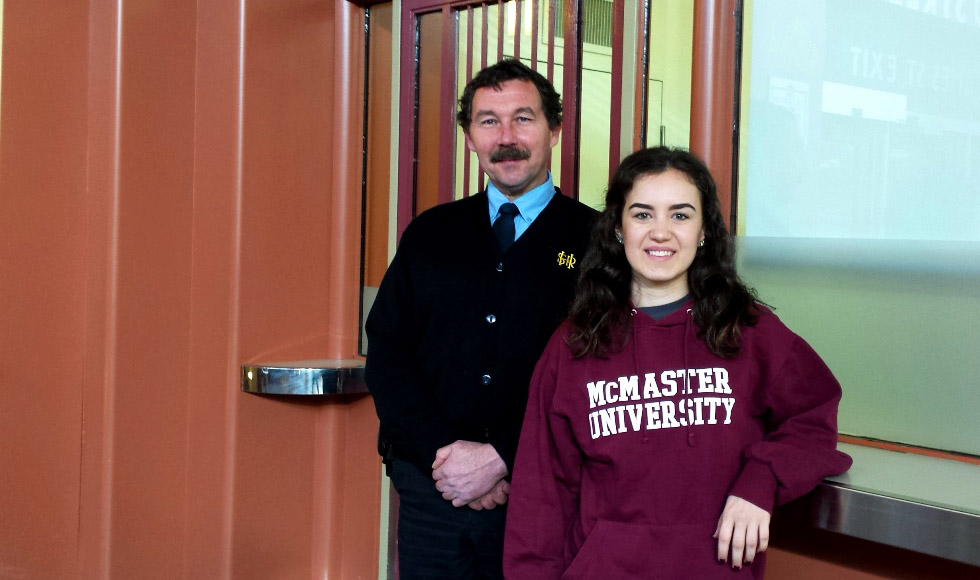 ---
Frank Palin has a lot of fun at his job. He drives the 51 bus in Hamilton and encounters hundreds of McMaster students every week.
"Some of things they're working on in undergraduate labs today would have been science fiction when I was a student," says Palin, who holds honours degrees from McMaster in geography and environmental science.
To keep it fun for his passengers, he's known for singing his own version of "The Wheels on the Bus" to encourage people to move on back.
Diana Marginean graduated in 2016 with a nursing degree from McMaster. Last September, she was back in Hamilton after completing a master's at Queen's. She recognized Palin from her undergrad years and noticed how many students were commenting about "friendly Frank" on the Facebook page, Spotted at Mac.
"It really helps to have that daily dose of friendliness," says Marginean, who now works in Hamilton in the mental health field. "It made me think how important this kind of thing is for students' mental health." So, last fall she set up a GoFundMe campaign to thank him.
"It's a terribly Canadian thing to be recognized for being friendly," Palin quips. He credits Mac students for their smarts, enthusiasm, and social conscience. "I can learn more from them in an afternoon than I can from a copy of Scientific American," he says. "They keep me young. You can't put a price on that."
Well, it turns out you can. In four months, donations from 77 people raised $950 – almost double the original $500 goal.
"I am rarely speechless," says Palin. But when his supervisor at Hamilton Street Railway (HSR) informed him of the viral fundraising campaign, Palin was stunned. "For so many students to pitch in is humbling. This says as much about the Mac community as it does about me."
He decided to donate the funds to McMaster to support international students in need.
"I talk to a lot of international students," says Palin. "Some come from wealthy families, but many don't. For some, the entire family fortune is invested in one person going to school." He wants to establish a bursary fund so that international students will have a positive experience while in Canada.
He's named it the "This is Canada" Fund to recognize that Canadians help each other out.
"Four months a year, we all come together to do the same thing – shovel snow," he jokes. But Palin is serious in his desire to show what it means to be Canadian, by helping McMaster students who are worlds away from their families.
"I want to make sure the money is put to the best possible use," says Palin, "and how better than to invest in a gifted young mind?"
An iFundMac page has been set up with Palin's $1,300 contribution to launch the fund. A further $1,700 is needed to reach the required minimum amount to establish a student award.
Join Friendly Frank with your contribution of any size to the This is Canada Fund.