Four McMaster profs honoured with provincial awards of excellence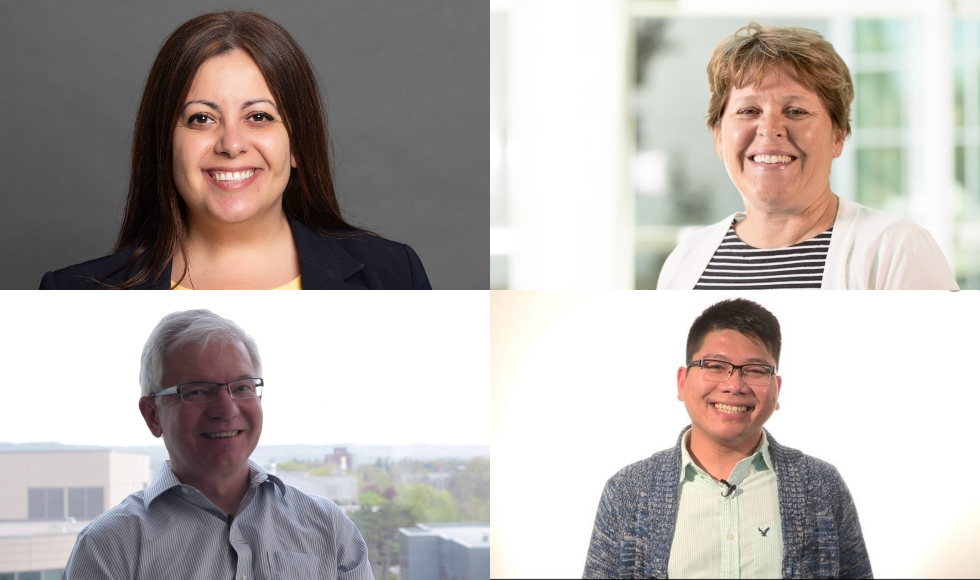 Clockwise from top left: Rosa da Silva, Heather Sheardown, Nguyen (Nathan) Vo and John Preston
---
Four McMaster profs – two from the Faculty of Science, two from the Faculty of Engineering – have received Minister's Awards of Excellence from the Ontario Ministry of Colleges and Universities.
The awards, which were introduced by the ministry this summer, recognize work done by college and university professors and instructors during the pandemic, both on campus and within the community.
"Throughout this pandemic, I have been amazed by the resilience of our postsecondary sector, particularly Ontario's professors and instructors," says Ross Romano, minister of colleges and universities. "That's why we created the Minister's Awards of Excellence – to acknowledge faculty who have turned their labs towards made-in-Ontario PPE solutions, transitioned quickly to online course delivery and been active members in their communities through fundraising efforts and frontline work.
"At McMaster, professors adapted their work to combat COVID-19, redeployed students to help local industry retool for PPE production, and went above and beyond to support both their students and their community's mental-health needs."
Thirty-nine individuals and centres from Ontario colleges and universities received awards since the end of August.
These are McMaster's recipients:
Nguyen Vo, a sessional lecturer in the School of Interdisciplinary Science, was nominated by his students for keeping them engaged during the transition to online learning throughout the COVID-19 pandemic.
Heather Sheardown, a chemical engineering professor whose research has helped fight the virus, biked to raise funds for COVID-19 relief in her community. She also supported both her students and colleagues during the shift to online learning.
John Preston, associate dean of research and external relations in the Faculty of Engineering, worked with colleagues to help create the Centre of Excellence in Protective Equipment and Materials, a key research hub for designing PPE.
Rosa da Silva, an assistant professor in the department of biology, played a leadership role in helping her colleagues move to virtual learning, working to give students as positive an experience as possible.
"I am truly humbled by the nomination from my colleagues in the Department of Biology, and for having been selected as a recipient of this prestigious award. Congratulations to all fellow recipients at McMaster and beyond," says da Silva.
"The challenges imposed by the pandemic have presented perhaps the most difficult time that the world has seen in nearly a generation. As educators, we truly have the opportunity to inspire each other and our students to strive against any challenges and work towards being the best we can be."