Football gala honours Burlington high school coach Nick Mlekuz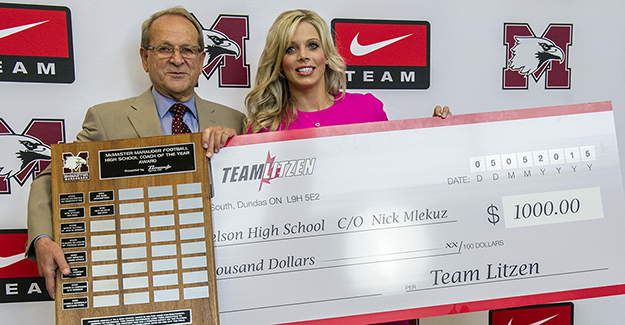 Nick Mlekuz received the High School Football Coaching Achievement Award at Tuesday's football gala in the David Braley Athletic Centre. Mlekuz, a longtime coach at Burlington's Nelson High School, was a former coach and mentor of Hec Crighton Trophy-winning running back Jesse Lumsden and other McMaster student-athletes. 
---
The McMaster football program once again jammed the Sport Hall at the David Braley Athletic Centre to the rafters on Tuesday for its 18th annual gala.
Some 450 guests — including coaches, players, corporate partners, staff and fans — were on hand for the yearly fundraiser, where the Marauders raised more than $60,000 in support of their program.
The night opened with the presentation of the High School Football Coaching Achievement Award with partners T. Litzen Sports Ltd. This year marked a first for the award, as Nelson High School's Nick Mlekuz became the only junior coach to win the honour in its decade of existence.
Mlekuz has coached football at the high school level for more than 25 years. He arrived at Nelson in 1995 where he coached many future greats, including McMaster's Hec Crighton Trophy-winning former running back Jesse Lumsden.
The award carries with it a $1,000 voucher from T. Litzen Sports Ltd. of Dundas, to be used for the purchase of equipment for the winner's football program.
A familiar face for any Hamilton football fan, Bob Young — owner and caretaker of the Canadian Football League's Hamilton Tiger-Cats — delivered the keynote address on Tuesday. Young's speech centred around the value of approach over knowledge, and the necessity of learning from one's mistakes.
McMaster head coach Stefan Ptaszek concluded the night by delivering a state of the program address. After a wildly successful 2014 season that saw his team surprise many around the OUA by storming to a Yates Cup title, Ptaszek assured the crowd that his team is capable of a similar run.
He also detailed the planned expansion of McMaster's 13th Man Program — which allows donors to fund the program in manageable, monthly amounts — as well as the coming debut of a new fundraising initiative that should help the Marauders remain financially competitive in both the OUA and CIS.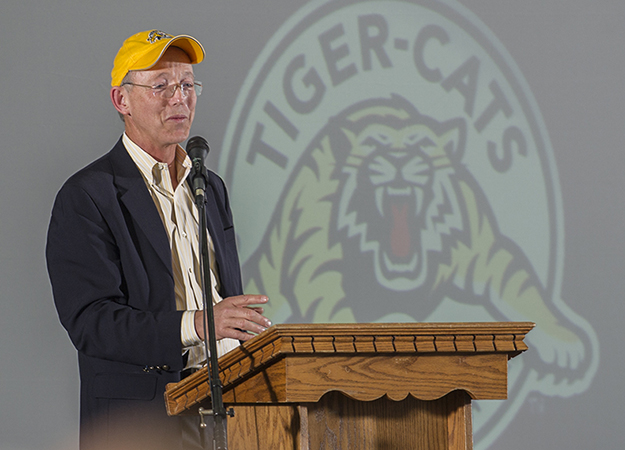 Keynote speaker Bob Young, "caretaker" of the Hamilton Tiger-Cats. Photo by Rick Zazulak.