First-year students get a second chance at success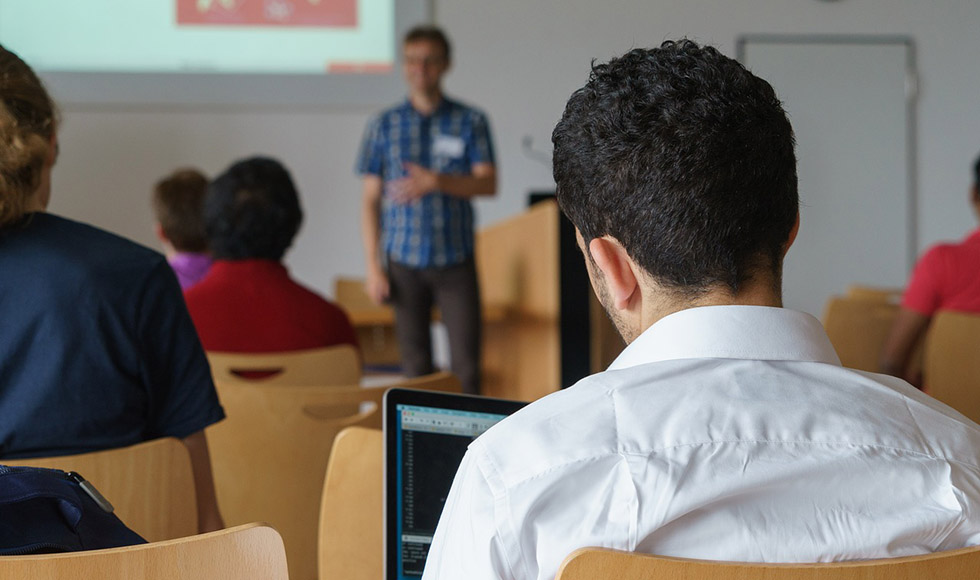 Mcmaster's Reset for Success program gives students at risk of failing first year the tools they need to turn things around
---
Every fall, thousands of students start their undergraduate degrees. Some find themselves juggling schoolwork alongside jobs, family obligations or health concerns. Others are managing their own time, money and decisions for the first time. For many reasons, some first-years find themselves on a path that might not take them to second year.
That's where the Reset for Success program comes in. The Faculty of Social Sciences pilot program teaches at-risk first-year students to better manage their lives and their course work, intervening before things get to a point of crisis.
In addition to writing, research and study skills, the students learn how to manage their time and money, to think critically and to overcome some of the obstacles to success.
Reset begins with instructors identifying students who show danger signs in the fall term: Red flags include repeated absences, a lack of engagement in class and a failure to hand in assignments.
For some first-years, especially first-generation students — the first in their families to go to university — their commitment to school suffers because of problems related to finances, language barriers, work schedules, commuting, loneliness, their health or family obligations.
"We approach these students and explain to them that based on their current trajectory, it's unlikely they'll find academic success or continue to second year," says first year academic experience co-ordinator Mark Busser, who teaches one of the Reset courses, as well as a course on inquiry.
"And we let them know: 'If you change your course load to take these three courses instead, and if you commit to attending class and doing the work, we'll work together to give you a chance to change that trajectory.' "
The three core courses of the Reset program are
* A writing course presented in partnership with Mohawk College;
* A version of Soc Sci 1T03, a first-year foundations course called Life, the University and a Little Bit of Everything (the Reset version is simply called Social Sciences Foundations);
* Soc Sci 1SS3, Inquiry in the Social Sciences, which teaches students to think critically and analytically.
The foundations course helps students develop key academic and life skills — time management, financial literacy, writing and grammar, identifying support resources on campus, peer editing, library searching, stress management, and group work problem-solving, to name a few.
"The activities in 1T03 are less about research and more about building a toolbox and solving problems," Busser says. "We're trying to create the habits, approaches and techniques that drive success."
The foundations course started out as a small project and has built rapidly over the past four years, Busser says. It is taught in the Active Learning classrooms and uses Top Hat software, which allows students to incorporate their tablets and phones into the learning process to better engage online.
Like the foundations course, the faculty's inquiry class has grown more popular every year since it started. In 2017-18, each of the 12 sections of the small, intensive class had its own theme, based on the instructor's area of expertise. But the goal is the same: Teaching students to think critically and ask the right questions.
"Asking good questions and understanding nuance is harder than it seems," Busser explains. "But all the instructors are innovators, and the students give great feedback so we can develop the strategies they need to learn."
Even the instructors learn from the inquiry class, Busser points out. "You realize that knowing how to question things more deeply takes work. I'm more likely to offer better guidance in my other classes on crafting more sophisticated work."
The program aims to help students achieve more than academic success, says Lori Campbell, Associate Dean (Undergraduate Academics).
"Reset is about creating a strong foundation. It's innovative and holistic and we're offering advice, services, support and life skills."
The level of individual attention paid to students makes it resource-intensive, but Campbell hopes to be able to expand it in years to come.
Reset is funded by the Ministry of Advanced Education and Skills Development through a program supporting research into the factors and barriers that affect student success and retention, especially among first-generation students.
"Grades don't determine the quality of students or what they'll go on to do," Campbell says. "But the more we do to help the first years, the more we help the greater university community.
"And the more we build knowledge and the ability to do well further on, the better the outcome for the students."