First group of residents graduate from Six Nations Clinical Education Campus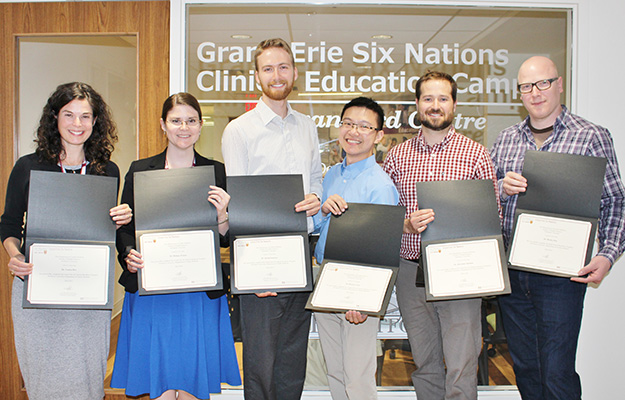 From left to right: Drs. Yonina Mar, Lisa Trojnar, Derek Gateman, Mathew Chui, Al Quinlan and Wesley Eby.
---
On Wednesday, the first cohort of Family Medicine residents graduated from the Grand Erie Six Nations Clinical Education Campus, Brantford Centre.
The Family Medicine residents have spent the past two years training within the communities of Brantford, Brant, Six Nations of the Grand River and Norfolk, and were based out of the Brant Community Healthcare System (BCHS).
"Living and training in Brantford for the past two years has prepared me and my colleagues very well for an exciting and diverse future practice," says Dr. Derek Gateman, co-chief resident of the program.
"A community hospital such as Brantford General Hospital presents a wealth of learning opportunities, keen preceptors and welcoming staff, while avoiding the risk of being lost in anonymity at an academic teaching hospital.
"Here, I have been able to customize my training to fit my needs; in exchange, I feel I've been able to contribute meaningfully to the development of the site."