Fiona Campbell gives pain medicine and pain policy a shot in the arm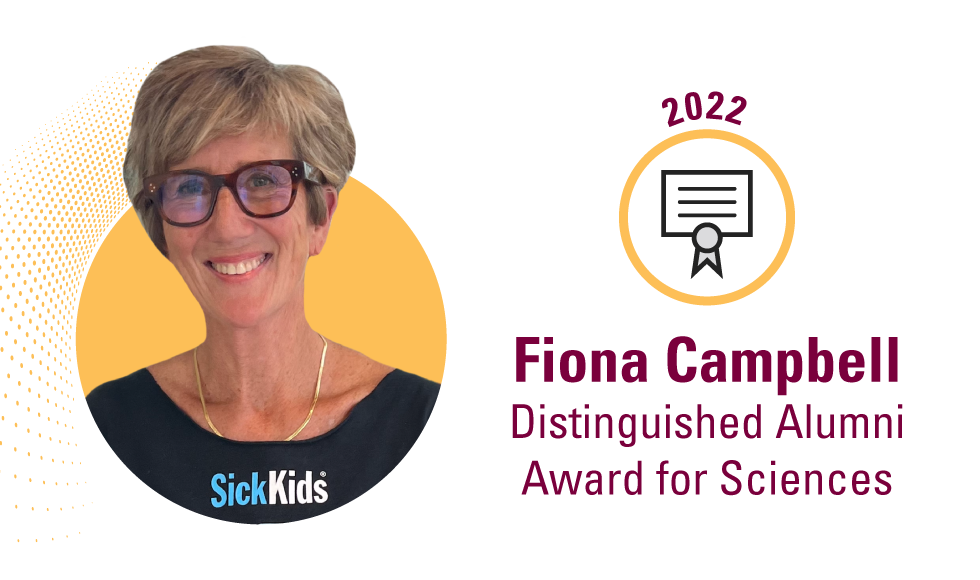 The recipient of the 2022 Distinguished Alumni Award in Science works across clinical practice, education and research, developing pain education initiatives for health professionals, children and families.
---
Fiona Campbell, '80, '84, the 2022 Distinguished Alumni Award – Science recipient, loves what she does — working across all three pillars of health care: clinical practice (caring for kids living with pain and their families), education and research.
As a professor at the University of Toronto and medical director of the Chronic Pain Program in the department of Anesthesia & Pain Medicine at the Hospital for Sick Children, Campbell is involved in pain education initiatives for health professionals, children and families.
She's also co-director of the SickKids Pain Centre, was the inaugural co-chair of the Ontario Chronic Pain Network in partnership with the Ministry of Health, is the former president of the Canadian Pain Society and was appointed by Health Canada to co-chair the Canadian Pain Task Force.
Yet Campbell's undergraduate degree at McMaster was in psychology, and she went to medical school at Mac wanting to be a psychiatrist.
"I wanted a broader understanding of the human body and mind, so a science degree and medical school were a good fit," she says. "Given the impact of pain on mental health, and the role of psychology in pain treatment, I feel I've come full circle."
"People working in the pain field often have a personal story driving their interest; mine was that my amazing mum was in a catastrophic car accident while I was in medical school."
Campbell's mother sustained life-threatening injuries and spent three months in Sunnybrook, from which she made a remarkable recovery, largely due to her physical fitness and resilient character.
"However, she had a spinal cord injury leaving her with severe neuropathic pain that never resolved."
After Campbell's first job as an adult anesthesiologist and pain specialist in the U.K., an opportunity arose to move back to Canada, to take a position as a pediatric anesthesiologist and pain physician at SickKids in Toronto.
"In 2003, shortly after the SARS epidemic I arrived at SickKids as a brand-new pediatric pain doc and jumped right in to collaborate with astonishing clinicians, scientists and educators," she says.
"What I hadn't planned and didn't necessarily see coming was my gradual evolution into leadership positions — locally, provincially and nationally, particularly in the policy space, which has been immensely gratifying and a career highlight."
Dispelling myths and stigma
"I didn't have an "aha" moment. I just became more and more passionate about preventing and minimizing pain for children and, to achieve that goal, was fortunate to be able to engage in all three foundational pillars of academic medicine — clinical practice, research and education.  I love my clinical practice, but recognized that it is the integration of these three pillars together with policy that will lead to a greater reduction in pain and suffering."
There are myths and stigma surrounding people who live with chronic pain, she says.
"Broadly, there are two different types of pain – acute and chronic," she explains. "Acute pain arises from tissue damage and is a warning signal to protect our bodies from harm — a hardware problem if you like — it is short lived and resolves as tissues heal. Chronic pain on the other hand is not necessarily associated with tissue harm — it is more of a software problem within the body's pain messaging system, like a fire alarm going off when there is no fire.
"Because we all have acute pain from time to time, some think that chronic pain sufferers are attention seeking, lazy, or drug-seeking, and that they should 'suck it up'. Furthermore, chronic pain is invisible, and leads to people not being believed, sometimes even by health-care professionals."
"Chronic Pain, which affects one in five people living in Canada, including children, is undertreated, has a devastating impact on peoples lives and is an extraordinarily expensive public health issue.  It is a wicked societal problem, with no linear solution."
As to why she chose to specialize in children's pain, Campbell says she had always envisioned working with kids. "Kids are a unique and varied population, wonderfully honest and a lot of fun! We have five kids of our own, so I guess I feel comfortable around them. And kids' pain is an area of great need and a relatively new specialty. It's been undertreated and poorly funded.
"Pain has a major impact on mental health and quality of life: kids suffering from chronic pain have double the risk of suicide, it affects sleep and impedes participation in school, sports and social activities. Those things need to be addressed."
Campbell's deep dive into her goal of decreasing chronic pain and suffering began locally with raising awareness of pain as an important health issue at SickKids, which helped lead to the creation of evidence-based policy and practice guidelines, and quality improvement initiatives.
"I then became involved with provincial, and now national pain initiatives, resulting in various leadership positions along the way. My first foray into provincial policy was in 2013 when I became co-chair of a provincial advisory committee on pain, in partnership with the Ontario Ministry of Health. In that role, and informed by evidence, I helped build capacity in the community by increasing access to pediatric chronic pain clinics. We demonstrated that investment in pain services is associated with a reduction in healthcare utilization and we were able to influence decision makers to invest $25 million of sustainable funding for provincial tertiary chronic pain programs."
In 2019, Campbell was invited by the federal minister of health to co-chair the Canadian Pain Task Force, which last year published "The Action Plan for Pain in Canada" that provides 150 recommendations to government on priority actions, to ensure that people with pain are recognized and supported and that pain is understood, prevented, and effectively treated.
"We now have a Chronic Pain Policy Team in Health Canada, which I hope will have the tools to provide coordination, collaboration and leadership enabling improved access to care, increased awareness, education and specialized pain training, more support for pain research and infrastructure, monitoring of population health and health system quality, and ensure that this is all done with an equity lens."
Campbell says she's in the "twilight" of her career now, and when she begins winding down, intends to continue with some of her work on federal and provincial systems to ensure the  National Action Plan for Pain is implemented in Canada.
"I will continue advocating for better access to care, pushing for a public awareness campaign, better education and training and more research."
"I have absolutely loved my career at SickKids and the opportunities that I have been afforded! My leadership in the policy space has been a surprising highlight that has provided immense opportunity for innovation. It's been very satisfying and, in the end, will likely make the most difference of everything I've been involved with. I think perhaps my biggest career highlight is having incredible colleagues (including patient partners) without whom my work would not be possible, and who bring me joy. What an incredible ride this has been!"