Federal government launches new national seniors report during McMaster visit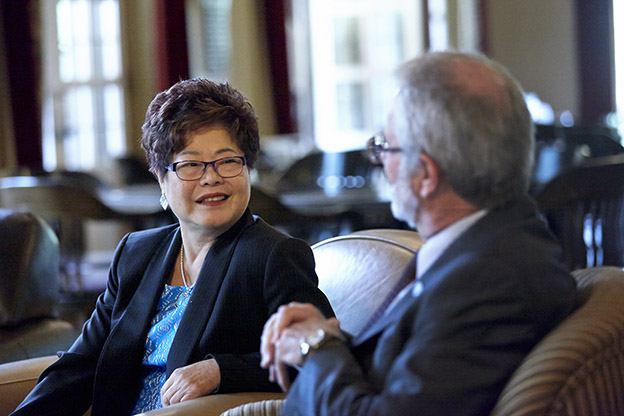 Minister Wong in conversation with McMaster President Patrick Deane. Wong announced the Government of Canada's new Action for Seniors report Wednesday on campus.
---
The Government of Canada unveiled its new Action for Seniors report at McMaster Wednesday.
The report includes comprehensive information on a variety of federal programs and services that can be accessed by seniors and caregivers online through an interactive map. In addition to the seniors.gc.ca website, the report is also available in print, ensuring that the information is accessible to all Canadian seniors.
The Honourable Alice Wong, Minister of State for Seniors, made the announcement at Alumni Memorial Hall. Attending the event were McMaster researchers, faculty and staff, many of whom were involved in the development of the  McMaster Optimal Aging Portal, which visitors can now link to from the seniors.gc.ca website.
The Portal is a one-stop shop for seniors, informing them about resources and information about staying active and engaged, as well as educating them on healthy aging practices and healthcare delivery.
McMaster President Patrick Deane praised the federal initiative, saying "this excellent report puts information about all the federal services and resources for seniors at their fingertips, such as our McMaster Optimal Aging Portal, which provides easy-access, evidence-based health information."