Fall major a fresh take on a Shakespearean classic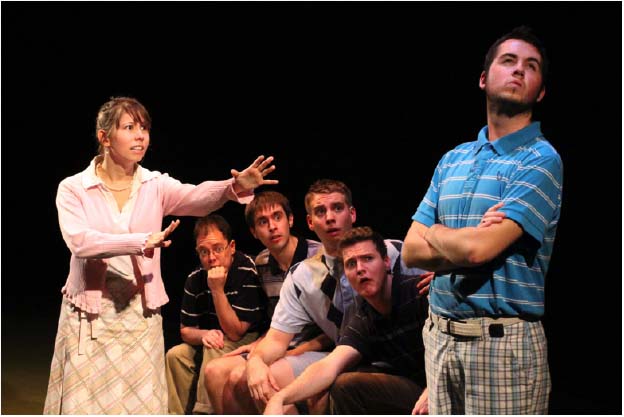 The Mechanicals (from left to right): Sasha Stevenson as Anita Quince, Rex Jackson as Snug, Matt Blackshaw as Robin Starveling, Nick Kozij as Francis Flute, David Jackson as Tom Snout and Ian Wilush as Nick Bottom.
---
Students in the School of the Arts are currently bringing Shakespeare's A Midsummer Night's Dream to life at Robinson Memorial Theatre. But the production isn't your typical take on the 400-plus-year-old comedic tale. Through gender cross-casting and innovative staging, the School of the Arts hopes to bring the  play into the 21st century. 
Nick Kozij, who plays Thisbe and Francis Flute in the play, writes about the production's inception and it's opening performance last week. 
I was fortunate enough to be involved in the Theatre and Film program's research and planning class this summer, where we discussed themes and topics to be pursued for the School of the Arts fall major this November.
At last, after almost six months of in-depth thought and careful planning, we opened A Midsummer Night's Dream to the general public last week.
After a very successful preview show, which we performed to a sold-out house, spirits are high that all of our work will convey the messages we so desperately wanted to communicate to the McMaster and Hamilton communities.
Although Shakespeare wrote this play over 400 years ago, it contains themes concerning sexuality and gender that are even more prevalent today than they were in the Elizabethan era.
Originally, the play was intended to reaffirm the patriarchal power of Elizabethan England, but we've actively tried to shift this perception through cross-casting roles within the play.
Our goal with this production was to dispel the established views of heteronormative and homonormative behaviour. We want to delve into the preconceived notions of what it means to be feminine and masculine and to expose gender as a fluid concept.
I wanted to be a part of this production for several reasons. As a dancer and actor, I'm often met with questions about my own sexuality and sexual preference, and this play offers the opportunity to suggest that sexual orientation doesn't matter. The most important form of identification, in my opinion, is how we conduct ourselves as human beings.
It has been incredibly satisfying to be involved in this production from the ground floor and early planning stages, through to the production workshop class where third year students take on roles as production designers and stage managers and now finally to witness the opening and performance of the show.
I was a part of the research and planning for this year's production of A Midsummer Night's Dream, and was also a part of the set design team that brought the settings of Athens and the forest to life on stage to a modern audience.
I was also fortunate enough to be cast as Francis Flute and have the ability to perform on the set that I helped to create.
I nervously awaited the preview of the show last week, eager to see how it would be received. For me, nerves and 'butterflies' are the reason I long to be on stage.
That uneasiness makes the experience worthwhile and it wouldn't be as enjoyable if I didn't have that anxiety to overcome. The laughter from the audience was both uproarious and infectious throughout the performance, and that feedback was rewarding to hear.
One audience member said she had to carry her friend to the car following the performance because she could not suppress her fits of laughter. Others were moved by the relationships represented within the play and found themselves relating to these characters through their own life experiences.
The show's finale, which is a play within the play, allowed me to dress up as the female character Thisbe. I could hear audience members clearly exclaim, "Oh my God, look at his toes!" which were painted a wonderful hue of purple.
Overall, I feel this show has the ability to change people's perceptions about sexuality, while allowing them to laugh uncontrollably at many of the brilliantly-performed comedic moments.
I've always loved performing Shakespeare, as his text is unbelievably witty and rich. For those who are unfamiliar with his work, this year's fall major will provide you with the perfect place to start.
A Midsummer Night's Dream runs November 13-16 at 8 p.m., with a matinee performance on November 16 at 2 p.m. Tickets are available at Compass, in the McMaster University Student Centre. For more campus arts events, check out the School of the Arts' Spotlight on the Arts festival.